Caring for your pug's pearly whites
By OwnedByPugs.com
February 1st, 2008
Do you know what the most common disease is for dogs and cats? Surprisingly, it is periodontal disease. Because of the number of cats and dogs that suffer from periodontal disease, February has been named National Pet Dental Month.
What is Periodontal Disease
Periodontal disease, also known as Gum disease, is an infection that is caused by bacteria found in dental plaque. After time, plaque builds up on teeth around the gum line. If the plaque is not removed, the bacteria in the plaque can cause an infection in the gums, teeth and even the surrounding bone. The Veterinary Oral Health Clinic also notes, "Studies have shown that dogs with severe periodontal disease have more severe microscopic damage in their kidneys, heart muscle and liver than do dogs with less severe periodontal disease."
How do I know if my pug has periodontal disease?
The best thing to do is take a peak inside your pug's mouth. You will not be able to immediately tell if your pug has periodontal disease, your veterinarian will need to make that determination, but you will get a good idea of the condition of your pug's teeth. Look for plaque buildup and inspect the gum line. Is it red or irritated? Does your pug have any loose teeth?
Other signs of periodontal disease include:
Bad breath
Irritated and bleeding gums
Change in eating or play habits. If their mouth is sore, your pug may stop eating crunchy treats or playing with their toys.
Loose teeth
What to do
If your pug has severe tarter build up, irritated gums and possible loose teeth, you will want to see a veterinarian to get a full diagnosis and find out your best course of action.
The main thing to focus on is prevention. The best way to prevent gum disease is to brush your pug's teeth, which if it was easy we would all be doing it already. But it is important enough to make an effort. Pugs already have one strike against them in the dental department from the start. All dogs have 42 teeth. From Great Danes to Chihuahuas, all dogs are bestowed 42 pearly whites. However, getting 42 teeth into a pug's mouth isn't an easy task. With no snout, there are serious crowding issues inside your little pug's mouth. Crowding makes it much easier for bacteria to form and makes pugs, along with other small dogs, more susceptible to dental issues.
Brushing
I know brushing your pug's teeth is no easy task. They are not really too keen on us sticking a toothbrush in their mouth and there really isn't much room in there to begin with. The best thing to do is to get them used to having their teeth brushed as a puppy, but don't give up hope, older pugs can learn to like to have their teeth brushed too.
First, always make sure that you use toothpaste made especially for dogs. You will find that they make toothpaste in various flavor like Poultry and Beef. Flavors that your dog will enjoy and we would never dream of using in our mouth. Most pugs will actually like the taste of the toothpaste so pick a flavor you think your pug will enjoy.
I always start out by putting a little dab of toothpaste on the toothbrush and let my pug lick it off. This makes it like a game to them and helps them learn to like the toothbrush before I go sticking it in their mouth. After they finish licking up the toothpaste, I refill the toothbrush and then go to brushing. You will want to gently lift their jowls and gently brush.
If your pugs are anything like mine, they will try to bite the toothbrush while you are brushing. For the most part, I let them. As long as the brush is moving around touching the surface of their teeth, you are doing your job. Unless you have trained your pug to get their teeth brushed, you are not going to get the opportunity to brush each individual tooth. My mentality is to get the most done in a short period of time. I don't want to spend more than a few minutes brushing their teeth as I don't want this to be an experience they grow to dread. The fact that you are brushing your pug's teeth and you are doing it regularly will make a big difference.
Dental Products
If you have been to the pet store recently you will know that there are plenty of products claiming to be good for your pug's teeth. From toys and bones to water additives, it can be overwhelming trying to figure out which products actually work and are safe for your pug. The best thing to do is to read the packaging and check for the Veterinary Oral Health Council seal of approval.
The Veterinary Oral Health Council was founded to help guide consumers and show us what products really to do live up to their claims.
Awareness
One of the best things is overall awareness of your pug's dental health. Regular teeth brushing along with regular dental checkups at the vet go along way in protecting your pug's pearly whites and making sure they live a happy and fulfilling life.
Your Pug's Holiday Wishlist
By OwnedByPugs.com
December 2nd, 2007
For the Festive Pug
Velvet Santa Girl Dress & Velvet Santa Suit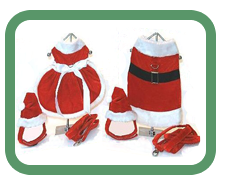 Your little one will be the life of the party with their very own Santa suit. Your little girl can show her holiday spirit without compromising her sense of style with the Santa Girl Dress and your little guy will be sure to turn heads in his Santa Suit. Each outfit come with a matching hat and leash.

Fetch It!
Holiday Plush Toys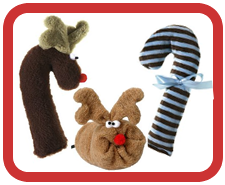 These holiday plush toys are sure to put your pug in a festive mood. The Crinkle Cane doesn't squeak, it crinkles. Rudy has enticing antlers that just begs your pug to gnaw on them. And Cane Deer is made from recycled soda bottles making it a gift not only for your pug, but for Mother Earth as well!

Fetch It!
Holiday Dog Pack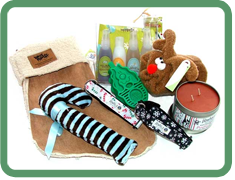 Save time and get your jolly pug ready for the holidays with a Holiday Pack. Complete with stocking, a holiday collar, a zoom groom brush, an odor eliminating scented candle and a dog spa sample kit, your pug will think he made Santa's Good List this year.

Fetch It!
For the Stylish Pug
Enamel ID Tags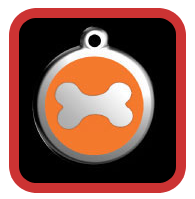 Sure, your pug has to wear an ID tag, but he doesn't have to wear just any ID tag. Your pug can show off their sense of style with the Enamel ID tags. Available in 8 stylish designs and available in 9 different colors, there is sure to be a tag that is worthy of hanging from your pug's collar.

Fetch It!
Curly Q Collar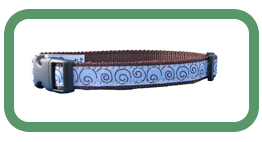 Nothing says "Happy Pug" better than the Curly Q collar.

Fetch It!
Bow Tie Collar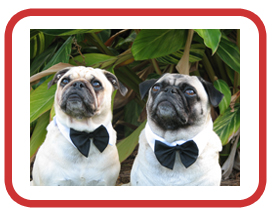 Finding something to wear to this season's holiday gatherings can be a tough task, but your pug doesn't have to worry. The bow tie collar is simple and sophisticated and sure to make a lasting impression.

Fetch It!
For the Adventurous Pug
The Adventure Pack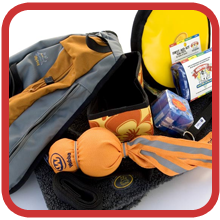 The Adventure Pack is the perfect holiday bundle for the pug that loves to get out and romp in the great outdoors. The pack includes a Wubba for tugging and fetching, a flyer that folds, flops and entertains, a collar and leash, biodegradable waste bags, a handy day bag for carrying all your toys and waste bags and a first aid kit.

Fetch It!
Hurley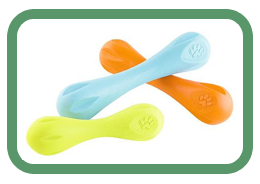 Whatever your pug can dish out, Hurley can take. Made of flexible rubber, the Hurley is all the fun of a stick and ball rolled into one. It flies, bounces and floats!

Fetch It!
Freedom Harness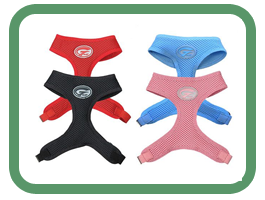 Get out and enjoy a nice walk with your pug and the Freedom Harness. Made of breathable mesh, the Freedom Harness fits around your pug's chest and removes pressure from your pug's neck.

Fetch It!
For the Earth Friendly Pug
Hemp Corduroy Collars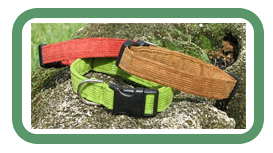 The super soft and durable Corduroy Collar is made of 55% hemp and 45% organic cotton making it anti-bacterial and hypo-allergenic. Available in 3 vibrant colors.

Fetch It!
Earth Friendly Plush Toys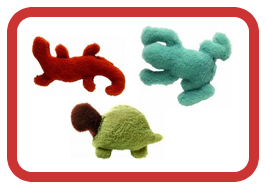 Made from plastic soda bottles, these plush toys are tons of fun for your pug and good for the planet too!

Fetch It!
2007 Costume Contest Winners
By OwnedByPugs.com
October 31st, 2007
There were plenty of entries in this year's costume contest that were worthy of a treat. Picking the winners was no easy task, but after much deliberation we came up with this year's winners. A huge thank you to everyone who participated. You can see all the entries in our
Halloween Gallery
.
The Winners
Cutest Costume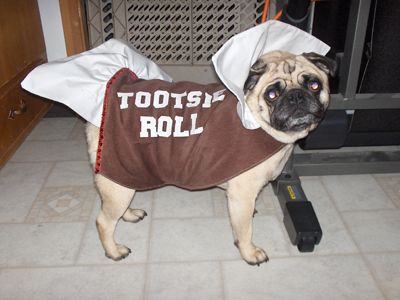 Diesel as a Tootsie Roll
Submitted by Carissa
Most Original Costume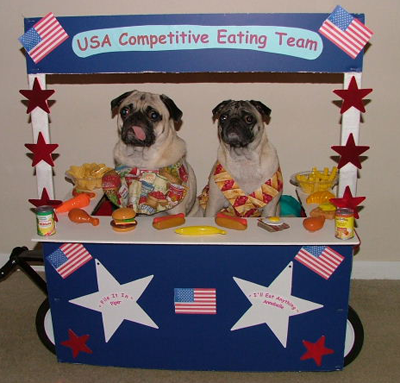 Piper & Annabelle as The USA Competitive Eating Team
Submitted by Andrea
Best Group Costume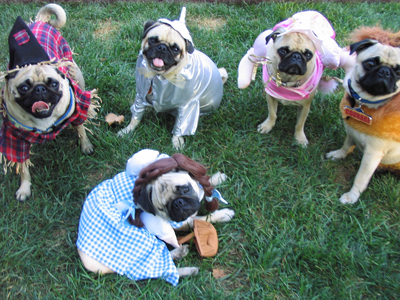 Eeyore as The Scare Pug, Mia as Dororthy, Emma as The Tin Pug, Daisy as The Good Pug of the North and Otis as the Cowardly Pug
Submitted by Amanda & Theresa
2007 Halloween Costume Contest
By OwnedByPugs.com
September 30th, 2007
Celebrate Halloween with Owned By Pugs by participating in our Halloween Costume Contest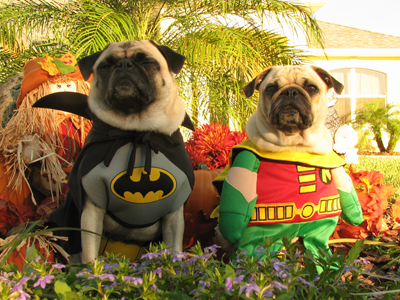 How to participate:
Send a photo of your pug or pugs dressed in their Halloween costumes to webmaster@ownedbypugs.com.
We will accept entries from Monday, October 1, 2007 until midnight (EST) on Monday, October 29, 2007.
Winning entrants will be notified on Wednesday, October 31, 2007 and the winning entries will be posted on Owned By Pugs.com
By submitting your photo you agree to the contest terms & conditions listed at the bottom of the page
Plus there are prizes for the Most Original Costume, the Cutest Costume and Best Group Costume.
Most Original Costume: A $15 Gift Certificate to H. Doodle - A little shop for little dogs and a copy of the 2008 Owned By Pugs Calendar
Cutest Costume: A $15 Gift Certificate to H. Doodle - A little shop for little dogs and a copy of the 2008 Owned By Pugs Calendar
Best Group Costume (2 or more): A $25 Gift Certificate to H. Doodle - A little shop for little dogs and a copy of the 2008 Owned By Pugs Calendar
Terms & Conditions:
I give my express consent to the public posting of my photo on the OwnedByPugs.com site and to me and my pet being publicly identified by first name if my photo is selected as a winner in the 2006 Halloween Costume Contest.
The photo that I am submitting is my original work and does not infringe on anyone else's rights.
By submitting the photo I am giving OwnedByPugs.com a perpetual, royalty-free, worldwide license to use the photo on the Owned By Pugs.com website and Pug Tails newsletter.
I understand and acknowledge that OwnedByPugs.com chooses the 2006 Halloween Costume Contest winners in its sole and absolute discretion and all decisions made by OwnedByPugs.com are final. I also understand and acknowledge that by submitting a photo to OwnedByPugs.com does not guarantee acceptance or publication of the photo.
I am at least thirteen (13) years of age.
I expressly agree that this photo submission is made in accordance with the Terms of Service applicable to the OwnedByPugs.com site.
2008 Pug Calendar Contest Sponsored by Owned by Pugs
By OwnedByPugs.com
August 1st, 2007
It is that time of the year again! Time to start gathering your photos and submitting them to the 2008 Owned by Pugs Calendar Contest. Now in its third year, the Owned by Pugs Calendar is a 12 month calendar that is always packed full of adorable pug pictures submitted by the visitors of Owned by Pugs. Not only does the calendar give you lots of pug love each month of the year, it also benefits pug rescue. This year we are once again teaming up with Compassionate Pug Rescue and will be proud to donate a portion of the proceeds of the calendar sales to such a wonderful pug rescue organization.
Remember, the calendar contest is free to enter and you may submit as many pictures as you wish. All we ask is that you consider making a donation to Compassionate Pug Rescue. The pugs could sure use your help!
Play it Safe this Fourth of July
By OwnedByPugs.com
June 6th, 2007
The 4th of July is filled with family picnics, warm weather and fireworks. Put all of these things together and you are on your way to having a fantastic holiday. However, the day's festivities can pose serious threats to our four-legged companions.
Let's begin with picnics and cookouts. Once your pug hears that there will be friends and family around with free hands and laps and that food will be available, I'm sure your little one will want to attend. In all the excitement of the day's events, be sure that your puggie doesn't stumble upon any table scraps or that your little one doesn't use those big brown eyes to convince Aunt Iris to give him food he shouldn't have. Make sure everyone in attendance knows the rules about what your pug can and cannot have.
If there is any doubt about whether or not a particular food is safe for dogs, air on the side of caution. Also, you may want to consult with the ASPCA Animal Poison Control Center. They have compiled a list of some of the most frequently asked questions about dogs and people food. Just remember this is not a complete list. It is just the most frequently asked items.
Picnics and cookouts are great outdoor events, but make sure you consider the weather and if your pug will have access to any air conditioned spaces. Being outdoors for any length of time in warm weather can take a toll on your pug. Dogs have very few sweat glands and therefore they cannot effectively cool their bodies by sweating like humans do. The main way that dogs cool down when they are overheated is by panting. When your pug pants, it is expelling hot air from its body, which in turns helps your furry friend cool down. However, pugs have short snouts which means they also have smaller air passages. Smaller air passages means that your pug expels less hot air when they pant, making them more prone to overheating than their non-brachicephalic counterparts (dogs with longer snouts).
Once the sun sets, the long awaited firework celebrations will begin, and your pug's stress level will no doubt rise. The loud noises from fireworks can be scary to dogs. Just remember, your pug doesn't understand why suddenly, loud noises are going off every few minutes. While it may be tempting to bring your puggie along to see the fireworks, your pug will be much happier at home away from the loud bangs.
Keeping these tips in mind, I hope you and your pug enjoy a fabulous and safe Fourth of July celebration!
Spring & Summer Fun - Cool Products for You and Your Pug
By OwnedByPugs.com
May 1st, 2007
Sneak a peek into this year's hottest trends so that you and your pup are the coolest cats in town! You'll both be the envy of the neighborhood.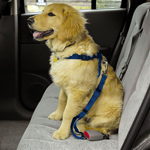 When the weather is nice, there is nothing better than taking your pug out for a nice ride in the car. To make sure your pug is safe and doesn't distract you too much while you are driving, check out these car safety seat belts. The belt has a clip that buckles into the existing buckle clasps in most cars. The other end of the belt then clasps to the harness provided or to your pug's existing harness.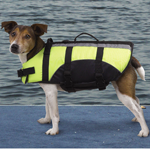 If your pug doesn't want to miss out on all the fun in the pool or lake this summer, make sure to keep them safe with their very own lifevest. While pugs can swim, they can tire out fast and having a lifevest makes it a bit easier for your pug and their mighty chest to stay afloat.

During the summer, sometimes, the best time for a walk is after the sun has set. Make sure cars, bikers and pedestrians can see your pup with these glowing collar lights. The collar lights hook on to your pug's current collar with velcro straps.

When the weather gets warmer, your pug sheds some of that extra fur. There is no way to stop your pug from shedding but you can sure help reduce the shedding by brushing your pug on a regular basis. The Zoom Groom really gets the fur flying!

Now that the weather is nice your pug won't want to hide inside the house on the couch. Keep your pug safe while outdoors and make sure they always wear an ID tag. These engravable ID tags are not only functional they are sturdy and modern. So your pug can stay safe without compromising their sense of style.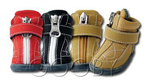 For those that live is very warm climate you know how quickly the blacktop can heat up. Protect your pug's paws with a pair of Hound Hikers. The boots have a 100% rubber sole and are made for serious walkers.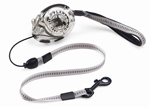 Spring and Summer is all about going to neat places, but when you get there you don't want to have to carry around that bulky retractable leash. Enter the Zip Lead. The Zip Lead is a whole new take on retractable leashes. It features a standard leash loop and the rest fits in the palm of your hand. So when you get to your final destination, you can easily slip your zip lead into your pocket.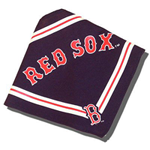 The boys of summer are back and your pug can show his or her team spirit with officially licensed MLB dog apparel. There are team bandanas, collars, leashes, replica jerseys, t-shirts and plush toys all for your little fan. Plus, there is even special team items for our lady pug fans.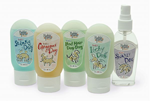 When your pug's out romping at the dog park enjoying the beautiful weather, they are bound to get a little dirty. Make bathtime spectacular and give their coat some extra pampering with Bobbi Panter shampoo. The Sampler Set contains a trial size container of each of Bobbi's special formulas so you can easily try each shampoo and see what works best for your pug.
Ease Your Mind with Home-Prepared Meals
By OwnedByPugs.com
April 1st, 2007
With the recent Menu Foods pet food recall of 60 million cans and pouches of dog and cat food spanning over 90 brands, many are seriously considering making the switch to a home-prepared diet for their pet.
Home-Prepared Diet Basics
When you first embark on preparing your pug's meals at home there are a few things you will need to decide before you begin.
The first is whether or not you will feed your dog a raw or cooked diet. The next is whether you will include raw bones in your pug's diet.
There are a lot of resources available that list the pros and cons of each diet, but I find a lot of the decision is based on personal preference and what you are willing to feed your pug. I opted for the cooked route simply because I was more comfortable with it.
In an article in the The Whole Dog Journal, Mary Straus cites three basic rules to home-prepared meals.
Variety
Balance over time
Calcium
Because it is extremely difficult to create a recipe that is completely balanced and has all the required nutrients your pug needs it is important to vary what you feed your pug. By offering your pug a variety of foods, in the long term, your pug will get the benefits of a balanced diet.
Advantages of a Home-Prepared Diet
Control
One of the biggest advantages of feeding your pug meals prepared at home is that you are in complete control of what your pug eats. There are no hidden ingredients, no unnatural additives and no unnecessary filler that gets hidden in your pug's food dish.
You are able to tailor your pug's diet to accommodate the special needs of your pug by excluding any items that may not agree with your pug (food allergies, sensitivities, etc.)
Health
I can personally attest to the health benefits of a holistic diet. In fact, I first switched to a home-prepared meal plan hoping to cure my pugs medical woes. When my two pugs, Benjamin & Henry, were pups they had chronic diarrhea and upset stomachs. The veterinarian ruled out any health issues and attributed their maladies to the food they were eating. I tried many different types and brands of dog food over the course of the year, but nothing seemed to cure the problem. Finally, my veterinarian suggested making the switch to home prepared meals.
Once I made the switch, my pugs' chronic upset stomachs and loose stool went away. Their coats and skin looked healthier and they absolutely loved the new food they were eating.
Disadvantages of a Home-Prepared Diet
Time
I will be completely up front here, preparing your pugs meals can be time consuming. Life is no longer as easy as buying a couple cans or pouches of dog food at the store and simply popping open a can when your pug gets hungry.
Also, if you and your pug are traveling special arrangements are usually needed for your pug's food. For example, my pugs' food must be refrigerated so when we travel I must bring a cooler and our final destination must have a refrigerator where I can store the dog food.
The type of diet that you decide to feed your pug, raw or cooked, also affects the amount of time it takes to prepare your pug's meals. However, companies like the Honest Kitchen sell dehydrated raw dog food that can help cut down on your food preparation time.
Personally, I have developed a meal preparation system that helps ensure I always have time to make our pugs food. I cook all meals on Sundays and pre-scoop the week's meals into bowls. The daily feedings then only require taking a bowl out of the fridge for each dog.
Research
Before I started feeding my pugs home-prepared meals, I certainly wasn't able to put together a balance diet for them. Before you can make the switch you must talk to your veterinarian and research what foods are healthy for dogs and make sure you come up with a good balance of nutrients.
The Next Steps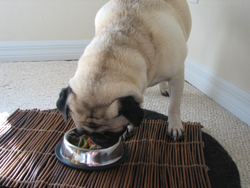 If you are ready to make the switch from commercial dog food to home prepared meals the first thing you should do is consult your veterinarian. Veterinarians that are certified by the American Holistic Veterinary Medical Association (AHVMA) will be able to provide you with a lot of insight and resources for home prepared meals. Your veterinarian will also be able to help you determine the proper portion sizes for your pug.
Once you are ready to make the switch to home prepared meals it is important to gradually ween your pug over to the new food. Your veterinarian will be able to provide you with a time line on how to make the switch. Usually, this process only takes a week or two.
My only other piece of advice is to do your research. There are lots of resources available online and plenty of books that will help you create a balance meal plan for your pug. In addition, there are also companies that will supply you with all-natural mixes that can help save you time if you are not up for the task of completely preparing all your pugs meals.
Resources
Benjamin, Henry & Luna's Home-Prepared Meal
For the most part, this is what Benjamin, Henry & Luna eat each day. We vary the ingredients from time to time to ensure that they get a balanced diet.
The Whole Dog Journal
The Whole Dog Journal is a monthly guide to natural dog care and training. It requires a subscription but it is a great resource for those interested in holistic care.
DogAware
A great resource on home feeding offering tons of useful information and resources.
The Honest Kitchen The Honest Kitchen offers a range of dehydrated raw pet food that can make it easier to feed your pug a home-prepared diet.
Meet Cujo - A Flyball champion turning heads
By
March 1st, 2007
We all know that the pug is a special breed of dog, but I think it is safe to say that pugs are not generally know for their athletic prowess. But a small pug name Cujo, hailing from the city of Winnipeg, Manitoba, Canada, is taking the Flyball world by storm and proving that a pug has what it takes to be a flyball champ.
Like many of us that share our homes with pugs, you might not be sure what flyball is even about. Flyball is a sport where your typical doggie participants are Whippets, Border Collies and other sporting dogs. You know, the kind of dogs that are full of energy and constantly fetching a ball or stick at the dog park? Flyball events consist of a series of team relay races where dogs race down a 51 feet lane and release and catch a tennis ball from a specially designed flyball box. Once the dog has retrieved the tennis ball they must race back down the lane to the starting line. After one dog has returned the next dog on the team is set to race. This is repeated until all four dogs on the team have had a turn. The team with the fastest time wins the heat. The 2 teams go head-to-head racing to win 3 out of the 5 heats. On a good day, Fido can go home after the 3rd heat if his team is on a roll. Since it is a relay, one of the true obstacles can be running towards your competition and avoiding the temptation to turn around and grab a hold of his tail!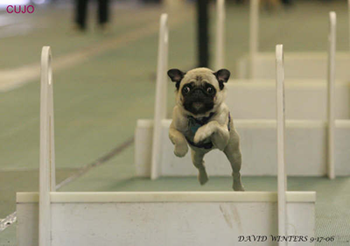 Cujo, an All-Star Flyball pug, has managed to excel in this activity that seems to be geared towards sporting dogs. His performance is amazing and he has a real passion for the event. He is a petite and lean pug standing at just under 13 inches tall and weighing in at not quite 16 pounds. He is only 1 of 2 pugs participating in flyball competitions in Canada and the only pug currently in his club, the Flyball Fanatics. Cujo is sort of a ringer for his team mainly because he is the height dog. Since the height of the hurdles is set based on your shortest dog, Cujo gets the bar lowered for his teammates, but still must make jumps that are difficult for his stature. The same advantage is given to each team, so it is a good idea to have smaller dogs on a team so that the hurdle doesn't have to be much of a jump for a larger dog. So, usually teams will have a small dog like a Jack Russell on their team. Jacks are great jumpers, though. Pugs, however, are not the typically the first small dog thought of to be terrific in the field of athleticism.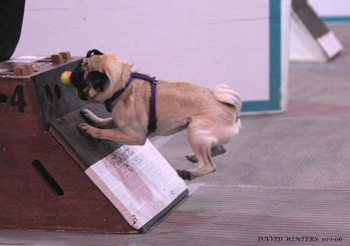 Cujo was only 6 months old when he first attended a flyball event. Once introduced to the sport there was no turning back. Like many pugs, Cujo will do almost anything for food, so he was pretty easy to train. First he learned on the clicker (which is a must for the sport) and then he learned to fetch, jump and of course to avoid all other distractions, like other dogs running down the lanes. The hardest thing for Cujo to do was to catch the ball when it was triggered out of the box, but with loads of practice, Cujo not only got the hang of it, but he is now a show stealer!
Cujo is no different than many pugs in the sense that his mouth is small and not conducive to grabbing hold of a regulation sized tennis ball. So, Cujo requires smaller tennis balls for the competition. The club ordered special balls from a pet store in California. Now he has over 200 size 1.5 Happy Dog brand tennis balls. This will be plenty to last him throughout his flyball career.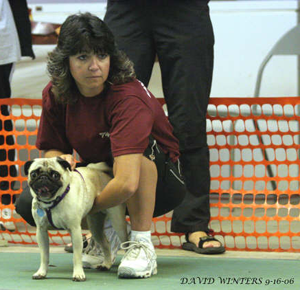 Cujo's first flyball tournament was in September of 2006 which was just a mere 7 months ago. He is already ranked 3rd among pugs registered with NAFA (North American Flyball Association). Talk about pug power! Cujo has now achieved over 1000 points. That gains him Flyball Dog Champion Silver status. Points are earned based on speed. While Cujo isn't the fastest on his team, he is still a top competitor! Cujo's average time down the lane is 6.7 seconds with his fastest time being 6.5 seconds. Most dogs run an average of 4-6 seconds. Wow, not bad for a pug! Most of the dogs in Cujo's club are Border Collies, Australian Sheppards, Jack Russells, Shelties and mixed breeds. All are dogs known for their speed. So, for Cujo to be on such a fast footed team is an achievement in itself! Cujo really is an all-star!
Think you're interested in getting your pug into flyball? Make sure your pug is in tip top shape, then check out NAFA's website. The site provides detailed information about the sport and it will give you a listing of tournaments in your area. It wouldn't be a bad idea to go watch a tournament for yourself first to see if this is an endeavor that both you and your pug would be passionate about. You can also see a picture of Cujo in action at NAFA's website in their news archives. Cujo has a brother named Yogi that is getting into the sport, too. He is a little younger than Cujo and will need to develop and mature a little bit, but flyball seems to be in his blood as well!
Click here to read an update on Cujo
A special thanks to Nathalie, Cujo's Mom, trainer and flyball companion for sharing Cujo's wonderful story!
Grin & Bare It - Good Dental Care for your Pug
By OwnedByPugs.com
February 1st, 2007
February is Pet Dental Health Month and we wanted to share with you the importance of good dental care for your pet. Does your furry friend have doggy breath? That odor isn't a laughing matter. It is not uncommon for puppy halitosis to be the symptom of some other, more serious malady.
Without regular teeth brushing and preventative dental maintenance, your dog could develop any or all of the following:
Infected gums & teeth
Kidney trouble
Intestinal difficulties
Heart problems
What's the best way to avoid these unnecessary medical evils?
Begin brushing your pet's teeth regularly and at the earliest age possible knowing it is never too late to start this good habit
Pugs require special attention to their teeth since they have almost no snouts, which often causes dental crowding and puts pugs at a higher risk for plaque and tartar buildup
Brush with a doggy tooth brush or for small dogs, finger brushes are available
Always use toothpaste made especially for dogs; never use human toothpaste
Carefully choose treats and bones marketed to clean your pug's teeth while they chew
Use special additives to your dog's water that aide in dental hygiene
Have your pooch checked regularly at your veterinarian's office
Schedule a dental cleaning at least every 3-5 years depending on your dog's dental needs
Know that a formal dental cleaning done at the vet's office is an operative procedure and should include pre-op blood work. Keep in mind the age of your pet and if he/she would be considered a high risk patient when going under anesthesia. Always follow the recommendations of your doctor. They may even suggest having Fido take antibiotics prior to the procedure.
Maintaining your dog's dental well being can avoid serious health problems in your dog's future. Just imagine if you never brushed your teeth or saw the dentist. Not only would your friends fade fast, but so would your physical condition! It's your job to help man's best friend stay well. Brush on!
Product Review: Zoom Groom
By OwnedByPugs.com
January 7th, 2007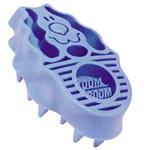 Product: Zoom Groom Made by: Kong
Henry's Rating: 5 paws out of 5
Benjamin's Rating: 4 paws out of 5
Buy it at H. Doodle
What is the Zoom Groom?
The Zoom Groom is a completely rubber brush with very thick, flexible bristles. The brush is used to remove excess hair, which we all know our pugs have an endless supply of, and to keep your dog's skin and coat healthy.
Benjamin & Henry's Findings
Both, Benjamin & Henry give the Zoom Groom high marks because they have been using this product for years. Since they were pups, they have been getting regular brushings by the Zoom Groom.
Why the pugs like it
Before we found the Zoom Groom, Benjamin & Henry had the misfortune of being brushed with various other brushes similar to soft slicker brushes. While the brushes helped remove excess fur, neither Benjamin nor Henry enjoyed being brushed by them and instead they wiggled the entire time.
With the Zoom Groom, however, the boys love it. Whenever, I get out the Zoom Groom, the boys excitedly run to the yard. Henry will sit, lie down, roll over and put himself in any position as long as he gets brushed with the Zoom Groom. Benjamin, who barely tolerated any other brush, actually enjoys the Zoom Groom.
Why the owners like it
The biggest reason I am such a fan of the Zoom Groom is because Benjamin & Henry like it. Before brushing them was a chore and it was something that none of us enjoyed. Now, however, it is actually fun because the boys get excited to be brushed.
Another reason, I am sold on the Zoom Groom is because it works! Here you can see the results of brushing Benjamin and Henry for about 10 minutes.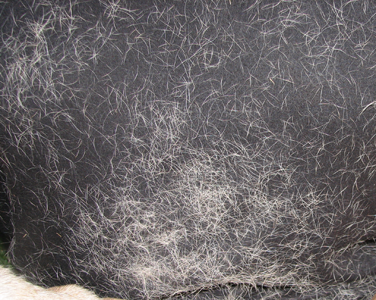 I also like to use the Zoom Groom to help clean up the boys after a long day at play. When we come home from the dog park or the beach, the boys are usually a dirty, sandy mess. Before I let the boys in the house, I brush them with the Zoom Groom and the fur flies and so does the dirt and the sand. It is a great way to help keep them clean in between baths.
The Zoom Groom is also durable and easy to clean. We have had our Zoom Groom for almost four years now and it is holding up great. The fur is easy to get out of the bristles and if the brush gets dirty you can simple rinse it in water since it is rubber.
If you are a pug owner, I'm sure you have been hit by the cold, hard reality that pugs shed! The Zoom Groom certainly won't eliminate shedding, but it definitely will help you remove excess fur from your pug and if used on a regular basis will help reduce the amount of fur you find around the house.
A Holiday Shopping Guide for your Pug
By OwnedByPugs.com
November 29th, 2006
The holidays are quickly approaching and like most of us, your holiday shopping list is probably getting longer by the minute. In all the hustle and bustle of this busy time of year, we can't forget to get our pugs a small holiday treat. To help save you precious shopping time, here are some things that are sure to be on your pug's holiday wishlist.
Harnesses & Leashes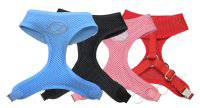 The Freedom Harness just might be the perfect harness for your pug. The harness is made of a semi-stretch, breathe-easy mesh material and the connecting straps are made of a super soft Ultra Suede. The wide chest straps provide much needed support for pugs and for dogs that pull on the leash.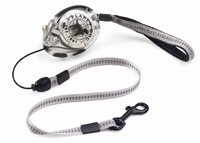 The Zip Lead is a new take on the traditional retractable leash. While retractable leashes have always been convenient, they are bulky. The Zip Lead is designed to fit in the palm of your hand and includes a traditional leash loop so the leash can be used as a regular leash when in the locked position. All the benefits of a retractable leash without the extra bulk.
Clothes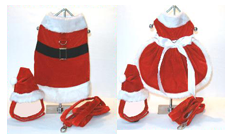 Your little one will be the life of the Christmas Party in this velvet Santa Girl or Santa Boy outfit. Each outfit includes a matching hat and leash. A complete holiday set!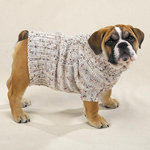 Perfect for that cool winter day, the Irish Knit sweater is sure to keep your pug toasty warm. The sweater is made of a soft acrylic and is ribbed at the bottom to ensure a perfect fit.
Bath & Body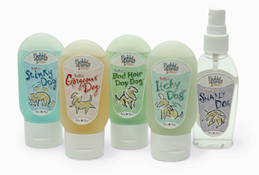 Treat your pug to a relaxing bath with one of these Bobbi Panter Dog Shampoos. The set includes one 2.42 oz bottle of the following shampoos Gorgeous Dog, Itchy Dog, Stinky Dog, Bad Hair Day Dog and Snarly Dog. Each bottle contains enough shampoo for multiple uses so you can sample them multiple times and find out which product is your favorite. Best of all, each shampoo is made with all natural ingredients and DOES NOT contain Sodium Chloride! Sodium Chloride is table salt and is harmful to your pet's skin, fur and eyes.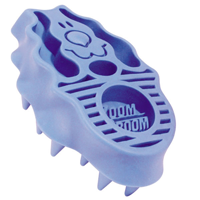 As pug owners we are all well aware that pugs shed. Unfortunately, there isn't anything you can do to stop it, the only thing you can try to do is manage it. The Zoom Groom is a great brush that really gets the fur flying. I use the brush on my three pugs weekly and my pugs enjoy being brushed by the Zoom Groom. A win win situation for everyone. You remove the excess fur from your pug, your pug enjoys a good brushing and they are left with a soft and shiny coat!
Accessories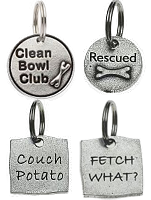 Let your pug express his or her deepest thoughts with these adorable collar charms. Each charm is made of lead-free pewter and includes a ring for easy collar attachment. With over 24 sayings to choose from you are sure to find one that is perfect for your pug.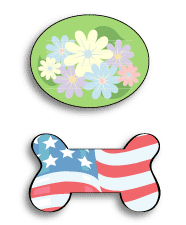 Nobody said your pug's ID tag had to be ordinary. With the FasTags shrinking ID tags, your whole family can join in on the fun of making your pug's tag. Simply write your pug's name, address and phone number on the tag, bake it in the oven and watch the tag shrink. Once the tag cools, it is ready for your pug to wear. Tags are available in seven different fun designs.
Pug Lover Gifts

Bring a smile to any pug lover's face every day of the year with the Owned by Pugs 2007 Pug Calendar. With over 250 pictures of adorable pugs this calendar isn't your ordinary pug calendar. Plus, a portion of the proceeds benefit pug rescue!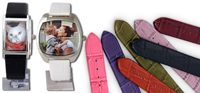 Put your favorite picture on a watch! With seven band colors and two face styles to choose from, this personalized watch is sure to please. After all, who wouldn't want to have a picture of their beloved pug with them every second of the day.
For more great holiday gifts be sure to check out H. Doodle - A Little Shop for Little Dogs.
2006 Halloween Costume Contest Winners
By OwnedByPugs.com
October 31st, 2006
Introducing the 2006 Halloween Costume Contest Winners!
First Place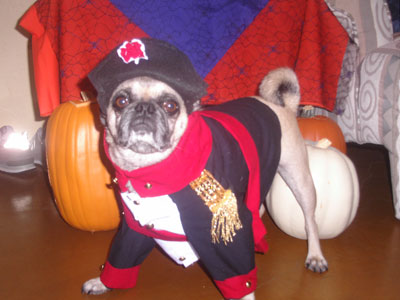 Bruce as Napolean Bonapart
Second Place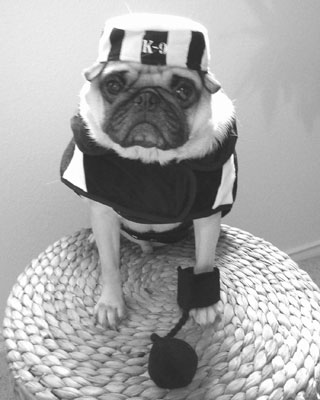 Oliver
Third Place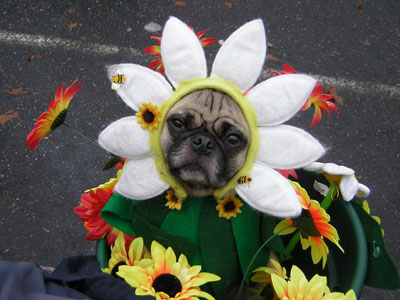 Pugsley
Honorable Mention
| | |
| --- | --- |
| | |
| Sugar Ray | Nase & Tatze |
| | |
| Angus | Maximus |
| | |
| Ednah | Beasley |
| | |
| Nico | |
Halloween Costume Contest
By OwnedByPugs.com
October 1st, 2006
Celebrate Halloween with Owned By Pugs by participating in our Halloween Costume Contest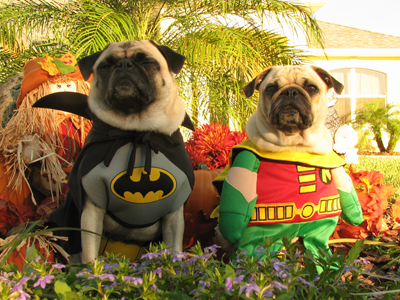 How to participate:
Send a photo of your pug or pugs dressed in their Halloween costumes to contests@ownedbypugs.com.
We will accept entries from Sunday, October 1, 2006 until midnight on

Friday, October 27, 2006 EST

Sunday, October 29, 2006.
Winning entrants will be notified on Tuesday, October 31, 2006 and the winning entries will be posted on Owned By Pugs.com
By submitting your photo you agree to the contest terms & conditions listed at the bottom of the page
Best of all their are some fantastic prizes up for grabs. Here is what is at stake:
First Place: $40 Gift Certificate to H. Doodle - A little shop for little dogs and a copy of the 2007 Owned By Pugs Calendar
Second Place: A copy of the book Pug Therapy, 8 ounces of gourmet dog treats and a copy of the 2007 Owned By Pugs Calendar
Third Place: 8 ounces of gourmet dog treats and a copy of the 2007 Owned By Pugs Calendar
Honorable Mention: 7 photos will be chosen and each entrant will receive a copy of the Owned By Pugs calendar
Terms & Conditions:
I give my express consent to the public posting of my photo on the OwnedByPugs.com site and to me and my pet being publicly identified by first name if my photo is selected as a winner in the 2006 Halloween Costume Contest.
The photo that I am submitting is my original work and does not infringe on anyone else's rights.
By submitting the photo I am giving OwnedByPugs.com a perpetual, royalty-free, worldwide license to use the photo on the Owned By Pugs.com website and Pug Tails newsletter.
I understand and acknowledge that OwnedByPugs.com chooses the 2006 Halloween Costume Contest winners in its sole and absolute discretion and all decisions made by OwnedByPugs.com are final. I also understand and acknowledge that by submitting a photo to OwnedByPugs.com does not guarantee acceptance or publication of the photo.
I am at least thirteen (13) years of age.
I expressly agree that this photo submission is made in accordance with the Terms of Service applicaple to the OwnedByPugs.com site.
AKC's Canine Good Citizen Test
By OwnedByPugs.com
August 1st, 2006
I like to think that my pugs are well behaved and that they do well when they meet new people and dogs. They handle almost any social situation with the grace of a Pug, but after meeting a very well behaved Collie that was certified as an Canine Good Citizen, I started thinking. Just how well behaved is my gang and would they be able to pass the AKC's Good Citizen Test?
So began my quest to find out what the AKC's Canine Good Citizen test (CGC) was all about. Here is what I found while doing my research.
What is the AKC's Canine Good Citizen test?
The CGC test is a two part program. The first section of the program focuses on responsible pet ownership. This section is the responsibility of us pug owners and requires that we make sure our pugs are up to date on their shots, well groomed and receiving proper veterinary care. The second part of the program focuses on the manners of our pugs and stresses the importance of good manners in a variety of social settings.
Almost any dog is eligible to take the CGC test, but there are a few requirements. While there are no age requirements for the test, puppies must have received all immunizations and boosters before they may take the test.
What does the test entail?
The thought on everyone's mind probably is what does my pug have to do to be able to pass the test? Here is a rundown of all the items that your pug will be tested on on exam day.
Accepting a friendly stranger
In this test, your pug must maintain its position while a stranger walks up to you and your pug and greets you. The stranger will ignore your dog while you and the stranger exchange pleasantries and shake hands. In this situation, evaluators are looking to make sure your pug does not show any signs of resentment or shyness and most of all that your pug does not break its position to give the stranger a nice, big pug hello.
Sitting politely for petting
This test item starts with your pug sitting at your side. A stranger will approach both of you and will pet your pug on its head and body. Evaluators are looking to make sure your pug calmly remains at your side while receiving attention from the stranger and does not show any resentment or shyness.
Appearance and Grooming
During this test item, the evaluator is looking to make sure your pug is well groomed and in good health. Also, the evaluator will brush your pug with a brush that you bring with you. The evaluator is looking to make sure that your pug can handle being groomed. In addition to brushing your pug, the evaluator will pick up each one of your pug's front paws. Luckily for us pug owners, they will not attempt to trim your pug's toenails.
Out for a walk (walking on a loose lead)
This item tests to make sure you are in control of your dog and that your pug is not walking you. During this item, the evaluator will look to make sure that your pug is following your lead and is attentive. You will be required to make at least one right turn, one left turn, an about face and to stop at least twice during your walk. During the direction changes your pug must follow your lead.
Walking through a crowd
This item tests your pug's ability to behave itself in an area where there are many people. During testing for this item, you and your pug must walk closely to at least three people. Your pug may show natural interest in these people but they may not jump up on them or exhibit any signs of resentment or shyness. Also, while walking through the crowd, your pug should not be tugging on the leash.
Sit and down on command and Staying in place
Before beginning this item, the evaluator will give you a 20 foot lead to use in place of your normal leash. You must have your pug perform both the Sit and Down command. Then you must have your pug stay in either a sit or down position while you walk the length of the 20 foot lead and return to your pug. The evaluator will then tell you when to release your pug from the stay position.
Coming when called
This item ensures that you pug comes when called. From 10 feet away you must call your pug and have him come to you.
Reaction to another dog
In this item you will approach another handler and dog, stop, shake hands and briefly exchange pleasantries. While you are speaking with the other handler your pug may show casual interest in the other dog, but it may not approach the other dog or the other handler.
Reaction to distraction
In this test, the evaluator will attempt to distract your dog. Common types of distractions used include: a runner passing by you and your dog, someone dropping a cane, a shopping cart passing by, or a chair or object falling. The main purpose of this item is to make sure that your pug does not run away, show aggressiveness at the object or bark. Your pug may be startled but they must remain calm in their reaction.
Supervised Separation
During this item, you must leave your dog's sight for 3 minutes. During that time the evaluator will watch your pug and evaluate your pug's behavior. You pug should not whine, bark, tug at the leash or try any other clever pug tactic to try to find you. The evaluator may talk to your dog, but they can not offer excessive reassurance to your pug.
Would my pugs pass?
After reading up on the CGC test, I don't think my pugs would pass without us doing any extra training. But luckily, there are CGC test training classes available. Check with your local pug club to find training classes in your area. The training classes are a great opportunity for you to bond with your pug. Plus, your pug will learn many things in the class that will help him be a model pug citizen.
Once you and your pug are ready for the CGC test you can find the upcoming test dates and locations here.
Take Better Photos of Your Pug
By OwnedByPugs.com
July 1st, 2006
Breed Profile - The Pug
By Paul Johnston
June 13th, 2006
'Multum in Parvo' -- a lot of dog in a small space, is a very apt description for the Pug. One of the oldest breeds, this endearing little dog has its origins in the Orient although just when and how it came into existence is shrouded in mystery.
It is thought to have originated in China before 400 BC but has been found in Tibet and also Japan before finding its way to Europe where it became the favourite of the Royal Courts in many countries.
In Holland the breed became the official dog of the House of Orange as recognition for a Pug saving the life of William, Prince of Orange, by giving warning of the approach of the Spaniards in 1572. When William II landed in England to be crowned King, Pugs were included in his entourage.
The breed became very popular during the Victorian era and is featured in many paintings, postcards and figurines of the period. Many of the dogs are depicted wearing wide, decorative collars or large bows around their short, thick necks.
The name 'Pug' is thought to have originated from the dogs facial expression, similar to that of marmosets which were widely kept as pets in the early 1700's and which were known as Pugs.
Temperament
In Holland the Pug is known as 'Mopshond', from the Dutch word 'to grumble', which probably describes the snuffling and 'talking' which is characteristic of the Pug, for it certainly does not describe the nature of this little dog. There are few more endearing dogs than the Pug. It has a natural affinity with children, craves human companionship and although it has an air of dignity it manages to combine it with a sense of humour and a desire to be the centre of attention.
Grooming
The coat is fine, smooth, soft, short and glossy and is easy to groom. However, Pugs shed a lot of hair so regular brushing is required. The wrinkles around the face should be wiped regularly with a damp cloth, but bathing is only required when necessary.
As A Pet
The Pug is an ideal pet for all ages and is especially suitable for older folk, as its exercise needs are quite moderate. However, regular exercise will help to maintain health and a regular game of ball will provide plenty of entertainment for the family. It is well suited to apartment living and while it will bark when strangers approach, it is considered a fairly quiet animal.
It is important to ensure that the Pug is kept cool on warm days, as this breed does not cope well with heat. As the Pug is very much a breed that prefers to be a housedog it will generally search out the coolest spot in the house -- and certainly the most comfortable whatever the weather!
Summer Safety Tips
By OwnedByPugs.com
June 2nd, 2006
Microchips - A Safeguard for your pug
By OwnedByPugs.com
March 15th, 2006
A few weeks ago, I was reading through the classifieds of my local paper and I came across an ad placed for a lost dog. The dog was a beloved family pet and the family was desperately trying to locate their missing pup. My heart went out to the family as I was reading their ad and I couldn't even imagine what it would be like if one of my pugs was missing.
No matter how careful and cautious we are as pug parents, we must take necessary steps to ensure that if our pug does ever get separated from us that we can be reunited with him as soon as possible. Thankfully, through the wonders of technology, microchips offer pet owners an easy way to help identify their beloved pet so they can easily be reunited with their family.
What are microchips and how do they work?
A microchip is tiny capsule about the size of a grain of rice that is inserted under the skin of animals. The microchip capsule contains a small chip and an antennae. Each microchip is assigned a unique number that will then be used to identify your pet. The microchip does not rely on the use of batteries and the circuitry inside the chip is only activated when it is being scanned by a microchip reader.
After the microchip is inserted into your pug, you will need to register the chip's unique ID along with your contact information into the microchip maker's database. The most important step in microchipping your pet is to make sure that your contact information is registered and always kept up to date in the database.
Once the microchip is inserted and registered, your pug can be identified by a microchip scanner. To identify your pug, the handheld scanner is waved along your pug's neck. Once the scanner detects the microchip, your pug's unique identification number appears on the LCD screen of the scanner. This number can then be used to lookup your pug's contact information so that your pug can be safely returned home.
How is the microchip inserted?
In dogs, the microchip is inserted under the skin between your pug's shoulder blades. It is inserted into your pup's body using a needle that is slightly larger than the needle used to administer your pug's normal vaccinations. While the process is not pain free, your pug's discomfort will be minimal and will be no worse than receiving a vaccination shot.
Once the microchip is inserted, it will reside under your pet's skin and if the chip is inserted properly you will not see a lump on your pug nor will you be able to feel the chip.
Aren't my pug's tags as good as a microchip?
No. Many times when a pet is lost his or her tags are missing or mangled and rescuers are unable to contact the animal's owners. Since your pug's microchip is located under the skin, you will be guaranteed that it will never be separated from your pug.
Microchips work under the same premise as pet identification tattoos - that your pug will never be separated from their form of identification. However, microchips even have advantages over tattoos. Microchips can not be hidden by matted fur or scraps and scars. The microchip reader will be able to identify your pug simply by passing the scanner over your pug's body.
Do all shelters and veterinarians have microchip scanners?
Many of the shelters and veterinarians in the US have microchips scanners. Many of these devices were donated to these organizations by scanner manufacturers.
Does it matter which brand of microchip I choose?
Currently, the two major microchip manufacturers in the US are HomeAgain and AVID. In addition to making microchips, each of these companies also makes microchip scanners. The scanner manufactured by HomeAgain is universal and can detect HomeAgain and AVID microchips. However, AVID uses a proprietary encryption algorithm on their microchip, so HomeAgain scanners can only detect the chip. They can not read the chip's identification number.
While there is currently not a universal scanner that can read microchips made by any manufacturer, microchips are still a reliable way to identify your pug. When a stray animal is found, shelters and veterinary offices usually work together to find a scanner that can decode the type of microchip in the lost pet.
While microchips are not without issues, having your pug microchipped is an additional safeguard that you can take to ensure that your pug is safely returned to its family if the unthinkable should ever occur.
Potty Training - Sealing the Deal
By OwnedByPugs.com
March 8th, 2006
The worst memories I have involving Benjamin and Henry's "puppyhood" all revolve around potty training. Henry was fairly easy to potty train. But Benjamin was a nightmare.
Benjamin did a great job of doing his business outside if you were constantly watching him and you were able to take him outside before he really needed to go. However, if you weren't watching him and he needed to go potty, it didn't register to him that he was supposed to go to the bathroom outside. Instead, he was perfectly content to just pick any old random spot inside the house.
Now, I know that most of the responsibility of potty training relies on the owner and it is our job to keep an eye on our pugs and make sure we are able to take them outside to relieve their doggie bladders. I did just this and the boys were starting to develop a routine and on most days Benjamin did not need to take any additional potty breaks between our regularly scheduled walks. But, when he did need to go out, he did not know how to tell me. Henry would go over to the door and whine, but Benjamin didn't give me any warning signs (none at least that I picked up on). Instead he just did his business in the house.
This was really frustrating for me because we went outside to go potty many, many times a day. I had read numerous books on house training dogs and I was following all their advice. Desperate, a friend gave me some advice that finally worked.
Her suggestion was to tie a bell on a piece of string and hang it from the door knob of the door that you use to take your pug out to go potty. The string must be long enough that your pug can easily touch it with his paw.
Once you have "installed" the bell, be sure that each time that you bring puggie outside to "do his business" that you ring the bell before you go out the door. The object is to have the pug associate the ringing of the bell with needing to go potty so that they will learn to ring the bell if they need to go out.
Now, when my friend shared this with me all I could do was laugh. I couldn't even get Benjamin potty trained, how could I get him to ring a bell?
Despite my doubts, I was desperate so I decided to give it a shot. I hung the bell on the door and every day for about 3 weeks I rang the bell every time we went outside. Still, nothing was clicking with Benjamin.
Until one day, I was working in the kitchen when I heard the bell ring. I immediately dropped everything, scooped up some treats and darted to the door. Sure enough, Benjamin was pacing by the door. We headed outside and Benjamin went potty right away. After he finished, I praised him like nothing he had ever seen before. The neighbors probably thought I was nuts, but we just had a major breakthrough!
Despite our breakthrough, I was still skeptical thinking that his bell ringing was just a fluke. But I decided to be optimistic and test him a bit by taking out a few of our regularly scheduled potty breaks. Most of the walks were extra and the boys didn't always go potty, but I always tried to avoid Benjamin having accidents in the house by taking him out frequently. With the extra walks removed, Benjamin was forced to let me know that he had to go potty. Day after day, Benjamin would ring the bell and we would go outside and he would do his business. I couldn't believe it, Benjamin was potty trained!
We kept the bell on the door for a few months and then we removed it because Benjamin learned to scratch on the door to let us know that he had to go potty. And to this day Benjamin still will give a nice big scratch on the door when he needs to go potty. Thankfully, we haven't had a potty accident in years! (Knock on wood!)
The Year of the Dog
By OwnedByPugs.com
March 1st, 2006
In honor of pugs and their Chinese heritage we thought we would find out a bit more about the Chinese Zodiac and most importantly since this is the year of the dog, the dog animal symbol.
The Chinese Zodiac
The Chinese Zodiac represents a 12 year cycle with each year represented by an animal. The animals of the Chinese Zodiac include:
Rat
Ox
Tiger
Rabbit
Dragon
Snake
Horse
Sheep
Monkey
Rooster
Dog
Pig
In the Chinese culture it is also believed that each animal possesses distinct characteristics and those born during those years also exhibit the animals distinct personality traits. Those born during the year of the dog are thought to be loyal, honest and trustworthy, but they can also be stubborn and selfish.
Famous people born in the year of the dog
George W. Bush
Bill Clinton
Madonna
Elvis Presley
Donald Trump
Mother Teresa
Steven Spielberg
Michael Jackson
Take a tour of the new OwnedByPugs.com
By OwnedByPugs.com
February 18th, 2006
It has been a long time coming, but the new version of OwnedByPugs.com has officially been released. This update is jammed packed with new features and improvements. Here are the highlights of the major changes and cool new pug things that have been added to the site.
New Logo

The old logo was OK, but it just wasn't pug enough for us. We are quite proud of the new logo and of our new site mascot. If you like our new pug style, be sure to check out our new store and the official OwnedByPugs.com merchandise.
Puglines
Puglines is a new section of the site dedicated to providing timely pug and dog related information. The old version of the site had a few pug related news items on the homepage, but in the latest version of the site we have completed revamped the news section.
You can also stay up to date with Puglines postings by subscribing to the RSS feed.
Weekly Pug Archives
Each week we choose a picture from the gallery and display it throughout the site. Now you can see all of the featured pictures in the new Weekly Pug Archives. So, if you missed any of the weekly selections now is your chance to get caught up. Plus, now you can use your favorite feed reader and subscribe to the Weekly Pug feed so that you will always know when a new picture has been selected.
Pug Picture Gallery
Comments are back! The picture gallery now lets visitors who wish to comment on pictures to register as members of the site. Once registered, you may leave comments on the pictures in the gallery.
Don't want to register, no problem. You can still upload and view the pictures in the gallery. You just won't be able to leave comments.
Rescue Stories
New to the site is Rescue Stories, a section of the site devoted to sharing the stories of pugs that have been rescued. This section will give those that have rescued pugs a chance to share their pug's tale and give readers an idea of what life was like before and after their little pug was welcomed into its new forever home.
This section is open to submissions from everyone. So if you have rescued a pug and would like to share your Rescue Story send it our way!
Keeping your pug cool during the dog days of summer
By OwnedByPugs.com
July 19th, 2005
Summer heat takes its toll not only on humans, but also on our pets. Actually, summer weather is harder on your pug than it is for you. When humans become hot, they sweat and when that sweat drys on our skin it cools our body. Dogs, on the other hand, only have sweat glands on their paws, which means they do not cool themselves by sweating. Instead, they cool down by panting.
When your pug pants, it is cooling itself by expelling hot air from its body. While this cooling method works, it is not nearly as effective as sweating. So it is safe to say, that if you are hot your fur covered friend is even hotter.
To make matters worse, pugs along with other short nosed breeds, have smaller airways than their non short nosed counterparts. This means that when pugs pant they expell even less hot air than breeds with snouts and have an even more difficult time cooling themselves through panting.
The pug's short nosed makes it very susceptible to heatstroke. A pug's normal body temperature is between 101°F and 102°F. When a pug's body temperature rises to 105°f (just 3° higher than normal!), they are no longer able to cope with cooling themselves and their oxygen demand is greatly increased. With a temperature of 105°F your pug is in a very dangerous situation and needs help cooling down immediately. If a pug's temperature reaches 108°F, the heart, brain, liver and kidneys begin to break down at a cellular level which can lead to long term health problems or even death.
Below is a list of warning signs that your pug may be suffering from heatstroke:
rapid, heavy panting
staring
warm, dry skin
excessive salivating
inablility to stand, collapse
vomiting
If you think your pug is suffering with heatstroke, here is what you can do. First, have someone call the vet or the emergency vet, while you try to cool your pug. You can cool your pug, by placing cool towels on its body. The towels must be cool, but not ice cold. Drastic temperature changes are not good for your pug either. Remember to keep wetting the towels because they will quickly warm to your pug's body temperature. If wet towels are not available, put cool water on the back of your pug's neck and on its belly. While cooling your pug, offer it fresh water as well.
While overheating and heatstroke are a serious concern for pug owners, this is not to say that pugs can not join in on any of the summer fun. Under the watchful eyes of their owners, pugs can enjoy the lazy days of summer too. First, make sure that you always have plenty of fresh water with you. While outside it is important that your pug always have access to cool water.
Second, avoid walking during the hotest part of the day. You and your pug can beat the heat by taking walks in the morning hours or in the evening hours prior to sunset. Also, try to find shade covered paths to help protect you and your pug from the sun.
In addition, if your pug enjoys water your pug can stay cool and burn off some of that pent up energy by swimming. A small, kiddie pool filled with fresh water is a great way for your pug to stay cool and have some fun. Or if your pug is a good swimmer they can go swimming in the pool with you.
The main thing to remember in the summer is to take cues from your pug. If you keep a close eye on your pug during those hot, humid months you and your pug will enjoy a great summer.
Dog Park Basics
By OwnedByPugs.com
July 12th, 2005
If you visit a local dog park frequently, you are likely to have run across a few other owners who make everyone else's visit to the dog park a little less fun. You know, the owners that are too busy reading the paper to notice that there dog has done its business. Or the person that brings in treats for their dog and wonders why your dog is now glued to their side.
The dog park can be a very enjoyable place for dogs and owners alike if everyone just follows a few simple dog park rules. While each park will have their specific guidelines here is a general set of guidelines that should be followed at any dog park.
Obey the posted park rules. This may sound like a no brainer, but you would be surprised at how many people are unfamiliar with the rules of their local dog park. On your first visit to the park take a moment to read the rules and make sure you follow them.
Make sure your pup is up to date on all her shots. While at the park, your dog will be playing and drinking after many different dogs. To protect your puggie and other dogs at the dog park you will want to make sure your pup is current on all her vaccinations.
Never bring more pugs than you can handle. Pugs are laid back and friendly dogs by nature, but you still don't want to bring more dogs than you can handle at one time. Some parks limit owners to two dogs at a time and others allow owners to bring 3 dogs into the park at a time. If the park you visit is a busy park and you have 3 or more puggies you may want to bring a friend to help you keep an eye on the little ones.
Never leave your pug unattended in the park. Again, this one sounds like a no brainer, but if you have to run to the car to get something bring your dog with you.
Don't bring pugs under 4 months old to the park. It may seem like dog parks are the best place for young pugs to run off all that extra energy, but most puppies don't do well at crowded dog parks because they have not completely learned all of the socialization skills they need to be a model dog park citizen. On your pug puppy's first few visits to the dog park, try to go during off peak hours and look for mild mannered dogs that will gently teach your pup. Another excellent way to teach your dog socialization skills is to attend a puppy socialization class. Here, in a structured environment, your pug will learn how to greet other dogs and that everytime they see another dog it isn't play time. Once they have picked up the basic social skills they will know how to greet other dogs in the park and will be able to pick up on the signals the other dogs are sending their way.
Don't bring your pug in the park on a leash. On your first visit to the park, it may seem scary to take your pug off the leash and release them into a park full of excited dogs, but it is in everyone's best interest if all dogs are unleashed when inside the park. When your pug first enters a crowded park, a pack of dogs will usually form around him to check out the new visitor. You dog will be much less defensive if it is not on his leash and is able to move freely through crowd.
Don't bring any food or treats into the park. All pugs like to get treats for doing good things, but don't bring any of your puggie's treats into the dog park. If you bring food into the park, you will most likely end up with a pack of unruly dogs following you around pawing at your pockets. In addition, some dogs are food agressive and you may spark a scuffle between the dogs vying for the treat in your pocket.
Watch your children closely. If you decide to bring children to the dog park, make sure you keep a watchful eye on them as well as your pug. While your child or children may be great with dogs, you must realize that the other dogs in the park might not be great with children. Many of the dogs at the park are burning off pent up energy, so it always a good idea to make sure your children are not getting any of the dogs at the park too excited.
Don't bring female pugs in heat. Dog parks are full of happy, frisky dogs. If you bring a female pug in heat to the dog park you'll soon find that she will get a little too much attention at the dog park. It is best for female pugs in heat to take a break from the dog park until their cycle has completed.
Dog parks can be a great deal of fun for pugs and their owners. To get the most out of your local dog park, make sure you keep these few simple rules in mind on your next trip to the dog park.
Grapes, Nuts and Your Dog's Health—Foods that Fido should Avoid
By Carolyn Schweitzer DDS
March 23rd, 2005
"Magoo was a big, playful Labrador retriever who often got himself into sticky situations..."
So begins a story in the latest report from the ASPCA on foods that may be toxic to dogs. It turns out that Magoo got into the pantry and snagged himself about a pound of raisins. He ate the whole thing, of course.
The ASPCA never mentions Magoo's fate. But they do tell us that as little as a handful of raisins can impair a dogs health and has been fatal for some. Ditto for the grape.
Who Knew?
Growing up, I regarded our family dogs as "the first cycle of the dishwasher". They were good about waiting their turn for whatever we left on our plates, and we weren't too concerned about offering them "people food". It never crossed our minds that our dogs health could be affected by a few measly table scraps. What was safe for us, we figured, was safe for our pets.
What's more, whenever I ate grapes, I liked to give one or two to our German Shepherd "Tiffany". The grapes always popped out of her mouth when she tried to bite into them and Tiffany, ever the good sport, refused to give up until she'd squashed each one into submission. It guaranteed at least 60 seconds of harmless fun.
Tiffany was also fond of chewing gum (she chewed it -- wrapper and all -- but didn't swallow it!) We had the sugarless kind, which is often sweetened these days with xylitol.
Little did I know that I might have been poisoning our family pet! (More on xylitol below).
Why are grapes harmful?
As far as grapes and raisins go, no one is sure why they're harmful. It's been confirmed that even grapes grown without fertilizers or pesticides can be toxic to dogs. But not to every dog, and not every time. It's also not known whether small amounts eaten over a long time period could have a cumulative effect.
What we do know is that the end result in nearly all reported cases of grape or raisin toxicity is acute kidney failure. (The term "acute" means that the condition is severe and comes on quickly.) The dog ultimately can't produce urine, which means they can't filter toxins out of their systems -- a process essential to life.
During the twelve-month period in which the effects of grapes were studied, the ASPCA Animal Poison Control Center handled 140 cases involving one or more dogs. Over a third of the dogs developed symptoms ranging from vomiting to kidney failure, and seven dogs died. The ASPCA based their study on reported cases, so naturally there may be cases where a dogs health is entirely unaffected by eating grapes. But until they know all the facts, the Society advises against feeding pets grapes or raisins in any amount.
An ounce of prevention
So, your dog just scored himself a big box of raisins. What's a pet owner to do?
The first line of defense, if the grapes or raisins were eaten recently, is to induce vomiting and administer activated charcoal (it absorbs toxins in the GI tract). Vomiting is also the first sign that your dog is in trouble, so skip right to the activated charcoal if vomiting has already occurred. (In a pinch you can make your own activated charcoal by charring a piece of toast until it's blackened and crumbles easily.) Then call your vet right away.
Can't reach the vet? Call ASPCA Poison Control: 888-426-4435
The vet will keep your dog on intravenous fluids for at least 48 hours and monitor blood chemistry daily. Normal blood work after 3 days usually means your dog is in the clear.
Keeping a watchful eye out, of course, is the best way to keep your pet out of trouble. Like children, dogs (and other pets) have a knack for getting into mischief when we're not looking.
It's Not Just the Grapes...
There are other foods your dog should be kept away from, and some of them may surprise you.
Here are some other foods that can put a dogs health in harms way:
Chocolate
Who can resist chocolate? Like it your not, your dog. Chocolate is made with cocoa beans and cocoa beans contain a chemical called Theobromine, which is toxic to dogs. So on Valentine's Day, you're actually being kind to your best buddy if you eat all the chocolates yourself! Read my special report on chocolate at http://www.great-dog-gift.com/chocolate to learn more, and see how different types of chocolate have varying effects on dogs health.
Cocoa Mulch
Cocoa bean shells are a by-product of chocolate production (which is how mulch made it into the "foods" category) and are popular as mulch for landscaping. Homeowners like the attractive color and scent, and the fact that the mulch breaks down into an organic fertilizer. However, some dogs like to eat it and it contains Theobromine.
Fatty foods
Fatty foods are hard for a dog to digest and can can overtax the pancreas, leading to pancreatitis. This can threaten your dogs health and is potentially fatal.
Nuts
Macadamia nuts should be avoided. In fact most nuts are not good for a dogs health since their high phosporus content is said to lead to bladder stones.
Mulch
Mulch isn't food, but there's one type tempting enough for dogs to eat. Some dogs are attracted to cocoa mulch, and will eat it in varying quantities. The coca bean shells can contain from 0.2% to 3% theobromine (the toxin ) as compaired to 1-4% in unprocessed beans.
Onions
Onions, especially raw onions, have been shown to trigger hemolytic anemia in dogs. (Stephen J Ettinger, D.V.M and Edward C. Fieldman, D.V.M. 's book: Textbook of Veterinary Internal Medicine vol. 2 pg 1884.) Stay away from onion powder too.
Potatoes
Potato poisonings among people and dogs are rare but have occurred. The toxin, solanine, is poorly absorbed and is only found in green sprouts (these occur in tubers exposed to sunlight) and green potato skins. This explains why incidents seldom occur. Note that cooked, mashed potatoes are fine for a dogs health, actually quite nutritious and digestible.
Artificial Sweeteners
Xylitol is used as a sweetener in many products, especially sugarless gum and candies. Ingesting large amounts of products sweetened with xylitol may cause a sudden drop in blood sugar in dogs, resulting depression, loss of coordination, and seizures. According to Dr. Eric K. Dunayer, a consulting veterinarian in clinical toxicology for the poison control center, "These signs can develop quite rapidly, at times less than 30 minutes after ingestion of the product" states Dr. Dunayer, "...therefore, it is important that pet owners seek veterinary treatment immediately."
Turkey
Turkey skin is currently thought to cause acute pancreatis in dogs, partly due to it's high fat content.
Other foods listed by the ASPCA as harmful:
Alcoholic beverages
Avocado (the only "fatty" member of the vegetable family)
Coffee (all forms of coffee)
Moldy or spoiled foods
Salt
Yeast dough
Garlic
The Bottom Line
Thanks to a more educated public, fewer fatalities from foods like chocolate are being reported these days. But it's important to keep up with what's currently known about foods and their effects on dogs health. Grapes and cocoa mulch, for example, were only discovered very recently to have harmful effects. Check frequently with sources like the ASPCA, or sign up for the "Cold Noses News" and we'll keep you informed. (You'll also get a bunch of cool dog stuff along with your free registration).
Of course, being alert and getting your pet to the vet promptly will help assure a happy outcome if something unfortunate should happen. Here's to your dogs health and good nutrition!
5 Ways Your Dog Senses The World Differently From You
By Charlie LaFave
March 6th, 2005
Do dogs sense things differently than humans do? Well, yes and no. Dogs share the same basic senses with us: they see, hear, touch, smell and taste. But the level of their senses is different – an important distinction when you're trying to figure out just what your dog is doing.
Sight: It was once thought that dogs were "color-blind" – only able to see shades of black and white with some grey, but scientific studies have found that's not true. Dogs can see in color – ranging from blues and greens to greys and crèmes, and of course, black and white. It's been estimated that humans can distinguish somewhere between 7 and 10 million different colors. (We don't even have names for that many colors!)
But dogs have it all over humans in detecting motion – that's one reason they can detect a cat up a tree at a much greater distance than you can! And their night vision is typically better than ours – dogs have an additional reflective layer in the eye called the tapetum lucidum, which reflects light back into the receptor cells of the eye, which not only increases their night vision, but gives them that spooky appearance of eyes glowing in the dark.
Hearing: When your dog is barking like crazy in the middle of the night, don't just assume he's lonely and wants you to get up and keep him company. He may be listening to something that you can't hear, that's extremely upsetting to him – like a burglar breaking in your basement window. Dogs can hear at four times the distance humans can – that means you might hear something from a 100 yards away your dog could hear from a quarter of a mile away. Their ears are also better designed to gather more of the available sound wave – they have 15 different muscles that move their ears in all directions, plus they can move one ear at a time – and independently of the other to absorb even more information!
Touch: Dogs also have a well-developed sense of touch, surprising perhaps under all that fur, although this sense is much less sophisticated than a human's. Puppies are born with sensory receptors in their faces so they can find mama even if they're separated before they open their eyes. But they also can sense touch all over their bodies, just as humans can. One reason your dog flops down on the couch next to you and tries to snuggle up on a hot day (or any other day for that matter!) is because he likes the comfort of feeling that you're right there!
Smell: We can't even come close to our dog's ability to smell things. It's been estimated that a dog's sense of smell is 100,000 times more powerful than a human's. Scientists think that humans have about 40 million olfactory receptors, versus 2 billion for your dog! That's part of the reason dogs make such good trackers, and can trace scents across all sorts of distractions – like across roadways or through dense woods. Dogs also use their sense of smell as a communications tool – when they're running around the park with their nose to the ground, sniffing everything in sight, they're actually reading the calling cards of everyone – dogs, humans, cats, squirrels, and anyone or anything else, that has been there before him. Which is why he may not pay attention to you when you first get to the park – he's trying to see if any of his buddies have been there before him!
Taste: Just as with humans, taste is closely linked to the sense of smell – the main difference is humans won't eat something that smells bad; while dogs are the opposite – the smellier the better. Dogs will gulp first and ask questions later. While humans many times won't eat something that doesn't look appealing, let alone doesn't smell good, dogs are more concerned with smell, than taste. They frequently gobble down food before they have time to chew it, let alone taste it. But that's ok – it's why when we clean out our refrigerators our dogs think it's time for treats.
So the next time your dog engages in some puzzling behavior, whether it's barking for no reason, or ignoring you at the park, he might not be trying to irritate you – he's just responding to a different level of senses than you are. Take a moment to look around and try and figure out what's triggering his behavior before you get mad. Your dog could be trying to tell you something!
About the author - Charlie LaFave:
Author, "Dog Training Secrets!" To transform your stubborn, misbehaving dog into a loyal, well-behaving "best friend" who obeys your every command and is the envy of the neighborhood, visit: http://tinyurl.com/6u2cj
Get Answers To Important Questions About Dog Nail Trimming
By Teresa James
February 22nd, 2005
Trimming your dog's nails is not usually considered sharing "quality time" with your beloved pet. But when done often enough, with the proper technique, and rewards for your dog's good behavior, it should be one of those regular grooming events that your dog will tolerate if not look forward to.
If not done often enough, with proper technique, and reward- training, it can be frightening and even painful for your dog. In this article are answers to many common dog nail clipping questions as well as tips on proper equipment and technique that will give you the advantage when you approach this simple home dog-grooming necessity.
Is dog nail trimming painful to my dog?
Dog nail trimming is not painful if you use a sharp nail trimmer and don't clip the nails too short. A dull trimmer can put a lot of pressure on your dog's toenail before it actually cuts through the nail. If this happens your dog may feel an uncomfortable pinching sensation. This is because the vein in the toenail is being squeezed. To avoid this always make sure that you're using a sharp pet nail trimmer.
What tools do I need to trim my dog's nails?
You will want to have a sharp clipper designed for dog nail trimming. Dogs come in all sizes so choose a nail trimmer that's right for the size of your pet's nails. The most common types of nail trimmers are the guillotine, pliers and scissor styles.
Guillotine style dog nail trimmers require that the dog's nail be inserted through a hole in the top of the trimmer. As the handles are squeezed together the blade comes down and cuts through the nail. Many people find guillotine style clippers more difficult to use on large breed dogs. Thicker nails can be more difficult to insert into the guide hole in the clipper. These dog nail trimmers have a cutting blade that must be changed frequently to maintain a nice clean cut.
Pliers style dog nail trimmers work similar to pruning shears. The two notched blades surround and cut through the nail as the handles are squeezed together. Some people like this style because they can see exactly where the blade will cut through the nail. If you have a large dog this type of trimmer works great on thick nails.
Just make sure to select a heavy-duty clipper designed to cut through the thick toenails of your large breed dog. Pliers style trimmers are available for small, medium and large dogs. These dog nail trimmers don't have blades that need to be replaced but they do need to be sharpened when they become dull.
Scissor style dog nail trimmers work just like a pair of scissors. The two scissor-like notched blades surround and cut through the nail as the handles are closed. These clippers are for light duty jobs only. These are not actually dog nail trimmers. They are best used for cats, birds and other small animals. Some people do use them on small dogs. They're usually labeled as cat/bird claw clippers.
The style you choose for your dog nail trimming needs is a matter of personal preference. If the clipper is the correct size it will get the job done. Just remember to keep your nail trimmer sharp so that it makes a fast clean cut. A dull clipper can pinch the nail, which will result in discomfort to your dog.
In addition to good quality nail trimmers, it is also recommended to have a pet nail file. You'll find that it is much easier to file down any rough edges with a nail file that has been designed for the shape of your dog's nails.
Next on the list is styptic powder. It's always a good idea to have it on hand for those occasional mishaps. A nail clipped just a little too short tends to bleed a lot. Applying some styptic powder will help stop the bleeding.
Finally, keep plenty of dog treats on hand to reward good behavior. You can also use dog treats to distract your pet during dog nail trimming. Treats work great to draw a dog's attention away from a bleeding nail.
Why do my dog's nails need to be trimmed regularly?
When a dog's nails become too long they interfere with the dog's gait and as the nails continue to grow, walking will become awkward and painful. Untrimmed nails can also split resulting in a great deal of pain, bleeding, and a trip to the veterinarian's office. In severe cases a dog's nails can curl under and grow into the pad of the dog's paw causing a very serious and painful infection. These types of ingrown nail problems are most common on the dewclaws.
The dewclaws are the nails located on the inside of the paw. Many breeders have the dewclaws removed shortly after puppies are born, so not all dogs will have dewclaws. If your dog has them remember to include them in your dog nail trimming routine. These nails don't touch the ground, so they don't wear down as fast as the others as your dog walks on rough surfaces. Trimming your dog's nails regularly will easily prevent these problems.
How do I know when my dog's nails need to be trimmed?
When your dog's nails are beginning to curve is one indication that your dog's nails need a trim. And if you hear a clicking or tapping sound as your dog walks across a bare floor it's definitely time for a nail trimming. But it is best not to wait that long – once or twice a month is usually a good rule of thumb for dog nail trimming.
If you let your dog's nails grow too long then it could take some time to get them back to a healthy length again. Regularly trimming the tips of your dog's nails is the best approach. Some dogs walk and run on rough surfaces and are able to wear down their nails, but most dogs will need some help. You will get to know how fast your dog's nails grow if you routinely inspect your pet's nails.
Even if you don't actually trim them each time, regular inspection will help assure that your dog's feet stay healthy. So, make nail inspection and trimming an important part of your dog's routine grooming.
When should I start trimming my dog's nails?
If you're starting with a puppy the answer is as soon as you bring your new puppy home. If you have an adult or an older dog the answer is pretty much the same – right now. If you start early it probably will not take too long for your puppy to adjust to a nail trimming routine. Make a habit of handling your puppy's feet everyday. Nail trimming will be much easier if your puppy doesn't mind having his feet handled.
Adult dogs, just like people, are usually set in their ways. So if your adult dog initially resists getting his nails trimmed you will most likely need to spend a lot more time getting him used to the procedure. As with a puppy, it's a good idea to start getting your dog used to having his feet handled before you attempt to clip your dog's nails. Be very patient and don't rush into the procedure.
Bring out the clipping tools ahead of time and let your dog become familiar with them. It is important that you remain calm. If you're nervous, your dog will sense it and associate fear or uncertainty with dog nail trimming. If your dog is nervous use gentle reassurance, but don't coddle your dog. Let your dog know that you expect him to behave, but don't push it too far.
If your dog can only manage to tolerate getting one toenail trimmed that's all right. Just be persistent and try for another nail at another time. And always remember to reward good behavior with your dog's favorite treat.
How can I cut my dog's nails when he doesn't like his feet touched?
Have patience and start working on getting your dog used to having his feet handled. This must be done gradually, so don't rush it. Try gently touching one foot while your dog is asleep. If your dog wakes up be very casual about it. Just remove your hand and act as if you didn't even notice that you were touching his paw. Anytime your dog resists don't react, just ignore the fact that you were even holding his paw and try again another time. Repeat this process and over time your dog will adjust to having his feet handled and you should even be able to start touching individual toes without an adverse reaction.
Whenever your dog allows you to touch his feet always remember to praise your dog and give him a dog treat. Your dog will begin to associate having his feet handled with a pleasant experience. Bring out the nail clippers when your dog is very comfortable with you handling his feet and you are confident that you have gained your dog's trust.
Will my dog ever adjust to getting her nails trimmed?
Many dogs may never like to get their nails trimmed, but if done regularly over time, dogs can learn to sit through this routine grooming procedure. Other dogs may never sit still. If you can't get your dog to sit still you may need to recruit the help of another person to hold your dog while you trim her nails. While some dogs can be distracted by dog treats alone, others may also have to be held. You may want to try clipping your dog's nails after a full day of exercise when your dog is looking to take a long nap. Tired dogs tend to be less resistant.
If you know that your dog tends to bite when stressed out, for safety sake you should muzzle your pet before you begin a dog nail trimming procedure. If the task of trimming your dog's nails proves to be too much, find a professional dog groomer or veterinarian for this part of your dog's routine grooming. If you can't get your dog to cooperate it's better that your dog doesn't associate you with this negative experience. If you know that your dog tends to react in an aggressive manner, be sure to let your groomer know what to expect so that the necessary safety precautions can be taken before they begin a dog nail trimming session.
What is the quick and what do I need to know about it?
The quick is the living part of a dog's nail and has blood vessels running throughout. Cutting into the quick during dog nail trimming is painful for your dog and will result in bleeding. If your dog has light colored nails your job will be easier since you will be able to see the quick. It will be impossible to see the quick if your dog's nails are black or dark in color. If your dog has at least one light colored nail you can usually use that nail as a guide for the others. If dog nail trimming is completely new to you, ask your veterinarian or groomer to show you how to trim your dog's nails or consult a good dog care book.
Another important fact to note is that the quick grows with the nail. As a dog's nails grow longer the quick will also lengthen. So if your dog's nails are over grown you will not be able to clip the nails to the desired length without cutting into the quick. You will need to trim the tips of your dog's nails often and over time the quick will shorten. To avoid cutting into the quick you'll want to start by trimming small pieces of the nail until you get the hang of it.
Help, I've cut my dog's nail too short and now my dog is bleeding! What do I do now?
Don't panic. Your dog is in a little pain but the prognosis is good – your dog will live! You've cut into the quick, the blood-filled tissue in your dog's nail. To stop the bleeding take a pinch of styptic powder and press it against the bleeding toenail. Now give your dog lots of treats. The nail should stop bleeding in about 5-10 minutes.
Try not to baby your dog too much. You don't want to bring a lot of unnecessary attention to the injured nail. You'll be surprised at how easily your dog will be distracted by the dog treats if you're not making a big deal out of the bleeding toenail. So just stay calm and upbeat and you may be able to finish your dog nail-trimming task.
If your dog is calm and enjoying the treats it's best to continue trimming. If you didn't finish with the paw that you were working on you may want to continue on another paw and come back to that one after you have finished the rest. If your dog is too excited you may need to try again at a later time. Don't be discouraged, even professional dog groomers occasionally cut into the quick.
If my dog's nails are over grown how can dog nail trimming get them back to a healthy length?
You will need to trim your dog's nails regularly. Start by clipping very small pieces of the nail tip until you can see a dark, round, kind of moist looking disk appear in the middle of the nail. This means you're approaching the quick and the nail will bleed if you cut it any shorter.
Try trimming this far every week or two and the quick will gradually recede. Over time the length of the nail can be shortened. Cutting into the quick to shorten a dog's over grown nails could lead to an infection. If your dog's nails are extremely over grown and this condition is causing health issues consult your veterinarian immediately.
Trimming your dog's nails is one of the regular home dog grooming tasks that helps to keep your dog healthy and active. As with most dog grooming tasks, rewarding your dog for positive behavior is an important part in your dog's acceptance of the activity. It's always best when your dog can associate the attention you lavish on him or her with a positive, happy memory. Learning the tricks to proper dog nail trimming, training your dog with positive feedback, and showing patience and love will make the time you spend together a reward in itself.
©Copyright 2004 Dog-Supplies-Advisor.com, all rights reserved. Reprinted with permission.
Article courtesy of: Dog-Supplies-Advisor.com a website dedicated to providing dog care advice on a broad range of dog-related topics. Includes informative articles, frequently asked questions, recommendations, and Free Ezine.
Why "Doggie Breath" is nothing to joke about
By Carolyn Schweitzer DDS
February 18th, 2005
Your dogs health is important to you. You show him how important by keeping him well fed and groomed, making sure he gets plenty of exercise and providing a collection of fun, safe toys for his entertainment. You don't skimp on the quality of his food. And to reward good boys and girls, there are always lots of delicious treats in the cupboard.
But if he has bad breath, you could be overlooking a serious problem with your dogs health.
"Dog Breath" is such a common condition that we make jokes about it. Sometimes we even tease our human "friends" using "dog breath" in play-ground style name-calling ( although hopefully this is limited to teenage boys.) And I know many pet owners who comment that they love their dog or cat like a child, but just can't stand the smell of the animal's breath! Well, guess what? "Dog Breath" isn't normal.
It's estimated that 80 percent of dogs and 70 percent of cats over the age of three suffer from the periodontal disease — a serious deterioration of the gums and supporting bones of the teeth. Yes, it's periodontal disease that's responsible for "dog breath". But the problem doesn't confine itself to your furry baby's mouth. It's an infection, and the tiny creatures responsible for it can break loose and enter the bloodstream. Once they do, they can infect vital organs such as the liver and kidneys, endangering your dogs health by causing a far more serious illness.The best way to insure your dogs health, especially where periodontal disease is concerned, is with prevention. It can make all the difference.
Periodontal disease begins as gingivitis, which is virtually harmless and completely treatable. If allowed to move to the next stage--Periodontitis-- it can be stopped, but not cured. And the worse it gets, the faster it progresses. This applies to all animals, two legged and four legged alike. Think of a car parked at the top of a hill. The emergency break is released, and the car begins to roll downhill. Now, if you hit the breaks right away, no harm done. But the farther the car rolls the faster it goes, and the more momentum it builds. It gets harder and harder to stop it. By the time it's halfway down the hill, you could be headed for disaster!
You can maintain your dogs health nicely with proper home care. But, like the rolling car, if disease is already present, stopping and controlling it is a bigger job.
Prevention involves, above all, regular veterinary checkups and professional cleanings beginning early in your dog or cat's life. I'll show you how you can help maintain oral health at home, but it's impossible to do a thorough cleaning on an animal who's awake. Trust me on this. It's hard enough to do a thorough job with a cooperative human patient. When we're talking about animals who don't understand what we're doing or why, forget about it.
Most veterinarians recommend annual cleanings, but more frequent or involved treatment may be needed depending on your animal's condition. Please, no matter what you're doing at home, follow the vet's recommendations. As for your part, introduce your dog or cat to the idea of having his teeth brushed as early as possible. I know, it's not easy, and it takes time and daily conditioning to get your little guy or gal used to it. But your dogs health is worth it!
So how do you prevent the most common of threats to your dogs health? Brush her teeth, of course! Every day. Just like you would your own (twice a day for you, and floss too!!). This isn't easy, but it can become an expected part of your dog's routine if you do it right. Here are some suggestions:
Start when your dog is a puppy. The earlier the better.
At first, you just want her to get used to you handling her head and looking inside her mouth. Practice lifting up her lips and looking at her teeth and gums--front, back and both sides of her mouth.
Now begin gently touching the gum tissue with your finger and rub along her gums and teeth as if your finger were a toothbrush. Let her get used to the sensation. This is exactly the way you would introduce a human baby to brushing, beginning with just her gums. Even before there are teeth, there are harmful bacteria. So don't worry about a tiny puppy who doesn't have a full set of teeth yet--rub her gums, swab out her little mouth with your finger, and get her used the this kind of contact from her owner.
Your next step is to wrap gauze or a soft washcloth around your finger and rub the gums on both the outer and inner surfaces of the teeth.
Finally, introduce a tooth brush in one small area. As your dog gets used to the brush, you will be able to use it in place of the gauze or washcloth. Remember to brush the inside surfaces!
A little brushing a day, beginning with the first step and working your way up gradually, will eventually lead to a one to two minute session. Your dog will learn that it doesn't hurt and that she gets a couple of minutes of your undivided attention every day. It generally takes 8 to 16 weeks to get there, but in the end your dog will accept brushing as part of her daily routine.
If a little brushing is done every day at a set time, eventually your pet gets used to it, and some will even look forward to it. It will take most pet owners from 8-16 weeks until the pet accepts it readily. Now the pet realizes it doesn't hurt and that it will get 1-2 minutes of your undivided attention. Your pet enjoys your attention, and will eventually wait patiently for you to brush his teeth. There's a toothbrush with three heads that will allow you to brush all three surface of the tooth at one time, which makes life a lot easier for both of you! It also has nice, soft bristles so you won't harm your pet's delicate gum tissue.
There are also products that can be rubbed on the gums and added to the drinking water to help reduce bacteria in an animal's mouth and promote the dogs health and healing. Bad breath is actually a by-product of the bacteria that populate the mouth. They break down proteins and carbohydrates from your dog or cat's diet, and produce something called "volatile sulfur compounds", or VSC's. It's the sulfur that make the breath smell extra special!
Certain dental products have an agent that neutralizes the VSC's. Many owners have commented that their cat or dog seems to like the drinking water better when these products are added--even though they have no flavor! And there's a gel available that, although formulated for the gums, can be very soothing for skin conditions, cuts, and surgical wounds thanks to the Aloe Vera it contains.
The best oral care products work without the use of fragrances and flavors, which entice human consumers, but don't benefit your cat or dogs health in any way!
I was a practicing dentist for over 20 years, and I saw a lot of human patients who had terrible breath (and periodontal disease) and weren't even aware of it. People don't like to tell each other about bad breath. Even the dentist has to be delicate with this piece of bad news.
At least when dealing with a pet, you don't have to worry about social embarrassment in order to address your dogs health problem! Don't be shy, get in there and do something about it. Not only can your dog get rid of her breath odor, but she could even live 2 to 5 years longer as a result. And you'll be able to get close again, without holding your breath.
©Copyright 2004 Carolyn Schweitzer DDS.
About the author:
Dr. Schweitzer was a family dentist for 20 years and is now owner and editor of several websites. You can learn more about specific dental care products by visiting her website.
The 7 Stages of Puppy Development
By Charlie LaFave
February 17th, 2005
In order to understand why your puppy doesn't listen to you at times, you need to understand each stage of development a puppy goes through as it matures. Let's take a look at the different stages, but before we do, keep in mind that these stages are generalizations – each dog will progress at its own pace.
Stage 1: The Transitional Stage 2-3 Weeks The Transitional stage generally lasts from age two to three weeks, and it's during this time that your puppy's eyes will open, and he'll slowly start to respond to light and movement and sounds around him. He'll become a little more mobile during this period, trying to get his feet underneath him and crawling around in the box (or wherever home is.) He'll start to recognize mom and his littermates, and any objects you might place in the box.
Stage 2: The Almost Ready To Meet The World Stage 3-4 Weeks The Almost ready to meet the world stage lasts from 3 to about 4 weeks, and your puppy undergoes rapid sensory development during this time. Fully alert to his environment, he'll begin to recognize you and other family members. It's best to avoid loud noises or sudden changes during this period – negative events can have a serious impact on his personality and development right now. Puppies learn how to be a dog during this time, so it's essential that they stay with mom and littermates.
Stage 3: The Overlap Stage 4-7 Weeks From 3-4 weeks your puppy begins the most critical social development period of his life – he learns social interaction with his littermates, learns how to play and learns bite inhibition.
He'll also learn discipline at this point – Mom will begin weaning the pups around this time, and will start teaching them basic manners, including accepting her as the leader of the pack. You can begin to introduce food to the pups starting around the 4th week – transition gradually as Mom weans them.
Continue handling the pups daily, but don't separate them from either Mom or litter mates for more than about 10 minutes per day. Puppies that are removed from the nest too early frequently are nervous, more prone to barking and biting and have a more difficult time with socialization and training. Puppies need to be left with Mom and siblings until at least 7 weeks of age - and preferably a little longer - for optimum social development.
Experts say that the best time in a puppy's life to learn social skills is between 3 and 16 weeks of age – that's the window of opportunity you have to make sure your puppy grows up to be a well-adjusted dog. It's extremely important to leave your puppy with Mom and his littermates during as much of this period as possible. Don't discipline for play fighting, housebreaking mistakes or mouthing – that's all normal behavior for a puppy at this stage.
Stage 4: The "I'm Afraid of Everything" Stage 8 Weeks to 3 Months The "I'm Afraid of Everything" Stage lasts from about 8 weeks to 3 months, and is characterized by rapid learning as well as a "fearful period" that usually pops up at around 8 to 10 weeks. Not all dogs experience this, but most do, and they'll appear terrified over things that they took in stride before. This is not a good time to engage in harsh discipline (not that you ever should anyway!), loud voices or traumatic events. At this time your puppy's bladder and bowels are starting to come under much better control, and he's capable of sleeping through the night. (At last, you can get some rest!) You can begin teaching simple commands like: come, sit, stay, down, etc. Leash training can begin. It's important not to isolate your puppy from human contact at this time, as he'll continue to learn behaviors and manners that will affect him in later years.
Stage 5: The Juvenile Stage 3 Months to 4 Months The Juvenile stage typically lasts from 3 to 4 months of age, and it's during this time your puppy is most like a toddler. He'll be a little more independent - he might start ignoring the commands he's only recently learned – just like a child does when they're trying to exert their new-found independence. As in "I don't have to listen to you!" Firm and gentle reinforcement of commands and training is what's required here.
He might start biting you – play biting or even a real attempt to challenge your authority. A sharp "No!" or "No bite!" command, followed by several minutes of ignoring him, should take care of this problem.
Continue to play with him and handle him on a daily basis, but don't play games like tug of war or wrestling with him. He may perceive tug of war as a game of dominance – especially if he wins. And wrestling is another game that can rapidly get out of hand. As your puppy's strength grows, he's going to want to play-fight to see who's stronger – even if you win, the message your puppy receives is that it's ok to fight with you. And that's not ok!
Stage 6: The Brat Stage 4-6 Months The Brat Stage starts at about 4 months and runs until about 6 months, and it's during this time your puppy will demonstrate even more independence and willfulness. You may see a decline in his urge to please you – expect to see more "testing the limits" type of behaviors. He'll be going through a teething cycle during this time, and will also be looking for things to chew on to relieve the pain and pressure. Frozen doggie bones can help sooth him during this period.
He may try to assert his new "dominance" over other family members, especially children. Continue his training in obedience and basic commands, but make sure to never let him off his leash during this time unless you're in a confined area. Many times pups at this age will ignore commands to return or come to their owners, which can be a dangerous, even fatal, breakdown in your dog's response to you. If you turn him loose in a public place, and he bolts, the chances of injury or even death can result – so don't take the chance.
He'll now begin to go through the hormonal changes brought about by his growing sexual maturity, and you may see signs of rebelliousness. (Think adolescent teen-age boy!) If you haven't already, you should have him neutered during this time. (Or spayed if you have a female.)
Stage 7: The Young Adult Stage 6-18 Months The Young Adulthood stage lasts from 6 months to about 18 months, and is usually a great time in your dog's life - he's young, he's exuberant, he's full of beans – and yet he's learning all the things he needs to become a full-fledged adult dog.
Be realistic in your expectations of your dog at this time – just because he's approaching his full growth and may look like an adult, he's not as seasoned and experienced as you might expect. Gradually increase the scope of activities for your dog, as well as the training. You can start more advanced training during this period, such as herding or agility training, if that's something both of you are interested in. Otherwise, extend his activities to include more people and other animals – allow him to interact with non-threatening or non-aggressive dogs.
Congratulations! You've raised your puppy through the 7 stages of childhood, er, I mean puppyhood, and now you have a grown-up, adult dog! Almost feels like you've raised a kid, doesn't it?
About the author - Charlie LaFave:
Author, "Dog Training Secrets!" To transform your stubborn, misbehaving dog into a loyal, well-behaving "best friend" who obeys your every command and is the envy of the neighborhood, visit: http://tinyurl.com/6u2cj
Vinny's Pugnacious Quest for a Guinness World Record
By Allen Kimble, Jr.
October 28th, 2004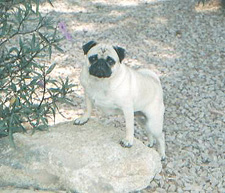 In the summer of 2001 Vinny made an unsuccessful attempt to climb atop a large boulder in Scottsdale, Arizona. The next day he returned and triumphantly mounted that boulder, thus marking the start of his two and ½ year Quest to set a new "Guinness World Record".
Vinny had only moved to Arizona one month earlier from his birth city of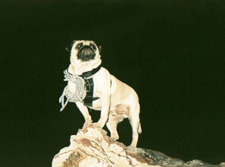 Orlando where there were no rocks like those he found in Phoenix. Within a short time after conquering his first bolder, he knew exactly what he wanted to do for the rest of his life. Vinny wanted to become the world's greatest canine rock climber and immediately set out on a journey to claim his new title.
Very early, Vinny exhibited an amazing attraction to boulders and an eagerness to climb that is seldom seen among canine. Throughout the following weeks, he worked hard to develop safe and effective ways to approach, mount and maintain his balance when climbing. He explored different seated and standing positions for himself once he'd climbed a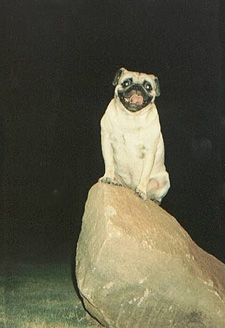 Rock. Early on it was clearly evident that Vinny was what you'd call a natural at climbing. Even without being directed, he'd quickly choose the best positions to support himself based on the composition of the rocks he'd climbed. One particular boulder was slanted at a funny angle near its top. To maintain his balance, Vinny leaned into the opposite direction of the curve to compensate for its shape leaving him setting perfectly straight.
In August of 2001, Vinny started a "Hundred Day, Thousand Photo" challenge.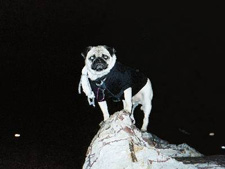 Its purpose was to see if he could record 1,000 pictures of himself atop boulders he'd conquered within a hundred days. At the end of his challenge, Vinny's image library contained over 1,300 pictures. Inspired by the ease of surpassing his challenge, Vinny decided to convert it into a Marathon for a new "Guinness World's Record".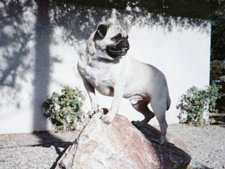 Throughout the first two years of his marathon, Vinny experienced several milestones along the way. He was featured in "Climbing" and "Sweat" magazines and even received calls from "The Jay Leno Show" and "National Public Radio". He was also featured on the front page of "Scottsdale Views" magazine with an action photo showing him climbing a steep angled boulder with a top resembling an inverted knife-edge.
After an amazing twenty-five months of climbing, posing and being photographed atop boulders,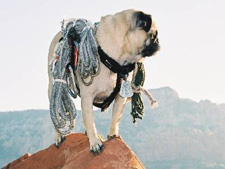 Vinny had amassed an image library of over 5,000 pictures. He then submitted documentation to "Guinness World Records" for review. A short time later, Vinny received a form letter from a researcher stating that his world record attempt would not be reviewed nor recognized by "Guinness".
For a week or so Vinny experienced a severe bout of depression and started to question if it was all worth it. Disappointed yet undeterred, Vinny came to realize he didn't need "Guinness World Records" or any other governing body to validate what he had accomplished. What more, he decided to go forth with his climbing Marathon.
Vinny has evolved and moved on to an open ended climbing Quest to set an unbreakable canine climbing record. He has even launched a photo web log where pictures from his image library are posted every day.
Seeking new avenues to channel his energies into, Vinny has turned his attention to the issues of animal rescue and adoption. He with the help of his human has created "Vinny the Pug Enterprises" for the purposes of helping rescue and adoption groups raise the money they need. You can expect to hear a lot about Vinny in animal rescue circles in the near future. As for his climbing quest, Vinny's image library continues to grow and is expected to never be duplicated.
At some unknown point Vinny earned worldwide recognition for his incredible climbing skills. Today he is known in several countries around the world as "Vinny the Pug".
To learn more about "Vinny the Pug" you can visit his web sites: http://vinnythepug.photosite.com/Photoblog1 http://vinnythepug.photosite.com
The Importance of Training your Pug
By George Cockrell
October 7th, 2004
Young pups of any breed need to learn several things in order to live comfortably with their new owners. Let's start with the basic concept of management. There are three elements that control a dog. They are:
Containment
Restraint
Training
Contain, Restrain, or Train
The more one element is used, it will reduce the need of the other two. Common sense would indicate that the more effective training one accomplishes, the less containment and restraint will be required. Let's look at what each element of management is and how it can be used to provide effective lifetime training.
Containment: That concept is pretty easy. The use of a crate, or securing the dog within some sort of enclosure, prevents the dog from causing any trouble. Unfortunately, using containment only will usually provide the owner with a dog that is frustrated and bored. This can lead to many behavioral problems down the road.
The proper way to use containment, is to use it often while the owner is around and living their daily lives. The dog should be allowed to exercise and get training whenever the dog is out of the crate. Whenever the dog cannot be readily supervised, they should be contained in some secure way. This is exactly what crates were invented for. This approach will expedite housetraining, as well as prevent the unsupervised pup from getting into things and chewing inappropriate items. A pup can't get in too much trouble if he's contained when the owner is unable to provide proper supervision. Dogs are denning animals, so the idea of them staying within an enclosed area is not foreign to them. Some pups may not like the crate, and may fuss a bit. The smart dog owner sees this for what it is, an attempt at manipulation. If one responds to the protest, the pup can essentially train the owner to let him out and praise him to boot. Ignore the pup, they will usually settle down once they realize their protests are falling upon deaf ears.
Next on our list of management tools is Restraint. This concept is simple also. Your puppy cannot cause much trouble if they are restrained with a leash or tie out. Once again, the improper use of restraint may cause unwanted behaviors. Boredom, frustration, and in extreme cases even potential death. We've all heard stories of dogs who were injured or killed by strangulation when left unattended while tied up. I do not tie dogs out, unless they are under my direct supervision. Just holding puppy back when on a leash, is rarely enough to prevent unwanted behavior. One should train the puppy, and save restraint for when it is really needed.
Now, let's look at the final and best solution to any problem that may arise. Training. This concept is the most simple of all. A dog cannot do something wrong, and do something right simultaneously. Jumping up? They can't do that and sit at the same time. Running away? That's impossible if they are coming to you. Barking? Quiet! It's easy to see, that training is the way to go. Clients often comment before we initiate their training, on things like "I don't want to break his spirit" or "I want him to be able to run off lead." The bottom line is, that a trained dog is a dog that enjoys much more freedom and happiness.
If one fails to properly train their dog, the dog must endure things like being choked, because it doesn't know how to walk on a loose lead. An untrained dog quickly becomes an annoyance to people it comes in contact with, and usually ends up sequestered in a crate or another room when guests visit. In my daily rounds, I see people who are constantly yelling at and in some cases even striking their dog, simply because they have not taken the steps necessary to learn good, solid communication and obedience. It seems a shame to me as a dog lover and a professional who knows just how easy teaching and living with dogs can really be.
So, fellow Pug People, which of the three management tools is going to offer the most benefit both owner and dog? The choice is obvious, Training wins hands (or Paws) down.
In future articles, we will address the individual exercises that give freedom to both dog and family.
Slimming down your pug
By Dr. Karen Hoffmann, DVM
July 20th, 2004
I recently rescued a pug that weighs close to thirty pounds. What is the best way to get my pug back in to shape?
Without question, the most common problem seen by veterinarians today is obesity. Many owners are not aware that their pet is overweight and that this is a serious health problem. A recent study* showed that lean dogs compared with overweight or obese dogs live an average of nearly 2 years longer! A veterinary examination and blood work, possibly including a thyroid profile (especially if previous weight loss attempts have failed) will help rule out medical problems. If all checks out, then the work begins. Ironically, weight management in our pets is relatively easy compared with ourselves. Humans, after all, have complete control over the diets of their pets.
It IS possible to achieve weight loss through diet and exercise. First, set a weight goal and a time frame for weight loss with the help of your veterinarian. [For example, your portly 30 pound pug may have an ideal body weight of 25 lbs. A reasonable rate of weight loss would be 2% per week (just over 1/2 lb per week). At this rate, it will take about 8 weeks to reach the goal.] Next, select a high quality diet and an appropriate volume of that diet. If staying with the same food, start feeding 25% less. This may be done gradually by reducing the volume a small amount at a time over 2 weeks, so the dog can become accustomed to less food. Eliminate high calorie snacks (such as Milk Bones) and replace with carrots or very small pieces of meat or cheese.
Lifestyle change is the second component to a weight loss program. Leash walking and swimming are great forms of exercise. Start with short distances and make it fun. Take your dog's dinner along on walks and feed as treats for attentive behavior. Other activities may include play dates with a puppy or well-socialized adult dog and/or training/competing in dog sports such as obedience, agility, fly-ball or frisbee. Be sure your dogs checks out physically with your veterinarian, as some of these activities can be quite demanding.
It takes determination and sometimes tough love to achieve weight loss in our pets, especially those that have gained the excess weight in our care. For your newly adopted pug, the challenge should be easily met with diet and lifestyle adjustment. The result will be a healthier happier dog that may have a longer life.
* Effects of Diet Restriction on Life Span and Age-Related Changes in Dogs J Am Vet Med Assoc 220[9]:1315-1320 May 1'02 Feeding Study 20 Refs Richard D. Kealy, PhD; Dennis F. Lawler, DVM; Joan M. Ballam, MS; Sandra L. Mantz; Darryl N. Biery, DVM, DACVR; Elizabeth H. Greeley, PhD; George Lust, PhD; Mariangela Segre, DSc; Gail K. Smith, DVM, PhD, DACVS; Howard D. Stowe, DVM, PhD
Finding a pet-friendly hotel
By OwnedByPugs.com
July 8th, 2004
Planning on taking a road trip this summer to a pet friendly destination? Don't leave your pug behind, bring them with you.
On my first road trip from Maryland to Florida with my boys in tow, I stumbled acrossed a website called Pets Welcome. Pets Welcome is a very useful site that has all kinds of information about traveling with your pet. The tool that I found most helpful was their route planner.
By entering your origin and final destination into the planner you are able to get a listing of all the pet friendly hotels that are along the way that meet your criteria.
This is the perfect tool to help you plan pit stops when traveling with your pug. So before you depart on your next road trip use this tool to help take the hassle out of finding pet friendly hotels.
So you're getting a Pug, have you considered adopting a rescue?
By OwnedByPugs.com
June 15th, 2004
There is nothing cuter than a Pug puppy. Their little wrinkled faces and their soft puppy skin win over all our hearts. As cute as they may be, ask anyone who has ever raised a puppy and they will tell you puppies are a lot of work!
If your not sure if you have the time and energy to devote to a new pup perhaps you should consider rescuing a Pug.
Here are some of the advantages to rescuing a Pug versus getting a new puppy:
Training
Puppies are clean slates. You must teach them everything - sit, down, stay, come and most importantly you must house train them. To housebreak your new pup someone must be available to take your new Pug puppy outside whenever the need arises (which can be quite often with a very young puppy).
Rescued pugs are generally older and have had some form of training. Most are already housebroken (or they at least have a more developed bladder). This can be a big advantage if no one is home during the day to be with the new puppy.
Chewing:
New puppies are teething and will chew just about anything they can find. No matter how much you supervise your new pup you are sure to end up with newspapers that you never got to read before they were shredded, socks that no longer have matches and furniture with teeth marks.
Since older Pugs are no longer teething, they do not have the urge to chew everything. They are able to focus all their chewing energy on a good pig ear.
Sleep:
If you value your sleep a puppy is not for you. When you first bring a new puppy home, you'll find that it can be very demanding throughout the night. They miss their litter mates and are lonely. Plus, you may have to take a young pup out to relieve themselves the middle of the night.
Older rescued Pugs are better adjusted and will be able to sleep through the night without needing you to tend to them.
Veterinarian Costs:
New puppies need regular visits to the vet to ensure they are in good shape and to get their necessary shots. When you adopt a rescued Pug, they should be current on all of their shots and if they are in good health they should only require regular checkups and preventative health care.
Satisfaction:
Adopting a rescued Pug should give you a sense of satisfaction that you have given your new 'owner' a second chance at life.
Unfortunately, many people tend to believe that only Pugs with serious health and behavioral problems end up in Pug rescue organizations. However, this is not necessarily the case. Pugs are given up for a variety of reasons. If you work closely with your local Pug rescue group they will make sure that the Pug you adopt is a good match for you and your family.
To find out more information on specific Pug Rescue organizations you can visit the
AKC's Breed Rescue Groups page.
How to find a reputable breeder
By OwnedByPugs.com
June 14th, 2004
Deciding to get a puppy is a big decision, but choosing the right breeder is an even bigger decision.
Here are some points to consider when dealing with Pug breeders:
What is the breeder's motivation for breeding?
If a breeder tells you he/she is breeding to make money a red flag should go up immediately. Reputable breeders do not breed their dogs for monetary gains. They traditionally do it to continue to enhance the breed.
Health Screenings:
Before breeding, the breeder should have both the dam and the sire screened to make sure neither have genetic health problems. In addition, the breeder should be able to show you medical records of his/her pugs to assure that they have been given proper care.
Visits:
The breeder should allow you to visit and willingly show you where all puppies are kept. You should also be able to visit with at least the dam of the litter. During your visit, check to make sure the living conditions of the puppies are clean and well kept and take time to get to know at least the mother of the litter. Is she outgoing or is she shy? Is she nervous around people? How does she react to meeting new people?
Health Guarantee:
Reputable breeders will offer a guarantee against any genetic health problems discovered during during the course of the pug's life. In addition, the breeder should also offer to take the puppy back if at any point you are unable to care for your new dog.
Impulse Purchases
Responsible breeders try to steer clear of new owners that are buying a puppy on a whim. That is why reputable breeders generally do not advertise in newspapers or sell their puppies on the Internet. Many breeders have wait lists and have made contact with potential owners before the litter is even born.
Ask Around:
One of the best ways to find out more about a breeder is through word of mouth. Ask the breeder for references. Contact Pug Clubs or other Pug organizations to find out if they have any information about the breeder and consult with your veterinarian to see if they can offer any advice.
Breeder asks you questions:
Just as you ask the breeder many questions a good breeder should also ask you questions. Responsible breeders want to make sure that their puppies are going to loving homes. A good breeder will ask questions like, "Why do you want a dog?", "Do you have any other pets?" and "Who in the family will be responsible for taking care of the new puppy?". Some breeders may also ask you to fill out lengthy questionnaires.
With all this information it may seem like a reputable breeder is hard to find, but they are out there. It is important to be patient and to do your homework. In the long run you will be rewarded for all your hard work.
All About the Pug
By OwnedByPugs.com
June 8th, 2004
The Pug is a small but robust dog about 25 - 28 cm tall and with an average weight of 15 to 25 lbs. They are said to have been bred to be royal companions.
The Pug is a very sociable dog. They are extremely smart and terribly stubborn. Their appearance is characterized by a flat, wrinkled face, compact body, and curled tail. Pugs have only two basic color variations: fawn with a black mask and ears and entirely black.
Within the fawn grouping there are several different subtypes such as "silver fawn" or "apricot fawn".
Pugs have gained recognition over the years for their appearances in movies such as Milo & Otis and Men in Black. In addition, celebrities such as Maura Tierney and Carol Kane have appeared in TV and print ads with their pugs.
Introducing your Pug Puppy to training Part 1
By George Cockrell
June 6th, 2004
As a Professional Dog trainer, I come into contact with new dog owners who wish to start things off in the right direction. There are just as many ways to do so as there are breeds it seems. As a new Pug owner, there are a few things that should be considered due to your flat faced friend's unique physical attributes.
First things first. A new Leash and collar will certainly be on your shopping list. There are literally thousands of options for one at the local pet store. It's important to remember that any collar does not equal a good training collar. The collars described here are for the actual training of your Pug to respond to commands and become a well mannered dog.
The advice we offer to the Pug owners is to avoid training collars that constrict when pulled, at least for the first several months. Constriction collars include the following:
Common Slip Collar - sometimes called a choke collar. These are usually made of chain, but can also be found made of Nylon or Leather. Regardless of material, these collars all operate the same way. When the leash is pulled, they close tightly around the dogs neck. These collar require skill to be used properly and humanely, and most novice dog owners have little or no training in the use of this type of collar. The Pug tends to have issues with breathing and anything that restricts should be avoided.
The Limited Slip or Martingale Collar - These collars are marketed as a gentler version of the slip collar, but serve pretty much the same purpose. These collars have a "stop" built in that prevents them from completely closing around the dogs neck. While only somewhat safer, they still require a fair amount of skill to be truly effective.
A special note about the Prong or Pinch Collar This collar works like the Martingale collar in theory, but has a special advantage over the common flat Martingale. The Pinch collar has rounded metal "fingers" that squeeze the dog's neck when tension is applied. If one feels the need to use a constriction collar with their Pug, this would be the easiest to master and the most gentle. At first sight, these collars look like a Medieval torture device, but, in reality, they do no harm in anyway if used properly. All that is needed is a slightest of tension to get the dog's attention. This collar, as the other's mentioned should not be applied to the young Pup.
The common flat buckle collar - This collar is mentioned in this section, because many dogs are injured because of the total misconception that buckle collars cannot hurt a dog. A flat buckle collar can choke if pulled on. This is not the best collar to use if one has a pup who is a dedicated puller. The load from this collar is placed directly opposite the leash. If the leash is being pulled from behind, the pressure is applied directly to the front of the dog's throat.
OK, with all of those warnings, what collar is best for working on a brand new pup? Since we'll be focusing on using gentle methodology, especially in these early months of training, a common buckle collar or a chest harness if your pup pulls a lot would be a good way to go.
Leashes or Leads come in many different lengths and materials. We will focus on what is best for training.
A flat 6 foot long leash, made of Leather, Nylon, or cotton. My preferred material is Leather. This lead will be used for everyday walks and for working on the commands that occur close to the trainer.
A 15 foot long straight lead. This can be purchased or made. Make note of how small your Pup is, as the weight of the lead needs to be considered. If a long line is too heavy for your dog, then one can be made using cotton clothes line or nylon rope available at any camping store. This lead will be used to do distance work and for training the dog to walk with you.
A word about retractable leashes. This leash should not be used for training. They offer no real parameters for the dog, and tend to get tangled around the owner's and the dog's legs, in some cases causing injury. This type of lead is best used after the dog has been properly trained using traditional leads.
OK, I have my lead and collar, now what?
Introducing your pup to your equipment is pretty straight forward. Using a treat of some other favorite reward, hold the collar in one hand, and offer the reward when the pup investigates. Just a few minutes of this and you should have no problem collaring your dog. The collar should be snug enough to avoid escape, but loose enough as to not hinder breathing No collar should be left on an unattended pup.
Next, snap the lead onto the collar. Some pups will argue about this, but not to worry. Let the pup drag the short lead around before trying to pull them with it. Next, just hold on to the lead and let the pup learn about parameters. Some pups may argue a bit, but stay calm and let them figure it out. Start moving about while encouraging the pup to follow. Offer reward for a loose lead. You can even start teaching the come command at this stage. Move a bit and call "COME." Reward when the pup moves to you.
In upcoming articles, we will address the different obedience commands, how to teach them and how to use them.