Wednesday, April 3, 2013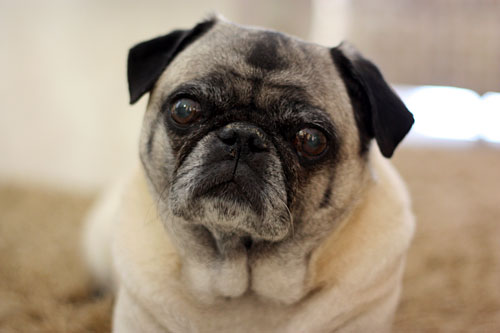 Today is Henry's 11th birthday!
Henry is our calm and thoughtful pug. He is definitely a thinker and sometimes you can see the little wheels spinning in his head. He is also the most trusting of the group, sometimes a little too trusting. When he was a puppy, he rode in the back of our SUV in a crate so that him and Benny would not be wreaking havoc in the car while we were trying to drive. As soon as I would open the hatch and his crate, he would jump right into my arms. He trusted that I would catch him no matter what.
Ironically enough, as calm as Henry is, he has a bite sticker on his chart at the vet. That is because Henry has one rule: Don't attempt to clip my back toenails! When we try to trim his nails he gives us such a hard time. So we thought the vet techs might have a little bit better luck at getting his nails trimmed. They took him to the back to trim his nails and when everyone came back, Henry has this super proud look and a nice little bite sticker on his chart. Turns out he is better behaved for us than the techs at the vet.
While Henry loves to swim, lay out in the sun, take walks and eat treats, there is nothing he loves more than to be pet. He can be relentless in his pursuit of petting. If he is in a room full of people it is funny to watch how he works the room and gets everyone in it to pet him.
Happy Birthday, Hank!