Wednesday, February 22, 2012
Too Chilly For QP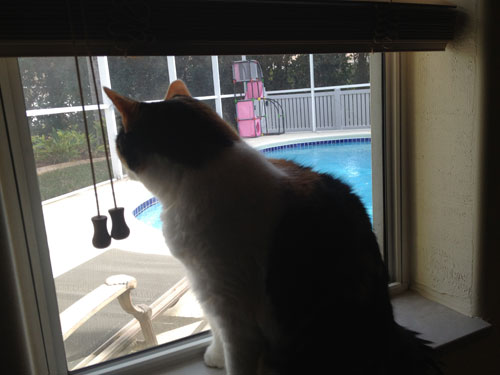 I always feel a little bit bad of including Cupid on the blog since she isn't really "owned by pugs". And boy of boy would she throw a kitty cat hissy fit if I even suggested this.
So, anyway, if you are anti-cat, then hopefully I will still see you tomorrow.....
But since Cupid is a huge part of the family then I sometimes cannot steer away from sharing some her antics. (She was here before the pugs, she often reminds me.)
Anyway, we have been having a bit of a cold snap here in Florida. (It's not really a string of days strung together more like one day here and there plopped in between days in the 70's. Crazy stuff.)
On this day, it was in the upper 40's and windy. I had recently fished Cupid cat condo from the pool from which it had blown the night before. Well, Cupid was itching to outside but it was just a bit too cool for her to venture out into the elements. Instead, Cupid pawed at the blinds in the kitchen so that I would open them so that she could look out the window longing for the warmth to come back.
Ah, silly kitty. (And for Big Bang Theory fans, "Soft kitty, warm kitty. Little ball of fur. Happy kitty, sleepy kitty. Purr. Purr. Purr."