Tuesday, September 11, 2007
Turbo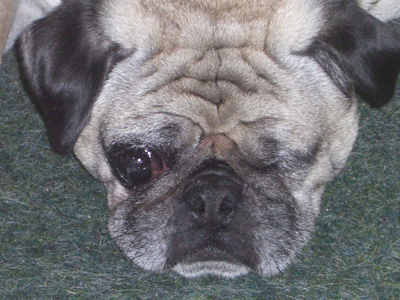 As told by Lisa
We knew we wanted another Pug but rather than go to the breeder for a Puppy we looked into the Green Mountain Pug Rescue to find a needy Pug that is in need of a forever home. There were so many to choose from. We came upon Turbo's Photo with little detail on him saying he was an owner surrender and was 10 years old. I contacted the Rescue to let them know we were interested in Turbo. They set up a home inspection and came to talk about the program. Shortly after that we received a call from Turbo's foster Mom asking if we were interested in coming to meet Turbo at her home. My Husband and youngest daughter along with our 2 Pugs Willow and Belle journeyed into Vermont to Turbo and the whole way I crossed my fingers hoping he would like us.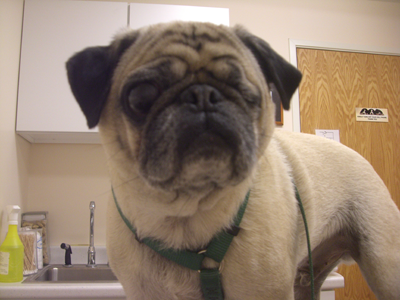 When I first laid eyes on him he stole my heart. He came right over to greet us and gave me Puggy kisses. He followed Willow and Belle all over and they played and played. Our visit went so well we got to bring him home that very same day. His foster Mom is a wonderful woman who was pretty choked up to see him leave but she was happy knowing he was going to a forever home that he deserved. It was a Bitter sweet moment. We keep in close contact with his Foster Mom she played a big role in Turbo's life.
Here is what I know of Turbo....
When he was young he was not treated very well he was used as a stud and kept on a short leash and was abused. He was kicked so hard his left eye was knocked out and his right eye is out of socket and is 90% blind in that eye. He requires eye ointment 4-5 times a day to help preserve the vision he has in his eye. We are trying to save his eye, but if it gets any worse he may have to have it removed to relieve the pain if it starts to bother him. (As of right know he shows no symptoms of pain). He also has Collapsed Trachea and is also on medication for that as well.
When he was around 3 years old he was rescued by a young woman and she kept him for 7 years. She kept great care of him and loved him so much but she was moving and was unable to take him with her. So sad :0
What I have learned about Turbo:
He loves to sleep under the covers in bed at night
He can walk on his hind legs for a treat
He kisses me after I doctor his eye
He is a Mama's Boy he follows me around every where I go
He loves to go for rides in the car. (Monday is Turbo's car ride day. Just him and I go for a Monday Morning ride to get coffee and he gets a donut Hole for a treat. (He seems to enjoy this)
He has Bad breath but I don't mind
He also sneezes on me and sprays me with his nose spray...But I don't mind this either
He does not act like he is 10 1/2 years old he acts as if he is 5 years old
I was told by his vet he is in shape and is fit as a young pug
He is such a love he wants to cuddle all the time
He weighs 28lbs, but not a bit of Fat he is just a large structured guy
He is a good sport and allows my daughters to polish his toes pink (I tell him Real Men wear Pink)
To stay up to date with the latest on Turbo and his two sisters Willow & Belle check out their blog, Pug Posse.