Thursday, July 31, 2014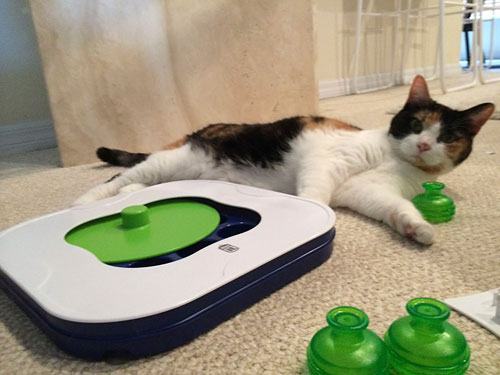 On our last visit to the pet store, Henry and I struck a compromise and we left with neither a fish nor a dog bed. Instead we bought a brain game. The one we bought has 3 different games that are all a variation of hiding a treat. One involves turning over little cups to reveal a treat, the other moving a disc to reveal the treats and the third requires the pooch to slide the cups to get the treat.
We thought this game might be fun for Henry and would requiring a little bit of thinking which would be a good thing. The easiest game seemed to be the one where you knock over the cup to reveal the treat. So we loaded up the game with treats and added the cups. To help Henry get the hang of things we even put treats in the open spaces. Freebies so to speak to get him interested.
Here's Henry's first attempt at the game.
Henry quickly eats all the "free" treats. He knows that there are more treats under the cups, but in typical Henry fashion, he decides he better hang back and ask for permission to eat the cover treats. He wouldn't want to cause a ruckus.
While Henry was waiting around for someone to uncover his treats, the cat became pretty interested in the game. So we gave her a turn. She certainly wasn't waiting for permission to eat the covered treats. She managed to figure out how to slide the green circle to reveal little bits of hidden roast beef.