Friday, August 28, 2015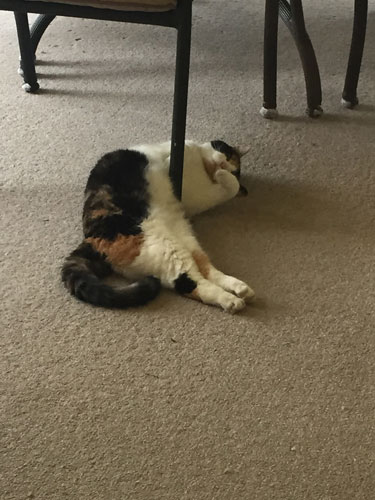 Today's post may be a little to risque, so for those faint of heart, exit now.
I cannot remember the stand up comedy event we were watching many moons ago but I think it was one of Chris Rock's specials. I do remember a segment, though, talking about parents (dads specifically) had ONE JOB. And that job was "to keep their daughters off the pole." He is referring to the stripper pole.
Well, the other day, I peeked out onto the lanai and what did I see?! I saw Cupid doing a dance around the leg of a chair. To me, this screamed out that she was "on the pole" and oh, the sinking feeling that we had not done our ONE JOB of keeping her off the pole!
Now we had give Cupid an Indian name which is "Soft Bunny Fur" but we had not given Cupid a stripper name! I would ask for some in the comments section, but I think it COULD get a little raunchy (even for us!) So, let's just stick to keeping it in good humor. It was nice to see Cupid getting a big stretch using the chair leg as leverage though.