Monday, February 23, 2015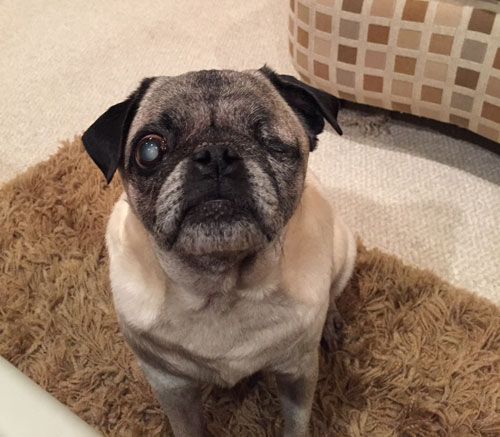 Last week it was time for Henry to have a check up at the vet. Overall he is on a once a month schedule. One month he gets a chest xray, the next month he gets a sonogram of his kidney. This is all to make sure that Henry is still cancer free. We also get blood work every few months. And this visit it was time again. His last blood test showed that he was having some struggles with his one remaining kidney and our vet warned that he was probably in the early stages of kidney failure. The silver lining to this was that kidney failure typically takes a little while to get "bad" and in Henry's current state may be a little bit reversible.
We discussed Henry's diet with the vet and our vet wanted to put Henry on a special canned dog food for dogs with kidney issues. For the most part, the pugs have never really been on dog food and after much conversation with our vet, he allowed us to try to modify his current meal plan in hopes of being able to stick to what he eats already but modifying the portions of each product. Basically, Henry needed a low protein meal plan. And actually he needed his protein to be reduced significantly. I am very relieved that our vet gave us the opportunity to try to make the change ourselves rather than move to a dog food option. (We finally just got Henry's IBD under control and we knew that especially introducing a new food could set him back in the tummy troubles department.)
So for the last couple of months, we have been giving Henry his modified meals. Monday was the day where we would either have to concede to our vet that Henry needed his special canned dog food option or that we were victorious in striking a good balance and reducing his protein levels enough that he could stay on his homemade diet as he has always been on. Essentially it was put up or shut up day.

Hooray for Henry's kidney! We put up, so now our vet has to shut up. LOL. But seriously, Henry's kidney is doing better, bloodwork shows. So, we will continue on his current meal plan and retest again in a few months. Just goes to show once again..... #HENRYSTRONG #HENRYISAGOODBOY #TEAMHENRYWINS