Wednesday, March 11, 2015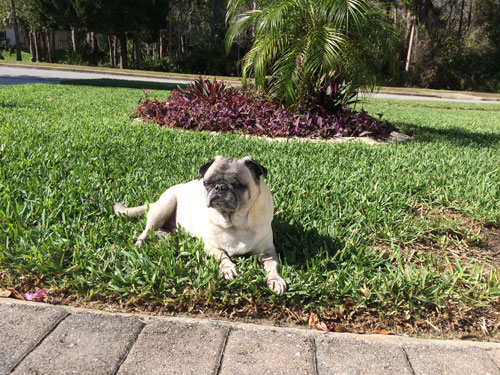 One day last week we noticed that Henry had a little knot on top of his head. For lack of a better description, it was sort of like a mini version of what Fred Flintstone would get when his bowling ball lands on his head (for those of us old enough to remember when cartoons were actually funny). Anyway, I digress. The bump was not really THAT big, but it was, of course, of concern. We texted our vet who recommended a quick check.
So, off to the vet we went. We actually scheduled Henry's sonogram for this trip too, rather than wait another 3 weeks and take more time off work. So, just trying to kill a couple birds with one stone (although we'd never kill a bird or any animal except maybe a snake---sorry snakes and snake lovers). ANYWAY....by the time we got to the vet a few days later for the knot on his head, it had already shrunk in size substantially. That was a good thing. Our doc explained it was just a cyst and right now there was nothing to worry about it but we will watch it to be sure nothing crazy happens.
The better news, however, was Henry's sonogram. Henry's kidney, liver and spleen all look lovely. And our doc was very impressed with how well Henry is doing. He HAS seen Henry at some pretty low lows so for our doc to say how good he is doing sure means the world. Coincidentally it was our doc's birthday! He was turning 47 and offered us some cake to take home. Sadly we didn't have anything to carry it in or we would have snagged a slab. But there was no way a beautiful piece of cake was getting all the way home unwrapped AND undisturbed by Henry. And Henry had taken bite of that yummy cake we would have had to turn right around and have our doc give us a thumbs down and we certainly DO NOT want THAT!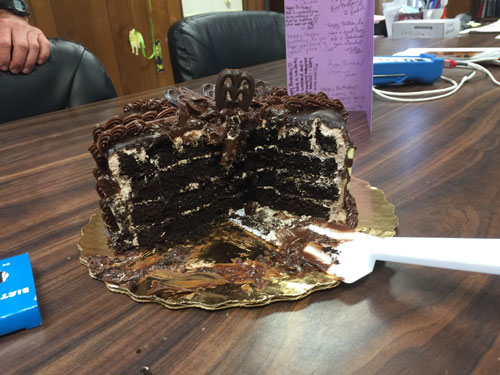 We are just looking for all the #HenryStrongs and #TeamHenrys that we can muster!