Wednesday, August 27, 2014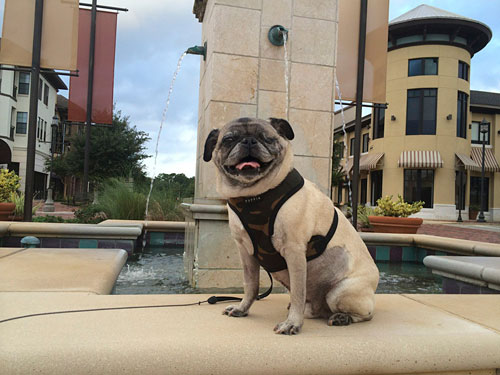 As you know, we recently had a journey to South East Veterinary Oncology (SEVO). Well, in order to quell some of our worries and also have Henry think this trip was "fun" we wanted to actually make it fun for him (since we anticipated 26 weekly visits---whoosh! ---narrowing that down to a mere 6 trips was a great relief). Anyway, we wanted to to make the trip exciting for Henry. We planned on going up to Jacksonville (about 90 miles from our home) the night before and we would stay in a hotel so that we would have a good night's sleep, avoid possible local rush hour traffic and in general dodge any of the Monday morning rush angst that would have likely ensued.
We looked high and low for a hotel that was not only pet friendly but also that was not near the meth labs of the city.

We found a cute little place and it was not exactly next door to SEVO but much closer than our from home commute. To our surprise, none of the closest hotels were even pet friendly. We were shocked. What a market they are missing out on and not to mention, pets that have to come from far away would rather be closer to their doctor than further.
Henry is always one to but up for an adventure. He's always been the one to take the road less traveled and gone off the beaten path. So, this was right up his alley! (As we have been telling him 100 times a day lately, he's "such a good boy!"---said in a sweet but slightly gravely doggy styled loving voice.) This trip was no different. We set out to have a mission of fun and that is what we had! It started with a cool car ride where Henry started out wide awake but that faded fast. He knew that this was going to be a longer haul than most, so he just settled in and conserved his energy for the other end of the ride.
We landed at the hotel and there he was a well rested happy pug! There was a big grass area where we got to see him do something he had not really do in a while and that was run in an open field! He took time to strike a pose in front of the fountain in front of the hotel and being his ever nosy self, he spied every passer by that crossed his path. Always making vigilant attempts at getting a belly rub or at least a pat on the head. King Henry loves him some positive attention!
There was a lake nearby where we could enjoy a short walk. We spotted the lake but from afar we could not see the type of path. We will share more about that in another post! That is a whole other story! (Henry was slightly possessed by his inner Baby Benny. Yikes!)
We will also tell you about the elevator rides and the room service! There was so much fun had that we almost forgot we were there for chemo! As it should be! Stick with good stuff!