Wednesday, January 27, 2016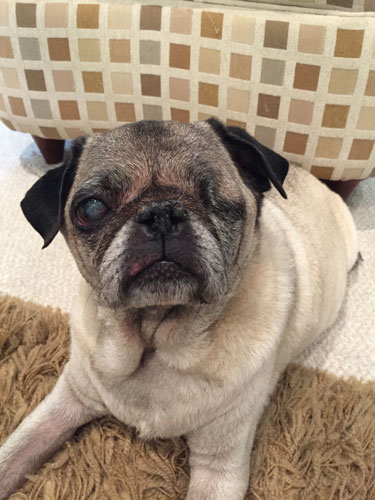 Shortly after we started noticing that Henry was having a rough setback with his poops and then his brain, we realized was that a new issue was cropping up - we were noticing some weirdness with his eye! The first thing we noticed was a weird spot on his eye (Wednesday the 13th). By midday Thursday his eye was producing a lot of mucus and he was squinting terribly. Late Thursday we call the eye vet and made an appointment for the earliest available time. Luckily that happened to be Friday at 8:45am. This was not good at all for traffic, but we were relieved to be able to get Henry in to see the eye vet before the weekend.
Henry's eye exam revealed that he had an ulcer. (Side note, we have confirmed this was not from an injury/trauma. i.e. not from riding with his head out the car window. Whoosh!) In a normal case, surgery would have been the recommended option, but we know that Henry is far from normal. Henry is not a good candidate for surgery so we were left with treatment plan b - hourly eye drops. We have experienced pretty hectic eye drop schedules with Luna, so at first we were't too worried about hourly eye drops. And then we thought about it for a second, and asked the vet, "Do we have to do these through the night, too?"
Knowing that that was a daunting task, the eye vet said if we were to get 2-3 sets of drops through the night that that would be OK.
As soon as we got home we started his eye drops. Each hour we gave him 3 different drops. We had to wait at least 3-5 minutes between drops. And the kicker to all this is one of the drops was refrigerated.
Do you know how quickly an hour can go? It seems like every time we turned around we were giving Henry and eye drop. Henry was a real trooper about and didn't seem to mind at all.
At night time, we decided that we would go all in and stick to the hourly drop schedule. After all, the eye drops were the only hope and we really wanted a good report when we went for our follow-up appointment on Monday. Every hour on the hour the alarm would go off and we would give Henry his first drop. One of the hardest parts was having to wait 3-5 minutes between drops. When are you are half asleep, 3-5 minutes is just enough time to fall back asleep. And since one of the drops was refrigerated, that meant that one of us had to leave the nice warm bed to go get the drops.
We tried to break this into shifts, so that we weren't completely sleep deprived, but that was a tough task. To make sure we actually landed the drop in Henry's eye we had to turn at least a night light on. And going to the fridge made noise too. The icing on the cake was that about every 2-3 hours, giving Henry the drops would cause him to stir. And he would need to go out to potty, and then of course he would want a treat! This was a bad habit that we certainly didn't want to start!
So for the weekend, we got no more than about 50 minutes of uninterrupted sleep. By Monday morning, when we went back to the eye vet, we were quite groggy, but we were very anxious to hear if there was any healing at all. After taking a look at Henry's eye, the eye vet said there was in fact healing. In my sleep deprived state, I blurted out, "Like 50% or more!" Unfortunately not. But, Henry's eye had healed by about 10-15%. This was enough to change his eye drops schedule from every hour to every 2 hours.
Dropping down to every 2 hours was so much easier! We kept this schedule day and night until Thursday when Henry had his next follow-up appointment. On Thursday, the eye vet noted even more healing. While Henry is still not out of the woods, the infection in his eye was cleared, so that was a huge step. We were now able to step his eye drops down to 4-5 times per day! Compared to hourly eye drops that schedule is a piece of cake!
Henry will go back to the eye vet next Thursday. Hopefully, his eye will continue to improve. In the meantime, Henry is keeping his eye open and does not show any signs of discomfort, so that is fantastic!
#HenryStrong #HenryStrongAllDayLong