Friday, January 22, 2016
Luna Recap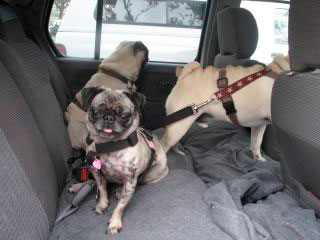 Since it is almost our dearly departed Luna's gotcha day AND because we have recently been asked to recap her story, we decided to answer that request. (The request was also that we should consider "rerunning it annually" but that I cannot promise.) I am always concerned about repeating stories and hope that if I have referenced some previous event everyone knows what I am talking about. With that said, I know that there are readers who have not been with us since we started in 2004 and maybe some have just joined just a few months ago (and GASP do not even know who Benny, Luna or Solsey were! They'd only know Henry! Not that only knowing Henry is a bad thing but oh the joy you would have missed out on by not knowing the other 3!)
Anyway, this is sadly a brief (but I am sure it will still be lengthy) refresher of who Luna was and how she came to us. Luna was a pug in rescue care in Miami Florida. This is what we had been told about Luna: She was 2 years old. She was used to breed and had 2-3 litters. We don't know if that is mathematically possible, we just know that that is what we were told. After she had done enough breeding, the family she lived with in Miami kept Luna as an outside dog. (Yeah, for real! Can you even imagine?! An outside pug in the Miami heat?! I cringe.) We were told that she had dry eye and that it was very severe and likely not reversible. They said she had just got through treatment for mange and was missing some fur but that it was growing back. And last, that she was small.
Initially the rescue literally tried to talk us out of taking her indicating that she was too much effort, had too many problems and that she'd probably never find a good home. Pshht! They tried to push a boy dog name Bear on us. Bear had "no issues" and they thought he'd be better for us.
Well, we wanted the "broken one" because obviously if Bear was so great, he'd get a home soon. Luna would not. So, we wanted Luna. Because if we were going to rescue, we were going to do it right! LOL!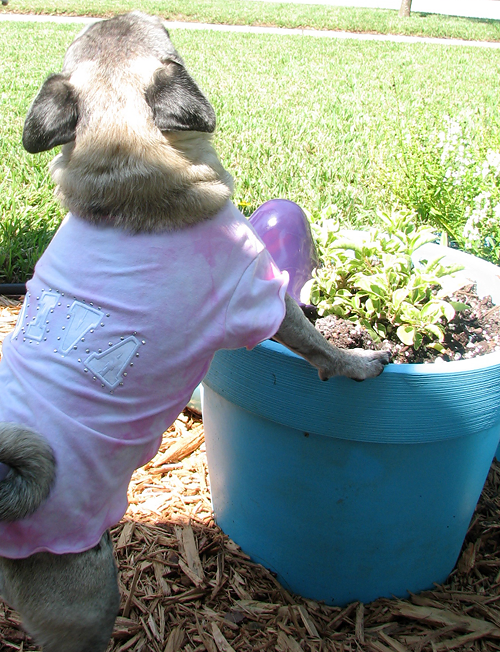 So, we went to Miami (3 1/2 hours one way) and picked her up. Immediately we noticed the following:
She was indeed tiny (small and SKINNY)
It was apparent by her teats that she very likely had been the mother of several puppies
One of her eyes was so dry that it did not close
She had NO idea how to walk on a leash
She for sure had bald patches, many of which looked unlike any mange we'd ever seen. Benny had had mange as a puppy and we'd seen mangy dogs before. A few spots did NOT look like they'd ever grow back as the skin was thick with scar tissue
And last but not least of this poor kid's issues man oh man did her breath stink (like something inside her rotting!)
That was our first impression, but overall she was still a cutie! And we were ready to love her and fix her up like new!
In reality this is how it shook out. Luna's dry eye, with considerable dedication, became manageable. Scar tissue formed over her eye making her a low vision dog, but she got around just fine and with appropriate medication. With our due diligence, her eye grew to be moist, comfortable and somewhat functional. She gained a few pounds right off the bat (and a couple more over the years). Her teats remained disproportionately large for the little girl she was, but they did shrink considerably over the first year or so. She had been fixed in foster making more puppies impossible. Whoosh!
As she began to assimilate and eat quality foods, her fur and breath both took a turn for the better. She did not reek from the inside out! Her fur became soft, but the spots never filled in. But in some areas her fur got long enough for half a comb over. The main thing about the bald spots was that every vet had a different back story of what they believe had happened to her. None of them, however, believed it was from mange.
The theories ranged from acid being splattered on her, to burns from hot water and one even suggest that the one on her back looked like a scar from a stab wound with a lacerated blade. We will never know. We resolved to never know. Our hearts did break knowing that any of those could be the case, though. We grew more appreciative of the family that turned her in to rescue. As that story goes, there was a cousin of the family who observed Luna being mistreated and that person convinced the family to let said cousin take Luna and put her in rescue. Since they had used Luna's baby making abilities to their fullest, they allowed the cousin to take her and put her in rescue. And geez, how we DO wonder what little Luna's puppies are doing these days! I cannot imagine how they are faring these days. They would be getting long in the tooth now, too! They'd be 8-10 years old themselves.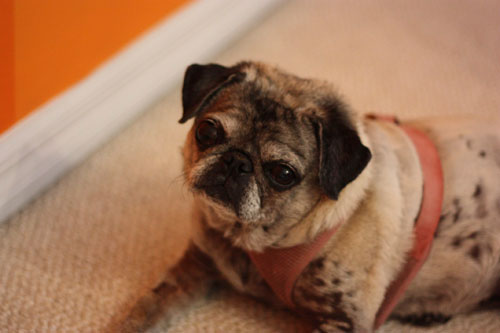 So, that is the story of Luna. DOB=unknown Gotcha day=01/26/2006 RIP=07/11/2014 So many stories between 2006-2014 and so much love. She is truly one missed little diva! Happy gotcha day, kid.