Wednesday, March 4, 2015
Living in Florida has shown that there is a need for more pest control than we were used to having living in Maryland. The creepy crawlies here are not only more in number but also more spine tingling. To be sure that we do our due diligence in keeping these lovely critters at bay we have the Terminix guy come quarterly to treat our home and yard. And of course they inspect annually for termites to be sure we are wood eaters free.
During our last treatment, it became obvious who was who in our household (as though it is not already clear, of course). But Cupid resorted to a cat way of handling things by hiding under the bed. Henry, on the other hand, stayed sleeping on the sofa.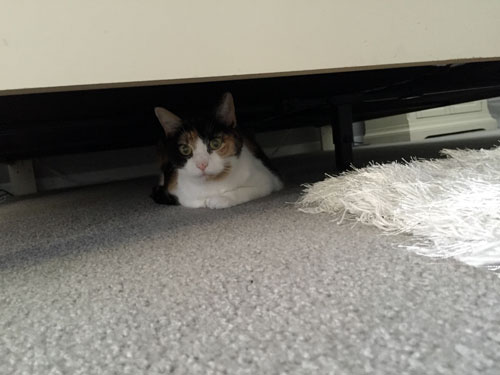 We were actually a little bit surprised by this from Cupid as she is usually as quick to greet a stranger as the pugs would be (and actually more outgoing than Henry these days). We just found this difference between cats and dogs as a bit amusing. Can you imagine if Henry were to try to squeeze under the bed?! Yikes!