Tuesday, November 24, 2015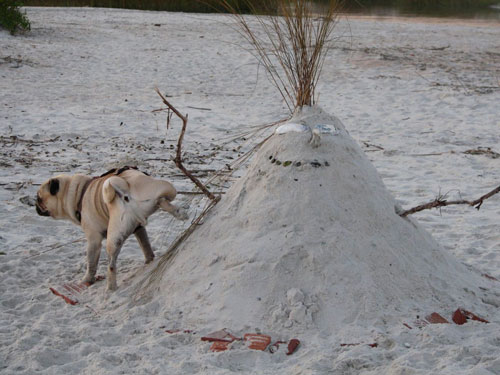 This week's Ask question comes from Christie. She shared that her Olive will kick up the dirt/grass after she has done her business. Her boys Vito and Luigi do not do this. She wondered if our pugs do/did the same. Yes, Christie, Benny and Luna both did this and not only after going potty but also just on occasion after a specific smell that they wanted to top. We had pretty much seen it as a dominance type of behavior. There are a couple of theories why dogs do this, though.
The first theory is that they are "covering" their mess. Like they are cleaning up after themselves. I am not sure if I buy into that but it sounds nice, doesn't it? Here is a little article to support theory.
The other theory is that they are marking their territory even more. They did their business, and now they are leaving more of their scent behind. (Dogs have scent glands in their paws.) This is more to what Benny and Luna would do. They would poop or pee and just kick up a dirt and be so proud of themselves like they showed that last dog who was boss! Here is more on this theory.
I think we've asked this before, Christie but I am going to ask again. Is Olive a dominant doggy? I feel like I keep hearing stuff that indicates that she is but I think you have said that she is not. From an outside perspective, you may want to consider that she is.

And there is nothing wrong with her being a dominant little diva! Luna was the best at the role! She was a hotsie totsie and did it well! Benny had only a few dominant traits but marking stuff was sure a big one! If he was a human man or boy, he'd be one of those guys who would just pee in the middle of Mardi Gras and think it was a hoot! Whoosh! Thank goodness he was dog! LOL!
Due to the upcoming holidays we will be reverting back to Caption This on Tuesdays. But we will go back to Ask OBP early in 2016. We want to be able to give our full attention to our responses and with a busy holiday season that may not be possible. So, be sure to be jotting down some questions over the next few weeks! We'd love to have some good ones to start the year with!