Thursday, September 16, 2010
Benny's Checkup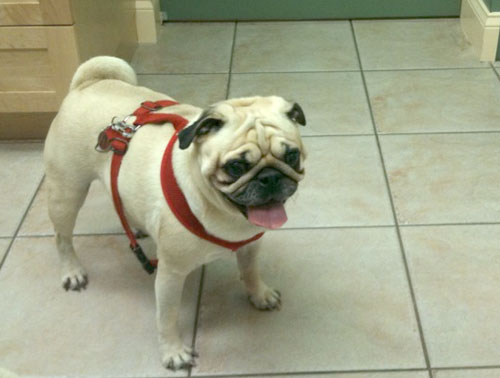 At his checkup last Friday, we found out that Benny has an ear infection in his left ear. Since Benny just started shaking his head a few days before, I was expecting the diagnosis. The infection isn't too serious, so we have to flush and add some drops to his ears for the next 10 days. He is handling his new morning ear routine better than I expected so that is making things a lot easier.
Our other chief concern was his hiatal hernia which makes him have a little coughing episode anywhere from 3 to 6 times a day. We were prescribed a new medicine that works great in some dogs and not at all in others. We are trying it out for the next month to see what kind of effect it has on Benny. The first two days he was on it, he had no coughing episodes, which had me on cloud 9. However, since then he has had at least one coughing episode per day. So, they are less, but not completely gone. But, I'm not sure if we will keep him on the medicine because the main side effect is jitteriness. Benjamin is naturally hyper enough, so once the medicine got into his system he was bouncing off the walls. Although, he seems to have calmed down a bit the last few days.
With the two big items out of the way, Benny got his shots and the rest of his exam. The scar on his chest from his mast cell removal has healed wonderfully. Other than his teeth, he got a good report. His teeth don't need a cleaning now, but probably will in about 6 months. As much as we try to brush his teeth, he still needs to get cleanings. The vet attributes this to the arrangement of his teeth in his mouth. His teeth are packed in there which makes it very hard to get them cleaned. Henry is on the same tooth brushing routine as Benny and he got a stellar report on his teeth.