Thursday, December 18, 2014
By Way of the Holiday Lights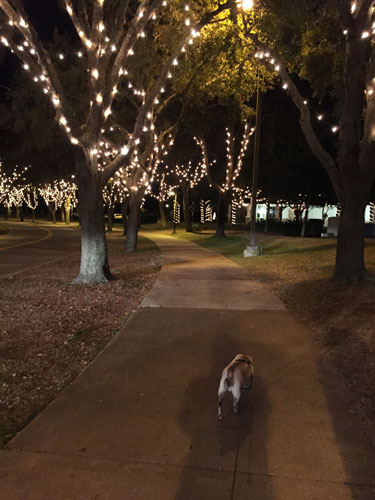 Henry does not see very well. His vision during the day is one thing, but he really struggles at night. The biggest problem we have right now is that by the time we get home from work, it is pretty much already dark. Which makes his evening walks super challenging.
However, I think we have found a temporary solution. One of our favorite local parks always lights the trees that line the sidewalks. The decorative lights give off just enough light to help Henry be able to navigate things better. So the last few nights we have been driving to the park, then taking a small walk by the light of the Christmas lights. The best part is that this also gets Henry a little car ride!
When the holidays are over, we might also have a backup plan for lighting Henry's evening walks. We noticed that the field lights on the soccer fields light up not only the field, but a large portion of the sidewalk. So, I think we might become the biggest rec league fans and be at the fields to take Henry for a walk at every game.