Friday, September 17, 2010
Henry's Checkup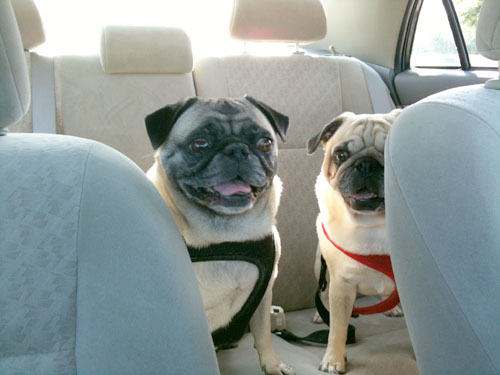 After Benny was done being poked and prodded on the exam table it was Henry's turn. Henry got a little fussy when they were drawing his blood, but other than that he did OK.
My main concern with Henry was his eyes. I have noticed that he is missing a lot of treats when we play our treat toss game. I know that he has the beginnings of cataracts in both of his eyes, but it is extremely early in the process.
The vet took a look and said that it looks like the cataracts are getting a bit bigger, but again it is still early. At this point we should just keep monitoring him to see if we can pick up on any type of vision changes.
Not great news, but it certainly could be worse.
The vet also checked Henry's hips and knee to checkup on his arthritis. Henry has had a bit of arthritis in his hips since he was about a year old. The arthritis has been attributed to his hip dysplasia, but we have done a pretty good job managing it. As he gets older, we do our best to keep an eye on it because the problem is certainly not going to get better as Henry ages. The arthritis might be a tad worse than last year, but all in all Henry is doing great in that department. Henry was also down a pound which I was thrilled about. Keeping Henry at a healthy weight is pretty much the only thing we can do to help his hips and arthritis.
Another small item on Henry's list was his dry nose. Henry's nose has gotten to be extremely dry and cracked. I wasn't sure if this was a sign of some other problem, so I jotted it down on my list of things to ask the vet. The vet said that all is well and that a dry nose is just a part of aging. He gave me a gel to put on his nose to help put a little moisture back into his nose and by golly does that stuff work. Henry is almost back to his puppy nose!