Friday, September 4, 2009
Not Good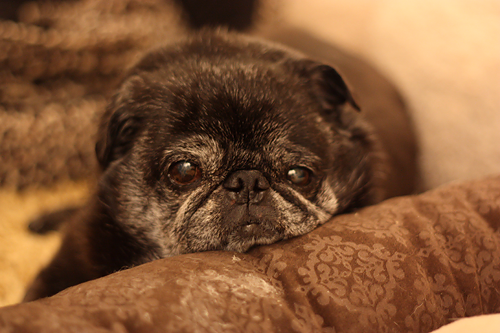 Yesterday, Benjamin, Henry & Sol all went to the vet and it was a whirlwind of a day. I wish I had good news to share about Sol's visit, but sadly I do not.
Sol went in because she was limping around pretty badly the last few days. We figured it was her arthritis but it seemed to be bothering her more than usual. So since we were already going in with the boys we figured it would be best to bring Sol along and have her looked at as well. The vet confirmed that her arthritis was the cause of the limp and as we were talking he checked on the small mammary tumors that were discovered when Sol had had the tumor removed from her mouth.
The vet is very diligent about checking on them each time we bring Sol in to make sure they have not grown and as he was doing his normal examination, I saw a wave of concern come over his face. Of course my heart sank and I knew he was not going to have good news to share.
He said that the consistency of the tiny tumors had changed and they felt more "rope-like" which was a sign they were beginning to spread. In addition to that, they were also now leaking!
Having heard the news, my first question is what do we do? The tumors were discovered months ago, but everyone advised me not to do anything as there was no indication they were cancerous or harmful to her at the time. Everyone, always said, "Keep an eye on them and monitor them for any changes." Well, here we were and changes were happening, so now what?
So the vet talked to me for a bit explaining that the changes he found do not necessarily mean the tumors are malignant. We won't know if they are cancerous until they are sent to be biopsied, but since they have grown, their consistency has changed & they were now leaking they should be removed.
The big BUT however was that they would need to do a chest X-Ray to make sure Sol's lungs were clear or else she would not be a candidate for the surgery. The vet explained to me that malignant mammary tumors most often metastasize in the lungs. So if they had reached Sol's lungs we would essentially be too late.
So he recommended that we bring Sol in on Tuesday to get a chest X-Ray. At that point, having a pretty good relationship with my vet, I told him that he was going to have to get Sol in for an X-Ray sooner than Tuesday because there was no way I was going to spend the next 5 days agonizing over whether or not Sol was a candidate for surgery. So he suggested Friday and, in my ever so charming way, I suggested today. He said 4pm and I said how about now. Knowing me, he took Sol back right then and did the needed chest X-Ray.
Sol was very cooperative and they had her back out to me in no time at all. At that point, we just needed to wait for the results of the X-Rays to be read. We had to wait maybe 20 minutes and during that time so many thoughts were swirling around in my head. But the overwhelming feeling was that if we were too late, then I let something I knew about get too far out of hand. I missed the signs, the changes, the everything I was supposed to keep an eye on. I replayed the last few months in my head and I remembered that Sol was in a few months ago for her upset tummy and at that time the tumors were holding steady. So, the changes that did occur have happened in the last few months and have been fairly quick.
Finally, the vet came back into the exam room and put the X-Rays on the viewer and as soon as he did, I could tell that her lungs were clear. I looked at him and he confirmed that her lungs were infact clear. A little bit of relief hit me like a ton of bricks.
So, Sol is scheduled for surgery on Wednesday, Sept 9. The surgery can be done at our regular vet's office and while the surgery itself is not extremely complicated, Sol will be pretty sore afterward.
Basically, she is going to have all the mammary glands removed from her left side, so she will have an incision that runs the whole length of her body on her belly. The incision is not deep, it doesn't even go below the muscle, but it will still be quite painful.
Once removed, the tumors will be sent for testing. At this point, Sol does not have any mammary tumors on her right side, but I asked if we should have those removed as well. I was advised that it wasn't necessary and even if the mammary glands needed to be removed on the right side they would not remove both in one surgery because it would be too painful.
As I have been processing all this, I think we got the best possible news we could in a bad situation. I don't want Sol to have to have another surgery, I don't want to have her be sore after the surgery, I don't want her to have had cancer in two different parts of her body, but the silver lining is that there is still something we can do. We are not helpless in this situation.
Wednesday will come and Sol will have her surgery and hopefully in a few months we will look back and marvel at her recovery just like we do with the surgery that left her with only half a jaw.
Sol is a constant reminder to me to live in the now and appreciate everyone and everything that you love while you can. And yesterday, she hammered home that message even more.