Friday, March 19, 2010
Sol "Sunshine" Memorial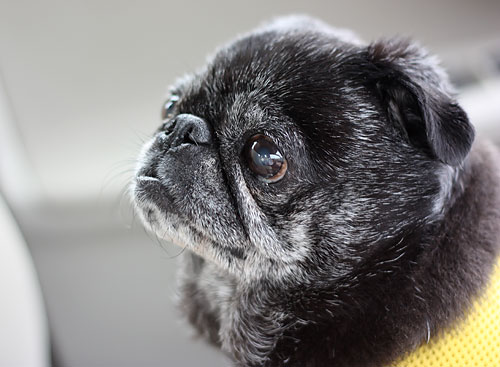 Shorty after Sol passed CFPR contacted me with an idea. They wanted to setup a memorial fund in Sol's name to benefit their hospice pugs. I immediately loved the idea because that was what Sol was all about - turning a negative into a positive. It is incredibly sad without Solsey, but here is one good thing that could come from her death. She could help other senior pugs that were just like her, a little advanced in age, but still had a lot of life left to live. And so the Sol "Sunshine" Memorial was born.
Having never been owned by a true senior pug, Sol taught me a lot. Yes, there were a lot of vet visits and there were extra meds to be given and sometimes special accommodations needed to be made, but go for one pouch walk or feed one spaghetti dinner and suddenly there is no doubt that all of the other things are worth it. I think it is the closest you can get to seeing pure joy. Nothing brought a bigger smile to my face than seeing Sol spin in excitement all the way to her spaghetti bowl, or run to get put in her pouch or beat all the other pugs to the garage to be first in the car. And then, at the end of the day, Sol would be tuckered out from all her adventures and she would curl up at your feet and gaze at you with her big brown eyes in an effort to say thanks. Thanks for seeing that even though I might have some medical issues and even though I'm not as agile as I once was, thanks helping me do all the things I still love to do. Thanks for helping me live each day to the fullest.
There are other senior pugs that are just like Sol in the care of CFPR. Thanks to all the wonderful CFPR volunteers each one of those pugs is living the type of life that Solsey lived. A life full of their favorite things. By making a donation to the Sol "Sunshine" Memorial fund you are helping a pug just like Solsey.
If you would like, you can donate to the Sol "Sunshine" Memorial using Pledgie (PayPal, credit card payments) or if you prefer via check. Be sure to include a note or write on the check that the donation is for the Sol "Sunshine" Memorial.
Checks made payable to Central Florida Pug Rescue can be mailed to:

Central Florida Pug Rescue
PO Box 953744
Lake Mary, FL 32795
Donations big and small go a long way in helping the senior pugs.
A big thank you to everyone from me, Solsey & senior pugs everywhere!
If there are any businesses that are interested in teaming up to help support the Sol "Sunshine" memorial fund (now or anytime in the future) please feel free to contact me - .(JavaScript must be enabled to view this email address).