Monday, November 24, 2014
Weekend Adventure - Saturday Edition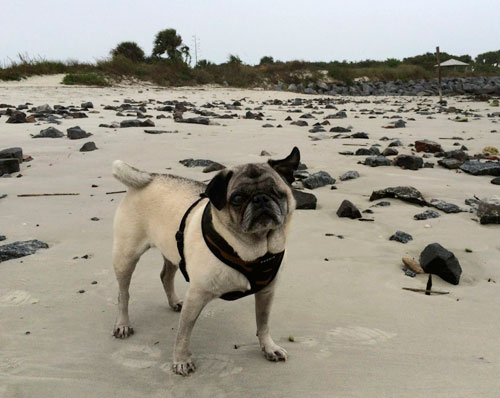 Saturday was a pretty dreary day by Florida standards. It was raining off and on and was quite windy. With the so, so weather, we thought it would be a great day to take a little trip to the beach

The great thing about going to the beach when the weather is less than ideal is that we pretty much have the entire beach to ourselves. And this visit proved no different than our other crappy weather beach days.
Henry didn't care what the weather was like. He was happy to feel the sand between his paws. He walked the entire dog beach section and since it was low tide we were able to trek to a part of the beach that we aren't able to access very often. That was his favorite part, of course. It was his big moment to stray off the beaten path.
Considering that it was windy on the mainland, it was super windy on the beach. I think this big gust of wind almost blew Henry over! It was a warm breeze though so that helped.