Saturday, October 13, 2007
Abby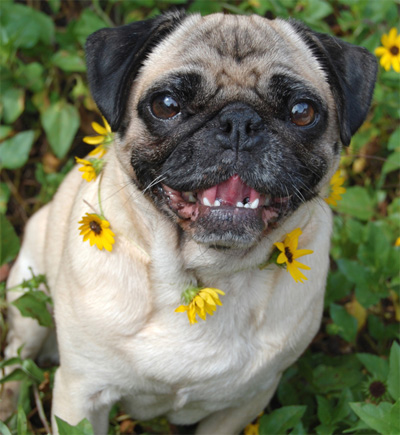 As told by Dianne
Abby's foster mom gave us some background on Miss Abby. Namely that Abby was a "child" of divorce. When her parents split up, Abby went to live with her Dad. As it turned out, her Dad wasn't home much and passed her off like a football to his mother. I was told that Abby's Grandma wasn't a dog person and poor Abby ended up spending most of her time outside on the back patio. As you know, being away from people is torture for pugs. Being outside in the heat of summer can be deadly. Fortunately for Abby, the patio was in the shade, but she still had to contend with the humidity. As a result of lengthy exposure to the great outdoors, she developed kennel cough and a fear of thunderstorms.
By the time Orlando Pug Rescue got Abby, she was a right mess. She had kennel cough, was underweight, missing two teeth, behind on her shots, had a raging ear infection, was not spayed and very dirty. Abby's foster mom took her in to the vet, got her taken care of and fattened her up with twice a day feedings and lots of treats. (Abby had only been fed once a day at her Grandma's and had not been given enough food.) By the time we saw Miss Abby, she was thriving in her foster home where she had other dogs to play with and she had been given a lot of love. (Retha, her foster mom, is serious about giving her foster kids lots and lots of L-O-V-E.)
These days Abby rules the roost at our house. She is a sassy little thing and we wouldn't have her any other way. Her pug-brother, Max, is very mellow, so together they are Yin and Yang and balance each other out. One of their favorite things to do is to run around the dining room table at full speed (well pug-speed) chasing each other. We call this occurrence "crazy-pug time". They are very fond of sleeping and love to take naps together after "crazy-pug time". They both are a lot of fun and everyday they do something hilarious to amuse us. Both Max and Abby exhibit that "look at me" trait I think all pugs have; they definitely like to be the center of attention. We felt blessed when Max came into our lives a couple of years ago (another rescue tale) and we were so happy we found Max a pug sister. A big thanks to the nice folks at OPRA. We love both of our pug-children so much.