Thursday, November 22, 2007
Frankie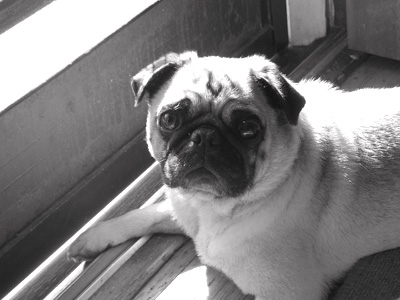 As told by Danine
Hi my name is Frankie and I'm now 3 years old. I came to my mommy while she was trolling the animal care and control website of California. Immediately my little pug face jumped out of the screen and said "COME GET ME!!!!"
Mommy called immediately to be told that I had just been dropped off that morning. Apparently, the people who brought me into their home couldn't care for me anymore. Me? I'm no trouble at all!
I live in Santa Monica and Mommy quickly printed out directions to the Lancaster Animal Shelter. Being fairly new to California my mommy didn't know just how far she would have to travel to get me or how hot it would be up there in June!
She left work the next day because it's first come first serve and there was one other person who phoned with interest. Well, where I was was no place for a pug – hot – no comfy beds and the food had to be shared with two others in my cage. My mommy cried when she saw me in the cage, but since I didn't know how good she would be to me yet I ignored her cooing my name.
She went through the paperwork and when I came out I was just happy to get out of that horrible shelter (Don't get me wrong, they take care of us there, but it is a shelter out in desert with no a/c.) I met my new daddy then too! (He's cool cause he's home a lot and when he travels mommy makes sure she comes home during lunch to let me and my brothers out for a stretch and a pee!)
I got into their car and since I was so upset at my other family all my fur was coming out (they say that happens when we get nervous). I sat in her lap and kissed her and rustled around – fur was flying everywhere! Daddy had to roll down the windows just to let some hair out cause it kept getting in his and mommy's eyes and nose! Hehehehe!
Once I arrived at my new home, I immediately christened the nice grassy yard that I now lay in and enjoy the sun and cool weather of the west side!
I was full of foxtails (mommy hadn't heard of those) so she gave me a bath and my new daddy helped pick them all out (it took them most of the night). She sprayed me with doggie detangle (made from lavender from a farm in Santa Ynez) and she gave me benadryl cause the shelter mass immunizes and they gave me Lepto in my shot!!! Which I hear is a BIG NO NO for a pug.
The next day I went to a nice doctor who gave me a full exam – unfortunately I was a little bit of a mess. I was so skinny and malnourished that the bones in my head were sticking out, my teeth were full of plaque, and I had a heart murmur. I slept with mommy and daddy that night (right in-between them) and although I kept looking for my other family after a few months of home cooked meals and lots of love and lots of attention I'm pretty much running their lives along with the older pug they have (he's mean some times but most times he let's me sleep next to him and as long as there isn't food or treats involved we get along just fine).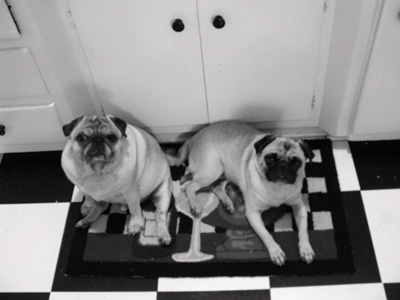 I'm VERY happy now. I'm 20 lbs - my teeth are plaque free (without a cleaning – mommy uses plaque off added to my food) and I NO LONGER HAVE A HEART MURMUR!!! I'm in perfect health and living the life I was meant to live.
Thank you for listening to my story.
Frankie the spoiled pug.