Halloween Costume Contest
By OwnedByPugs.com
October 1st, 2006
Celebrate Halloween with Owned By Pugs by participating in our Halloween Costume Contest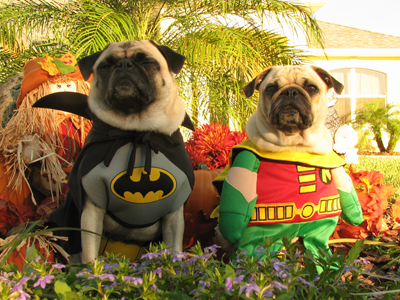 How to participate:
Send a photo of your pug or pugs dressed in their Halloween costumes to contests@ownedbypugs.com.
We will accept entries from Sunday, October 1, 2006 until midnight on

Friday, October 27, 2006 EST

Sunday, October 29, 2006.
Winning entrants will be notified on Tuesday, October 31, 2006 and the winning entries will be posted on Owned By Pugs.com
By submitting your photo you agree to the contest terms & conditions listed at the bottom of the page
Best of all their are some fantastic prizes up for grabs. Here is what is at stake:
First Place: $40 Gift Certificate to H. Doodle - A little shop for little dogs and a copy of the 2007 Owned By Pugs Calendar
Second Place: A copy of the book Pug Therapy, 8 ounces of gourmet dog treats and a copy of the 2007 Owned By Pugs Calendar
Third Place: 8 ounces of gourmet dog treats and a copy of the 2007 Owned By Pugs Calendar
Honorable Mention: 7 photos will be chosen and each entrant will receive a copy of the Owned By Pugs calendar
Terms & Conditions:
I give my express consent to the public posting of my photo on the OwnedByPugs.com site and to me and my pet being publicly identified by first name if my photo is selected as a winner in the 2006 Halloween Costume Contest.
The photo that I am submitting is my original work and does not infringe on anyone else's rights.
By submitting the photo I am giving OwnedByPugs.com a perpetual, royalty-free, worldwide license to use the photo on the Owned By Pugs.com website and Pug Tails newsletter.
I understand and acknowledge that OwnedByPugs.com chooses the 2006 Halloween Costume Contest winners in its sole and absolute discretion and all decisions made by OwnedByPugs.com are final. I also understand and acknowledge that by submitting a photo to OwnedByPugs.com does not guarantee acceptance or publication of the photo.
I am at least thirteen (13) years of age.
I expressly agree that this photo submission is made in accordance with the Terms of Service applicaple to the OwnedByPugs.com site.