Friday, April 21, 2006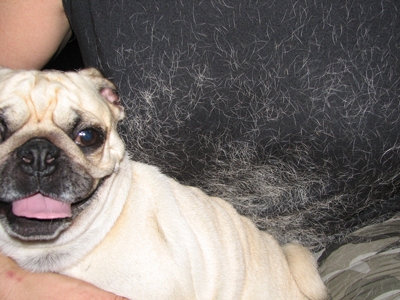 People often ask me if pugs shed. When asked this I always laugh and then offer up a definitive "Yes, yes they do and they shed a ton!" But sometimes I feel that people that don't already own pugs don't really understand how much pugs shed.
To help manage my gang's shedding I brush them fairly regularly with the Zoom Groom. The other night I took the boys and Luna out in the yard for their regular brushing and this is how my shirt looked afterward.
So how do you stop the shedding?
Well, I have found that you don't. Nothing I have tried has ever stopped my pugs from shedding. Instead I find the only thing you can do is minimize the shedding and do your best to keep up with it around the house. I find that brushing the boys and Luna with the Zoom Groom helps to get rid of a lot of the hair at once. This still doesn't stop them from leaving fur all over the rest of the house, but it does help a bit.
The other main thing that I do in the battle against fur is vacuum. Now this may seem silly, but I vacuum every day. When I had a regular, bag type vacuum I used to vacuum every two or three days. Then I got a Dyson that has a clear canister. After I ran the vacuum, I was disgusted by the amount of hair that it picked up. I wanted to test it, so I ran the Dyson again the very next day. Needless, to say I was shocked by the amount of fur it picked up after that I now vacuum every day. It was kinda like Scared Straight for neat freaks.
The only other tactics that I have in the battle against shedding is to have pug friendly decor. For instance, the carpet through most of my house is a light color. My sofa is an odd, fawn-like color. An added bonus is this items are all within my personal taste. So not only do I like them, but if I miss a day of lint rolling the fur doesn't show quite as bad. Now, if you own both a fawn and black colored pug you have my sympathy. The decor tips will be of not luck for you.
Good luck in your battle against shedding!