Friday, February 4, 2011
Sol Sunshine Memorial Fund Update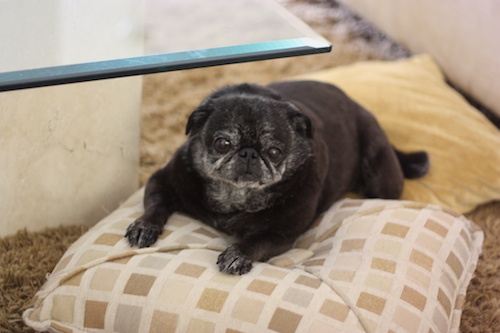 A few weeks ago, Central Florida Pug Rescue sent me an update on the hospice pugs that are the beneficiaries to the Sol Sunshine Memorial Fund.
For example, the fund is being used for Jenny's monthly shots and for medicines, special foods and regular checkups for the other pugs in hospice. While reading the email, it was such a good feeling to know that Solsey is still doing good in this world. She can't be here to make me smile with her goofy antics, but it makes me smile to know that Solsey plays an itty bitty, tiny, little part in helping other senior pugs live it up in retirement.
Monetary donations to the fund go a long way, but donation of other items are also a big help. Here are a few of the items the senior pugs could use:
Pastel colored yoga mats (we cut them up to make easy-clean pads for the seniors)
Egg-crate foam sheets (we use the foam to make orthopedic beds)
Raised dog bowls, for the pugs with severe arthritis and joint problems
Frontline and Heartguard medications, as the older ones have trouble tolerating ivermectin and some of the other newer meds for heart worm and fleas
If you have any of these items and would like to make a donation, you can send them to:
CFPR
P.O. Box 953744
Lake Mary, FL 32795-3744
Or if you are in the Central Florida area call the pug line at 407-756-4998 to arrange for pickup or delivery.
I hope you have a wonderful weekend and thank you for all your support. Without you, the Sol Sunshine Memorial Fund would not be possible.