Thursday, September 29, 2011
Twenty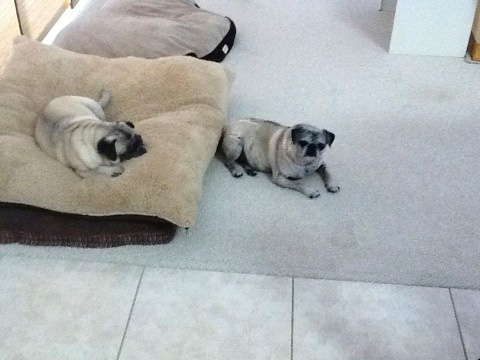 Everyone knows I have a thing for dog beds and I know a few of you have wondered exactly how many dog beds we have in the house. So, I counted them up this weekend and came up with 20. Not bad. That is less than 7 dog beds per pug.

If you break it down by rooms, my office comes in first with a total of 7 beds. When I worked from home those were 7 very much used dog beds. The living room has the next highest tally at 5. The pugs use those beds a lot when we watch TV in the evenings. The rest of the beds are around the house. 3 of the beds are also used in the pugs' crates (1 in each crate).
There are also two dog beds that are out of the rotation. One is the orthopedic dog bed that we bought for Sol. Solsey didn't really like the bed and Benjamin, Henry and Luna never liked it either so it is tucked away and not currently in use. The other bed not in use is small orthopedic bed for Luna's crate. She was not pleased when we put that bed in her crate so we took it out and put something a bit more comfortable in there for her.
Much to a lot of people's surprise, all the beds are used. If we get a bed and it isn't used, we will usually try a different spot in the house. If it still isn't used we will give it away to a friend. And over the years, we have had to throw a few beds out because the pugs had completely worn them out.
While a lot of the beds are on the floor, there are some beds that are strategically placed. Take my office for example. 3 of the beds in that room are on top of ottomans. The pugs like to be up higher in my office so that they were closer to my desk.
After breaking it down and looking at things this way, I think we need more dog beds.