Friday, February 3, 2006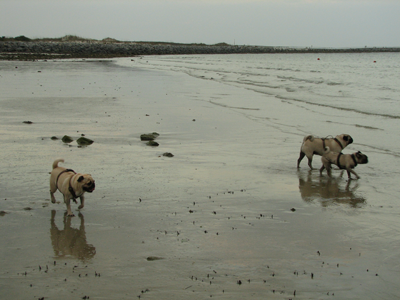 Yesterday, everyone was full of energy, so we thought we would go to the dog beach after work to give everyone a chance to run around.
This was Luna's first trip to the beach, at least with us, so we were curious to see what she would think. It turns out, she is very much like the boys. As soon as her feet hit the sand she was off and running.
The boys chased Luna, Luna chased the boys and at times we weren't sure who was chasing who. There were just three crazy pugs running and running.
We didn't go in the water as it was a little chilly, but Luna didn't seem to mind getting her feet wet by running in and out of the water that was lapping on the shore.