Friday, September 5, 2008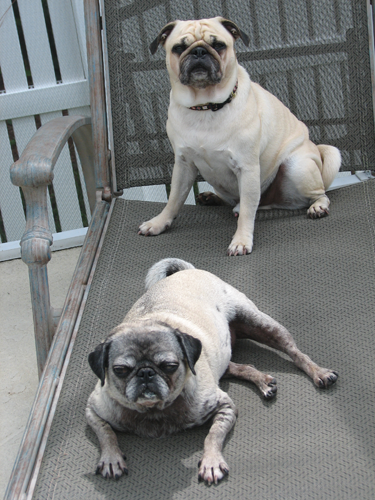 Hanna
The pugs won't be lounging outside today. We are getting some wind, rain and a lot of clouds from TS Hanna. Nothing severe, just enough to keep the pugs from wanting to go out.
Calendar Contest
The 2009 Calendar Contest submission deadline has been extended to Sept. 12, 2008 (next Friday). As of this morning we have received 765 entries! I have flipped through them and I must say that this is the best group of pictures yet! This is going to be the hardest year for selecting pictures for the calendar! I can't wait to see how much harder you can make this on me with an extra week to submit pictures.

The rescue group we will be teaming up with this year for the calendar contest is Central Florida Pug Rescue. 15% of the proceeds from the calendar sales will be donated to this wonderful organization. We are excited to get to know our neighbors at CFPR a little better.
CFPR Sock Hop
Speaking of Central Florida Pug Rescue, we can hardly wait for their upcoming Sock Hop event on Saturday, September 27, 2008. We will be attending this pug filled event and if you are in the Central Florida area we hope to see you there. I just love the poster for the event. You can click on it to see it full size.
Special Sunday Posts
The Saturday Flashbacks have gotten a lot of great feedback, so I have decided to start a Sunday series of posts. These posts will have a very specific theme and I will post them while supplies last.

It will all make a bit more sense on Sunday. In the meantime, next week, I will try to get much better posts up during the week. It is calendar season, so please bear with me.
Have a great weekend, everyone!