Thursday, October 30, 2014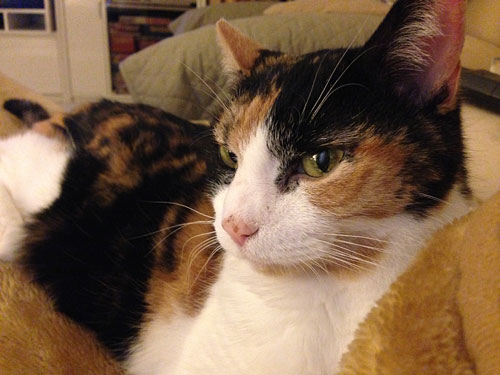 About 2 years ago, Cupid was diagnosed with hyperthyroidism. We had taken her to the vet because she was eating like mad and losing quite a bit of weight.
The treatment plan was to put her on a special food with no iodine and that would get her thyroid under control. It seemed to work at first, but the biggest hurdle we faced was that Cupid hated the food.
It got to the point where she became desperate for any food other than her "special food". After Benny and Luna passed things got even worse because Henry would just let Cupid have his food. Benny and Luna would never allow no kitty cat to eat any pug food, but Henry was more than happy to oblige with the cat's wishes.
Not only was the cat ravished and cranky that she never got to eat yummy food, but her thyroid levels weren't really stable. There were times everything would be ok and she would start to gain some weight and then times she would drop weight fast.
The pot boiled over about a month ago, when Cupid started throwing about a few times a day and having diarrhea. We took her to the vet and they reluctantly recommended putting her on an easy to digest food that would help ease her tummy issues. However, while on this food, her thyroid would go untreated, so this was not a long term solution. More like a try this for a few days then we will switch back.
Cupid was thrilled to be on the different food. She was like a different cat. She was so much happier that we talked to the vet about alternative treatments for her hyperthyroidism. We knew our options from before, a pill that a lot of cats react negatively to (vomiting, stomach upset) and a radioactive treatment to be done at a specialists to zap her thyroid.
The zapping option seemed so scary to us when we heard about it a few years ago. Mainly because it was at a specialist we weren't familiar with and Cupid would have to stay there for about a week. We'll that option seems a little better now because the specialist that performs the treatment is SEVO and that is where Henry received his chemo treatments.
At Henry's last chemo treatment we talked to his Dr about Cupid's treatment and she gave us all the details. The pros and cons and stories about how other cats they have treated have fared.
We left feeling much better about our options and at the Dr's urging decided we would get a baseline blood test, start Cupid on the thyroid pill and then do another blood test after a month. Why all the blood tests? Well it turns out that the kidneys are the only organ that benefit from hyperthyroidism. With everything pumping so fast they actually benefit from the increased blood flow. So, some cats have kidney troubles once their thyroid is regulated and things stop pumping so fast.
Once her thyroid is zapped, there is no going back. However, you can easily take her off a pill. So Cupid is currently on the thyroid pills and in a few weeks we will check and see how her thyroid levels are doing and if her kidneys are holding strong with her thyroid being under control. From there we will decided if we keep her on the pill or if we zap her thyroid.
Long term I'm not sure how any of this is going to play out, but right now Cupid is happy. She is eating better food, she has stopped throwing up, her diarrhea is gone and she is putting on weight. For the first time in a while she is playing again! Check out this video of this happy girl in action!