Wednesday, May 8, 2013
OBP wanted to share today's blog in honor of Mary Davis. Mary is the mom of longtime OBP extended family, Jenna Davis (Moulton). Jenna, is mom to Jade (a black pug) & Pink (a fawn that recently joined their family). Jenna had been reading the blog for a few years and her mom, Mary knew of the blog through Jenna. Mary learned of the calendars that OBP used to put together. Mary, a true animal lover, ordered a calendar for her daughter Jenna (who resides in New Hampshire). We noted that Mary's mailing address was very close to where we lived. We thought to ourselves, "what a small world". Well, time ticked on and through emails we came to know Jenna, her beau at the time, now husband, Corey, their black pug Jade and Jenna's mom, Mary. At the time, OBP had recently lost Solsey, our black pug. Jenna & her family bonded with the OBP family over the adventures that Sol had brought our way before her passing. And since they had a black pug, too, the black pug topics grew fast and furious. After corresponding for a bit, we worked out a time when we could meet Jenna, Corey and Jade as they would be visiting her mom down here in the South. On this visit, we got to meet Mary, too.
We met up at the dog beach (sadly, sans Solsey). Benjamin, Henry, Luna, Jade, OBP humans, Jenna, Corey, Mary and Jade were all getting to know one another. Dogs sniffing bottoms as they became friends, people asking questions, sharing stories, telling tales, laughing, joking and also, becoming fast friends. I remember Jenna referring to herself as our stalker which seemed completely riotous. OBP had a stalker? Ha! We were both flattered and questioning if we should really be concerned even though we knew that there could no way be a harmful pug stalker out there.

What struck me the most about the "stalker" and her family was that she knew so much about us. There wasn't a story we could tell that she hadn't already heard. She'd already read them all. It did seem like an odd phenomenon. You just meet someone and they are telling you the best moments to your own accounts. It was wacky (but in a good way). So, we tried to be even better listeners and learn about them since we had nothing new to share that they didn't know by now.
Anyway….what was also so cool was that while Jenna was the true pug lover, she brought with her, her mom and then boyfriend. I wasn't surprised that her sweetie would be there but I was a little surprised to see her bring her mom. Her mom, Mary, was such a hoot (I could see where Jenna got her warm wit, spunky way with words and generosity). Mary had a thick northern accent. The OBP humans are both northerners, too but when we talk about Mary being a northerner, she brought the accent to a whole new level. (You know, the whole, "pahk the cah in Scotland yahd" deal? Well that was Mary. And Corey, too but he was pretty quiet the first visit.) You could also tell that Mary was so pleased to be a "snow birder" as they are called down here. Spending the winters in Florida to dodge the wicked North East winter weather and then going back to New Hampshire for the summer once it is safe to trek back again. Mary was pleased as punch to be retired and embracing the best weather each state had to offer. It was so sweet to see Jenna and her mom be so close and loving to one another. There was no mother/daughter friction there. They had a super awesome mutual love and respect.
Mary was no old fogey. She was spry and silly and had a great presence without being overpowering. She was so friendly. She was a character but genuine. And what I remember most of our first visit with her was that her eyes were such a piercing blue. They were gorgeous. She was also a crafty person. She was handy in the quilting and yarn hooking categories and also good in the kitchen. She was always so thoughtful of our pugs. She baked them loaves of pumpkin bread. Knowing that Benny's vice was pumpkin bread, she'd whip up a loaf for him (and the others but Benny would commandeer the whole thing.) She was just so kind that way. She loved our pugs. And I know she loved her grandpugs! She was a special person.
So, we had awesome visits with Mary (and Jenna & clan) throughout a few years. About 2 years ago, though, we were doing some shopping with one of my old college friends who was visiting from Maryland and we saw Mary again at a small town art show. We stopped and chatted a bit. She was that happy, bubbly little lady that we'd remember from our visits. Little did we know that that would be the last time we would see Mary again.
Jenna and Corey remain our friends and we have seen them a few more times (and each time is better than the time before and we grow to love them more with each visit). Sadly, though their last few visits have been laced with health problems on Mary's end. Mary developed cancer and fought it once, but it came back and she tried to fight again but this time it was to no avail. Mary passed away recently. She was a terrific person. She was Jenna's mom, Jade & Pink's grandmom. We know our friend Jenna will miss her mom terribly. We also have an idea what it is like to watch a parent suffer (although fortunately, we still have our parents, we still have seen them battle serious sickness). We broaden this blog as a true tribute to Mary and share with Jenna, Corey, Jade, Pink and their extended family our most sincere condolences, love, respect and support in this most difficult time.
All good pug juju going out to them and their loved ones.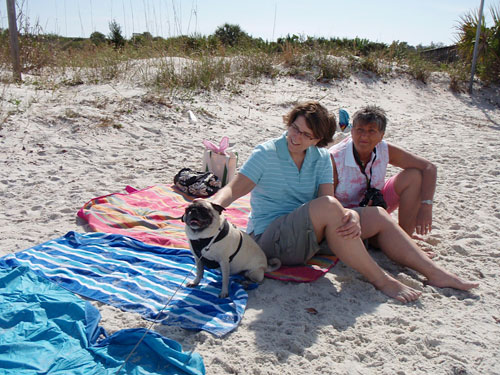 (Post memorial comments: We also had the opportunity to meet Mary's husband Ian and her son Jeffrey. Both, of course were wonderful people and Jeffrey did a wonderful job with the eulogy. I am not surprised that the entire family is filled with terrific people as we know that Jenna did not fall far from the tree of kindness.)