Friday, April 16, 2010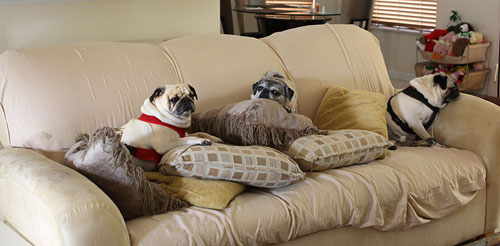 Yesterday, I began teaching the boys a new command and continued working with Luna on the down command. It is true that Luna has still not mastered the command, but she is getting so much better. She is quite a slow learner, but that is OK because I have time. Plus, I love seeing how proud of herself she gets when she knows exactly what to do.
For the boys, I thought I would teach them to stand. It's not really a show stopper, but I thought it might come in handy. Like when I am brushing Henry and he suddenly falls over and rolls on his back. If I could tell him to stand, I might actually be able to brush his whole body and not just his belly.
Regardless of whether or not I am teaching the pugs a new command, I love how a little bit of training or even just a refresher of the commands they already know tires the pugs out. Concentrating on a task sometimes tires them out as much as a trip to the dog park.
I hope everyone has a nice weekend. Don't think too hard!