Friday, December 12, 2014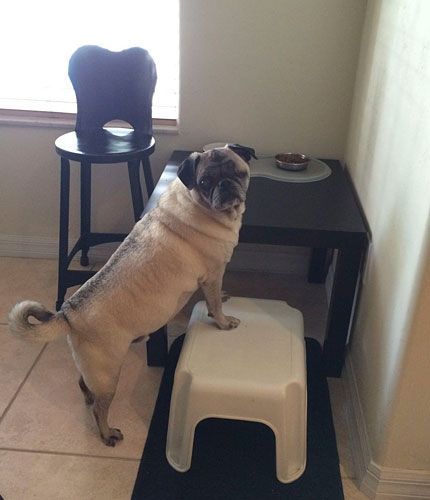 Cupid has always eaten at her own special spot in a little bar area in the kitchen. This has kept her food safe from the pugs and allows her to graze all day. However, as she has aged, getting up to her special little eating area has proven more challenging. We moved a chair over to assist her, but recently that has become too much for her. So, we bought her a small table and gave her a new setup in the kitchen. We even got her a step stool to assist in getting on the table.
And wouldn't you know that Cupid's new table is getting quite a bit of attention for hungry Henry. At first he would just stand next to the table and smell. But, now he is getting a tad braver and is using the step stool to get a better view. How long do you think it will be until he uses the step stool to get on the table and help himself to some kitty food?