Thursday, May 9, 2013
One of Benjamin's duties as a pug is to supervise the weekly dog food prep. On weeks when I have to cook the turkey the process takes quite a bit of time and it can be quite exhausting to a pug. So Benny, always picks one of the black rugs to take a little cat nap on while I slave away. Unfortunately, the rugs are all positioned in front of places that I need access to while I'm working. One is in front of the stove, one in front of the fridge and one in front of the sink.
So, I tried a little experiment, and I moved one of Benny's dog beds into the kitchen to see if he would monitor me from there. Worked like a charm!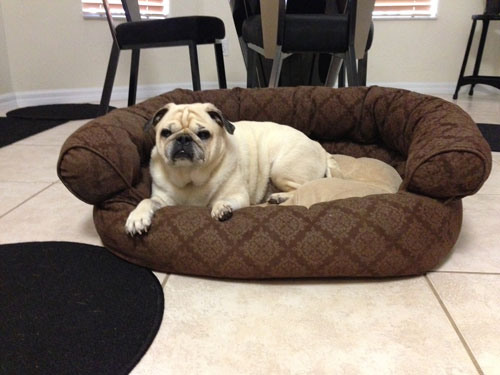 As you can see Benjamin is pretty bored by the whole process. His feedback is that I need to cut the prep time by 99% and give him half of the prepped food as soon as it is done being prepared.