Tuesday, September 14, 2010
Sol Painting Raffle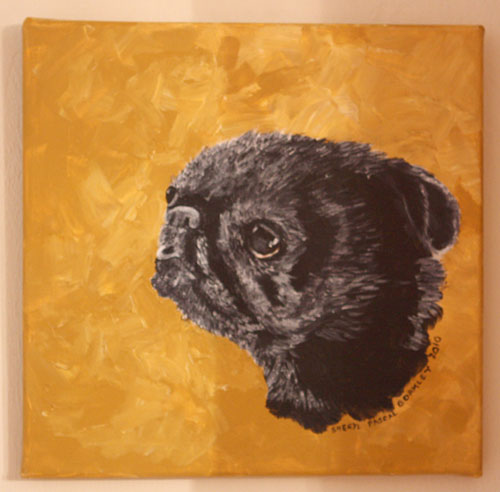 We asked Solsey's talented Grammy is she would be kind enough to paint a picture of Sol that we could raffle off to benefit the Sol Sunshine Memorial Fund. Grammy happily complied and I am very happy to announce the raffle for this one of a kind Solsey painting (pictured above).
Here's how the raffle works:
Raffle tickets are $5 per ticket or you can purchase 3 tickets for $12.
You can purchase tickets by making a donation directly to Central Florida Pug Rescue via PayPal for your ticket amount using the PayPal form below. You do not need a PayPal account to purchase a ticket.
After you make your donation via PayPal, email

.(JavaScript must be enabled to view this email address)

a copy of the donation receipt sent to you by PayPal.
Shortly after receiving your receipt, I will email you your raffle ticket numbers. If you do not hear from me within 48 hours send me another email to make sure I received your receipt. If you still do not hear from me leave a comment on this post.
The raffle winner will be drawn on Friday, October 1, 2010. I will notify the winner via email and once I have gotten in touch with the winner I will announce the winner on the Pug Blog and also share how much money was raised for the Sol Sunshine Memorial Fund.
If you are outside the US or Canada please contact me via email (

.(JavaScript must be enabled to view this email address)

) prior to purchasing tickets to make sure we can ship to your location.
The painting size is 12" x 12"
And incase you were wondering here is a little bit about the artist of the painting.
Artist Sheryl Pascal Gormley currently works in both watercolor and acrylics. Her awards include numerous cash prizes as well as ribbons. She is also an accomplished photographer and writer. 'Almost Scared to Death', her current novel, is nearing completion. The illustrations for her four children's books are in the final stages. As President of Ormond Writers' League she was largely responsible for getting the members to complete an anthology. Her cover photograph was taken on Daytona Beach, Florida. The paperback book, 'Peanut Butter and Jellyfish', is a collection of diverse short stories, published in 2003, available from InfinityPublishing.com
Purchase Raffle Tickets
If you have any questions, let me know.
Thank you for your continued support!