Friday, January 30, 2015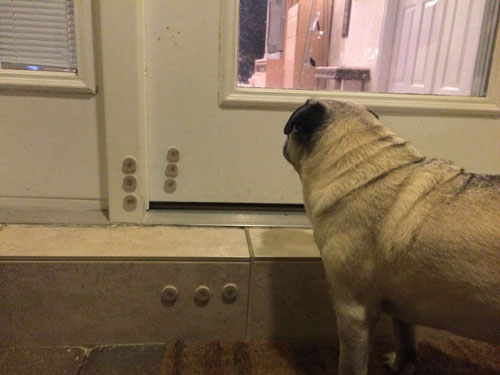 As you saw last week about the mini picket fence modification that we set up so that Henry can be a little safer from the agave plant, you are noticing some of the modifications that we are setting up to keep him safe and help him navigate. And for those of you out there who are giving our home owners association the benefit of the doubt for having heart, I urge you not to be so kind. Sorry, but our HOA has been described as ruthless. There is much truth in that, so we are hoping that the mini fence will be overlooked and bigger issues in the neighborhood will addressed instead. If they saw how we rigged the contraption preventing Henry from falling into the pool, they would likely put a for sale sign in front of our house as their request for us to be banished from their community. Yikes!
Anyway, we have made another slight modification in order to help Henry navigate getting in and out of the front door. We read about marking the area with scented oils. (And I addressed this in a comment a short time ago---scents to avoid for seizure dogs are Rosemary and Pine. I remembered Pine off the top of my head but had to go back and refresh my memory by consulting the book.) So, in efforts to help guide Henry closer to our front door (and not the garage, agave or bougainvillea plants) we have applied little felt patches that have scented oils applied. We are not ones to have perfume, cologne, air fresheners, etc so choosing a scented oil bordered on the impossible for us. We finally settled for the scent of Ylang Ylang (don't quote me on the pronunciation but I think it's spoken: E-lawng E-lawng) but I do know that it is a yellow flower and that was fitting since our home is a sunny yellow.
The scented pads seem to be helping Henry just a little bit. Nothing dramatic yet but we have noticed that he is not the speedy learner he once was so we continue to go at his pace. Slowly. Or, EASY, as the command we use to let him know to slow down (as some obstacle is upcoming). So, we try to reinforce his positive progress and overlook his mistakes and just take thinks day by day. One of the funny things, though, is that you can tell he has brushed himself against the little stinky pads a time or two because now it is not unusual for the top of his head to smell like Ylang Ylang. I guess the more practice he gets, the less likely he will be to bump into the the little smelly disks.
We tried making the doggy door another (different) scent but then Cupid stopped using the doggy door and demanded that we start opening and closing the slider for her. Since Henry still does that pattern pretty well, we removed the Lemon Blossom stink pads from the doggy door flaps and went back to their original state. If we see that Henry needs help later with that pathway, we will choose a Cupid approve scent before trying there again. You know what they say, "You can't please everyone!" There should be a qualifier that follows that statement that specifies, "especially when there is a cat involved!"