Tuesday, August 4, 2015
Ask OBP is our attempt at trying to better respond to questions we get asked. So, don't forget to post your question in the comments.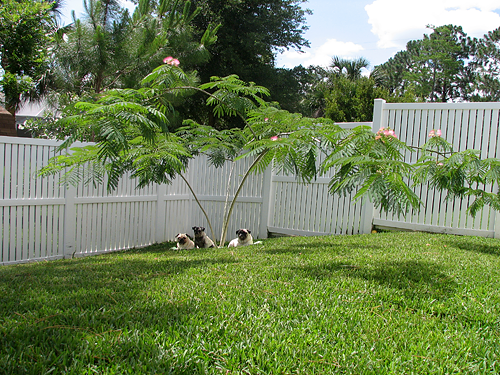 We start this week with out first question from Ann, who asked how old Mimo is. (And to clarify, Mimo is the name of the tree we have in our back yard. It is a mimosa tree and we just decided to name her Mimo.)
Good question, Ann. Mimo started as a seed. The seed came from a seed pod from a far away neighbor's home. We started to grow Mimo in very late 2006. The first attempt befell a weed wacker accident. So, early in 2007 we began trying again to sprout the perfect Mimo. And by April 2007, Mimo had made it from a paper cup to a pot. So, as of this writing, we can Mimo was "born" in 2007 and is about 8 1/2 years old now. Here are links to previous posts about Mimo. Planting Mimo, Enjoying Mimo and Mimo. Thank you for your question Ann! G'Pa calls Mimo a weed and not a tree and we can't say he is far from wrong judging by how quickly she grew!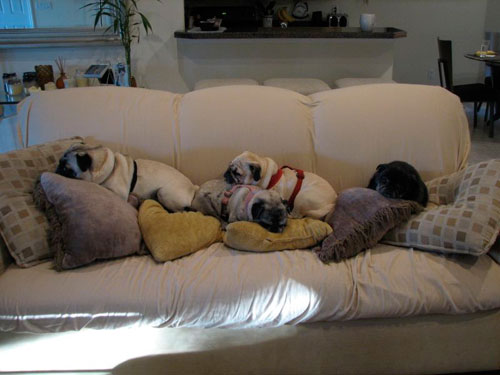 The next question came from Christine, who asked why pugs?
This is a good one, Christine! My gut reply was "Is there any other breed? Because they are the coolest dogs EVER!" But it does go deeper than that and while we are both animal lovers, one of us could stray from the breed more than the other. But the fact is that I feel in love with a 2 year old pug when I was visiting my sister. When we still lived in Maryland and my sister was already living in Florida, I was on a visit and her boys were playing T-ball. At that game there was a pug. He was the cutest, silliest, spunkiest little dog I had ever met! I had never forgotten him and how he just instantly warmed my heart. Later I fell in love with the movie Milo & Otis (although re-watching it recently I did not really enjoy it). The pug in that movie also "talked to me" and after researching them and learning more about their quirks and temperament, I knew that pugs were right for me. I eventually shared my passion with my family and friends and now we share our pug passion to all the others out there that got bitten by pug love bug. Thanks, Christine! Glad you asked!
We also had some interest in OBP supplying readers with recipes. We will work on making that another post exclusively about recipes. And when we do that we will touch more on the portions we serve(d) our pups, too (that request came from Alayna).
Another question, from Chuckie, was asked about the interest in the featured pug pic. Chuckie is noticing a trend that this has not seemed as popular as it once was. We will leave this question up to readers. Are you all still viewing this but maybe just not commenting as much? Or are you getting bored of pug cuteness?! We have learned a lot about those who comment vs. those who lurk. There are about 10-20 people who lurk to every one person that comments. So, please chime in and give us some feedback while helping to answer Chuckie's question.
Our last question was about how Puppia brand harnesses measure. Can some of you all chime in on that, too and help Jen C? Since it has been years since we have had to buy a harness we are too far out of the loop to help on this one. Readers, please offer your knowledge!
All great questions. We will do our best to answer as many as possible. We also wanted to post a reminder that we are not veterinarians. If we post about medical things, it is from our experience and not training or other credentials. Thanks everyone! And keep the questions coming!