Friday, August 29, 2014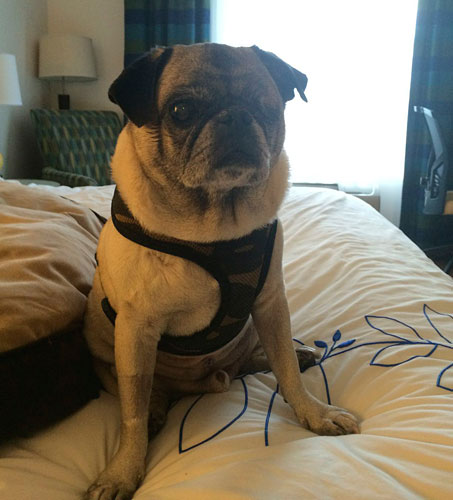 We wanted to take a moment to sound like a Public Service Announcement (PSA). We say that with a bit of sarcasm, but really, we want to express the importance of early detection in cancer cases. Since early detection played such a critical role in our good fortune (and who refers to cancer as good fortune?). But seriously, it was truly by happenstance that Henry's cancer was uncovered. It was only discovered because we were looking to help his health in a different area. Henry still has IBD and that is manageable. But if we had overlooked his poopy problems and if our vet had not been diligent and opted to keep going down a road of not just "tying new foods" then we would not likely not have noticed Henry's cancer until it was too late.
Here is the moral of our story.....if you or your puggy (or anyone you love) is "not right" and you know that there is something more going on, keep pushing to find answers. Your suspicions are probably right. Don't put off a test that could ultimately save a life because you think it's frivolous or that they won't find anything anyway. If we had not had Henry get that second sonogram, we would like be talking about how Henry only has x amount of time left, rather thank looking forward to a more positive future. We know, of course, that this is not always possible and by nature we have a tendency to let "little things slide" but I urge you all to at least try to pay attention to the little warnings and don't let them go until they are so big that your lives are so forever changed that you can only think of how things would be different if you could set the clock back in time.
We are truly so thankful that our vet suggested another sonogram (and also grateful that he did not charge us for it) and how it revealed more than we bargained for but that without that second screening we would not be in a place where we could so confidently move forward.
Just as Solsey Baby, Baby Benny and Little Looney have all taught us life lessons, let us also learn from Handsome Henry what he is teaching us now as we go along the pug loving path. Early Detection. Early Intervention. Henry Strong. All day long.