Thursday, August 28, 2014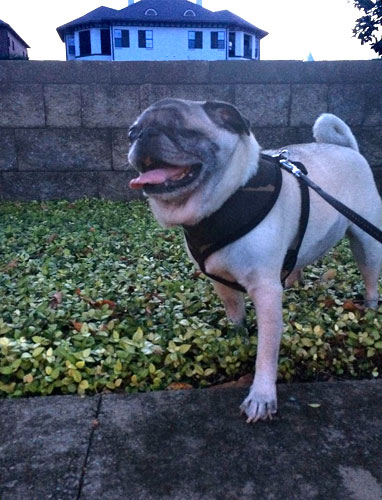 We've shared that Henry has always been extra brave in the world of pugs as we know them. Baby Benny was kind of timid around new adventures or things that were not safe seeming (sewers, steps, high spaces, etc). And Luna, well, if she could see it to be afraid of it, then she would be probably be afraid of it but if she couldn't see it, then full speed ahead (which often got her into trouble).
One of the things that always got Benny worked up though, was a wooden planked walkway. You know the kind that are like boardwalks or piers or little bridges over water. I think he thought that he might fall through the very tiny little cracks where the wooden slats slightly parted. Isn't that cute? But Henry would just plow through and shoot Ben a glance to ask him what he was waiting for or what the hold up was. Until now, that is. Now, Henry, too does not like that type of pathway. This is the type of path that was near the lake near our hotel. It was bad enough that Henry had to go down brick steps to get there but then to land on a wooden slatted walkway?! What was going on?
Henry, however, being the problem solving pug that he is, saw that there was a retaining wall next to the wood path. Albeit 3 feet above the wooden path, but it was made of cement and dang it, that was going to be the trail he took. It also put him closer to our hip than at our feet and he liked that better, too. We didn't get any decent shots of him on the wooden path (because he was having none of that) and there are not a lot of photos that are clear, but we've shared a few. Next to the sliver of cement he marched on, there was a low mossy/bushy type of ground cover. Henry's favorite for each type of pottying style. So, this made him as pleased as punch, too.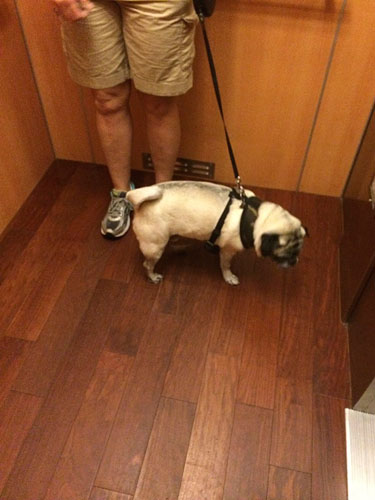 So, worrying about the wooden slats is how he turned into brother Ben. However, Henry did not seem to inherit Benny's fear of elevators. While Hank did not love to hop over the threshold of the elevator, once on the elevator he had no idea we were even moving. Whereas sweet baby Benny would have flattened himself out like a pug pancake nearly melting into the floor itself in order to avoid the dangers that the elevator ride brought his way. Poor kid. Henry, on the other hand, well, he just stood there (like the good boy he is) and waited for the door to slide open so he could get out of the boring little room.
It never ceases to amaze me how they each have their own unique little personalities. How they are their own selves but sometimes they, too, get like the company they keep. So, another piece of Ben Ben lives on while Henry remains true to himself in many other aspects of his Henry Strong outlook on life. Gotta love a pug!