Friday, October 2, 2015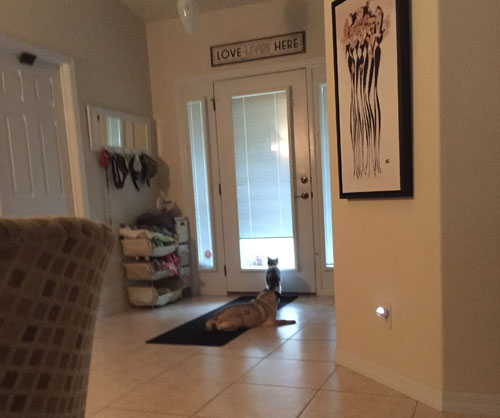 Cupid is starting to get as bad as Henry in the department of wanting her people to be home. She likes us to be home. She's not one of those aloof type cats. It is not enough that only one of us is home, they like us both to be home. So, when only one of us is home, the waiting game for the other one of us begins. Both Cupid and Henry take their spots and watch out the window. Cupid still has all her faculties. She can see, hear, smell, talk. So, she is fully functioning. While Henry has poor hearing and no real vision to speak of, he can see lights and shadows. So, he totally knows when a car pulls into the driveway. It that happens during the day, Henry can tell because the way the car and the sun cause reflections. If it's at night, he can tell headlights shine through the darkness. Thus, Henry knows what to be on the look out for. There are times when this becomes problematic, though. If our next door neighbor comes home in the evening, his car lights can reflect to give the impression that it's an OBP peep. Or in the daytime sometimes, someone might pull into the driveway to drop a package or turn around or something but if they come in the driveway, Henry still knows and then expects a peep or a visitor.
Since Cupid can see, she knows the difference. She gets all, "stupid dog" on Henry when he gets worked up over a false alarm. You can see that Cupid gets the prime spot and Henry is relegated to the less desirable location while the cat is standing guard. These creatures just love their peeps being home, though.