Wednesday, September 2, 2015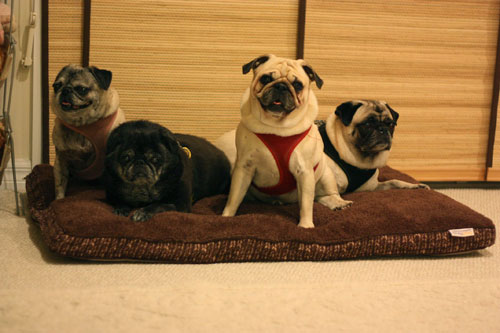 Since we had some really good questions this week that lent themselves to lengthy answers, we are opting to make separate, unique blog entries on a couple of them. Today's post was inspired by Becky. She asked about how our brood came to be. This used to be a common question we would be asked by people "on the street" especially when we had 4 pugs in tow. Knowing that I can get a little wordy, I will do my best to tell the story but also keep it relatively brief.

In June 2002 we brought the boys, Benjamin & Henry, home from a pet store. Benny came home on a Friday night and we got Henry the next day. Enter gasp here. Yes. They are pet store/puppy mill pugs. Way back then we had no clue what a puppy mill was, had no understanding of what that term even meant. In short, we were young, naive and dare I say dumb? Since then we have obviously grown up, learned more and realize the importance of rescue and if not rescue then a reputable breeder would be next best.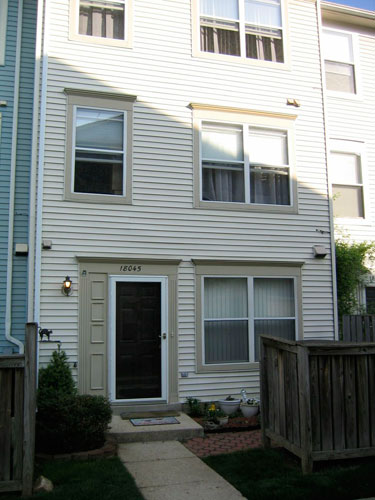 We were living in Maryland then. We lived in a narrow three level town home that backed to another home just like ours. It was our adorable starter home. And that is where the boys lived for the next couple of years with us. Their puppydome there was well spent and they had many wonderful experiences in Maryland. The best advice we had as new pug parents was to introduce them to anything and everything while they are young and thus they will be used to new experiences and be less fearful of new experiences later in life. That is just what we did. We took them everywhere. Introduced them to people, put them in swimming pools, had them climb stairs, walked them on multiple terrains and over bridges, rowed them in a boat, had children pull their ears a little bit (and by that I mean let children handle them without the kids being too rough). We played with them in the rain and the snow, brought them to puppy classes to learn techniques to teach them some basic commands and did our homework diligently so that they would grow up to be good citizens.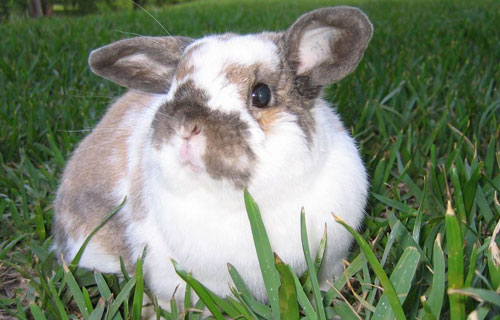 We lived in Maryland with the boys until March of 2005. We purchased a piece of land in Port Orange, Florida, sold our house in Olney, Maryland and lived for a long 8 months (on a 6 month lease) in a one bedroom apartment in Germantown, Maryland as we waited for the house to be finished being built. 2005 was the year that Florida was tagged with back to back to back hurricanes that caused a great amount of damage to homes in what would be our new neck of the woods. Because of those hurricanes, our home took longer to complete than was expected. The problem was the shingles. Shingles for our home were bumped to a lower priority when there were so many people who had lost their roofs during the storms. So there was a shingle shortage and we had to wait patiently for the roof to go on to the home that was waiting for us in another state.
So, in 2005 we packed up our goodies and headed south. At this point we had our bunny, Lou, our calico cat, Cupid and the boys, Benjamin & Henry. I am not sure if Becky's question necessarily included how Lou and Cupid came to in our lives, too. But here is a link to the story of Cupid. As for Lou, there is not much of a story here. Lou was the office pet of the place where OBP peep 2 had been working for several years and then after transferring to another location within the same organization no one at the old place could really take care of the bunny, so Lou came to the OBP home. Sadly, Lou died shortly after we got to Florida.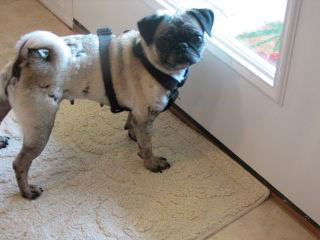 We lived in our new home with the 4 (Benjamin, Henry, Cupid & Lou) in 2005. Lou Lou Buns did not make it long (but he was 10 when he passed away and that is pretty good in bunny years!). Then, forward to 2006 in Florida. By now we are more versed in how to handle pugs. We have since learned about rescue and we are ready to add a 3rd to our group. We were not sure if we wanted a girl or a boy, but we had heard that boys were more "lovey" than girls. We knew the boys (especially Benny) were love pugs, but we were not sure if that theory was true. We contacted Compassionate Pug Rescue and talked to one of the main volunteers about our what we were looking for in a pug. She had one in mind that she thought would fit our home great. She told us about him. His name was Bear. He was about the same age as the boys. He was healthy except for 2 doses of eye drops a day which seemed minimal. She then also mentioned a little girl named Luna. Luna had been with them for a few months. She was a pseudo owner surrender. A relative of Luna's owner saw what bad shape she was in. She was kept outside day and night (in MIAMI!) and had been used to breed. She had spots of missing fur (cause unknown but none of the speculated causes is pretty), horrible dry eye (so bad that the one eye could not even close) and her teeth were not in good shape, either. Well, being the softies we are, we said we wanted her! I think they were very surprised. And I am sure they were thinking that there was no way they would ever unload Luna. She was a hot mess. At 2 she already looked twice as old as the boys who by this time were 4 years old.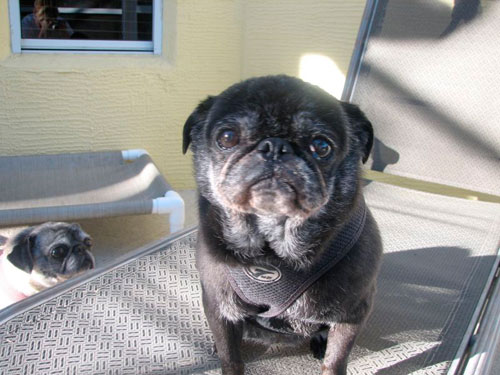 Luna came home to us in January of 2006. Life was nice. We were getting Luna healthy and she was uncovering her inner diva. She was a spitfire. Fast forward to December of 2008. The story of Solsey. I had just come home from visiting my parents at Christmas. Fresh off my flight, starving for dinner, but excited to see the trio and the cat. We were out for a walk right before dinner and a mini van pulled up next to us, commented about how cute our dogs were and asked if we wanted another one while gesturing to the one the lap of the passenger. We questioned about the dog they were trying to give us. They said they found the dog wandering several miles away, but could not keep her. Said they put up signs and no one replied. Blah blah blah. We were not sure what we thought of them at that time but we now know that were not great people and likely were liars. We told them that if they could just wait one day we would at least get the dog into foster care. We took their number and told them that as soon as we got home we would give them the phone number to the pug rescue. We knew it was not a good practice to take a dog without getting owner surrender documents. In this case, we should have just taken her then.
We called the people and left a message on their voice mail with all the information. We called them probably 5 times in 12 hours just to be sure they got the info and to see what the rescue said. The people had thick Italian accents and the voice mail ended with a "ciao" instead of your standard "goodbye". We did nothing but kick ourselves for not doing more to get the dog into our possession. We talked about nothing other than that dog. Where was she? What were those people doing with her? We could not sleep. We were a mess. It was not even one full day since those people tried to dump her with us than our doorbell rang. It was an animal control officer. Coincidentally, there was a police officer who lived behind us who knew we had pugs. He rang the door and when we opened the door he asked us, "you guys down a pug?" We were not missing any of our 3 but we knew who he was talking about. He said that he got a call about a pug wandering the neighborhood and went and picked her up. He just assumed it was one of ours. We told him the story and the importance of the owner surrender document. So, he had the man that found the little black pug sign the paper indicating that he was not the owner and not going to keep the dog. We told the AC officer that we would keep the dog and work on getting her in rescue. And that was our intention. We knew a 4th dog was likely more than we could handle. Our plan was to foster her until a forever home could be found. (In reality we were foster failures after 10 minutes. We loved her instantly and knew she was not leaving our home.) In the mean time, I wanted to be sure that she was well enough to interact with our other pugs. I took her to the vet and had her checked out. She had a cyst growing from the edge of her eye and her toenails were in such bad shape that it was clear that they had not been tended to in a VERY long time (actually this was the reason she could barely walk). But she was cleared for socializing, though. I will speed through Sol's super mini version while she was with us, though. Each time we took her to the vet, they gauged her age. First they thought 8-10, then next time they thought, no probably more like 10-12 and then the eye vet, said, no, the eyes tell all and those are eyes of a 12-14 year old dog. In any case, Sol had low vision, was for sure mostly deaf but different than Luna in how she came to us. She was LOVED. You could tell that she had been very loved. We think that the people that tried to give her us and eventually did just leave her on the street were family members of an old man that recently died. Solsey would forever cozy up to men who appeared to be WWII vets. Old men in thick soled shoes who wore navy blue ball caps with the yellow braided embellishments were her ideal man to sit near! She would spot them a mile away, rush to them, sit at their feet and gaze longingly at them seeming to ask, "are you my father?" She never really shook that but she did come to love us. In the 15 months that Solsey lived with us she had both oral and breast cancer. When we had her teeth cleaned they discovered her oral cancer and we ended up having half of her lower jaw bone removed. She handled it surprisingly well and did not need further treatment. For her breast cancer we had her teats removed and again, no other treatment was necessary. Sadly, Solsey had to be put down due to complications of collapsed trachea. This was true of both Ben & Luna, too. Henry, on the other hand, has a nice healthy trachea.
I think that pretty much sums up how they all came to be part of OBP. This was a great question, Becky. Thank you for allowing us to recap. Unless you have been follow us since day one (in 2003ish) then I doubt the whole picture has really been put together. I hope this summary was both detailed enough (and yeah, I did scale it back!) and broad enough to give you all an idea of the history of OBP.