Monday, April 27, 2015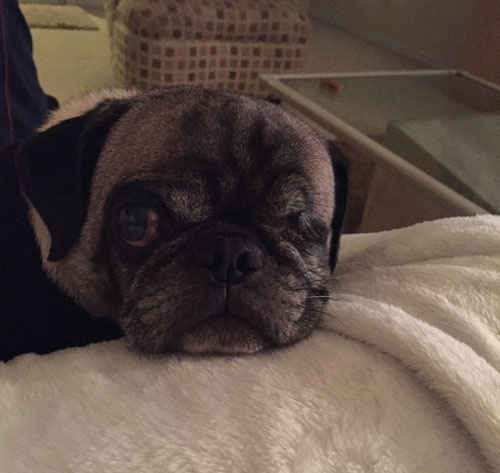 Last weekend, Henry had a weekend visitor. His name is Spike. Spike is a young 7 year old, one eyed pug (who looks very much like a young Henry). Spike is currently in foster care and looking for a good home. (Any takers out there?) The lovely people at Central Florida Pug Rescue were kind enough to allow us to give Spike a test drive. He is literally a perfect pug! The question then, I am sure, why didn't we keep him? Well, we were considering a buddy for Henry. And even after a few days, Henry still did not warm up to the young whippersnapper and Spike really was not so interested in our old man, either. So, it just wasn't a match. If the decision was exclusively that of the OBP people, Spike would not have gone back. But Henry was the one to have a final say. And he just never got on board the Spike boat.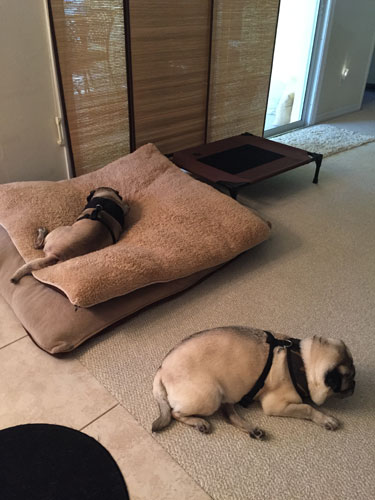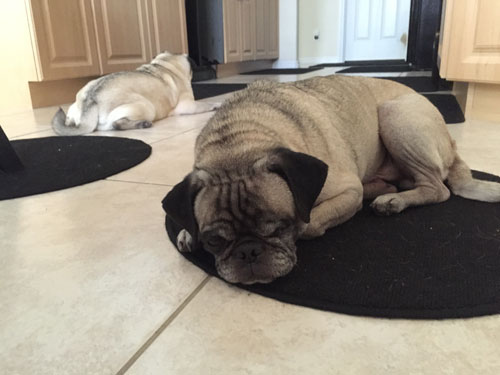 Henry has been physically fine for a good while now but emotionally he's still kind of bummed. We knew that the only thing we really had left to try was a new BFF for him. Turns out he's not really interested. We've seen him be uninterested in other dogs, but we thought maybe if another dog came to the house then MAYBE he'd warm up to the idea. Dogs being pack animals and all, we thought he'd like to rebuild his pack. But it just was not meant to be. Between what we know about dogs and pugs and what so many other people have recommended we try for Henry, we thought maybe another dog would bring the joy back to him. Since there is so much to share, stay tuned this week for more stories about the weekend with Spike. It will probably take the whole week to share the saga.
We hope (and we know) that Spike will land a great home. He was so sweet (and even gave hugs!), is fully housebroken, rarely barks (CFPR said they have never seen him---but I got it on video. See below.) and he is recovering from a skin irritation leaving his chest a little bald, but there's nothing wrong with a bare chested sweetie!
Again, this is one of those stories where I'll tell the end before the beginning. So bear with me.

#HenryStrong #SpikeStrong #FindAHomeForSpike #2GoodPugs