Wednesday, August 11, 2010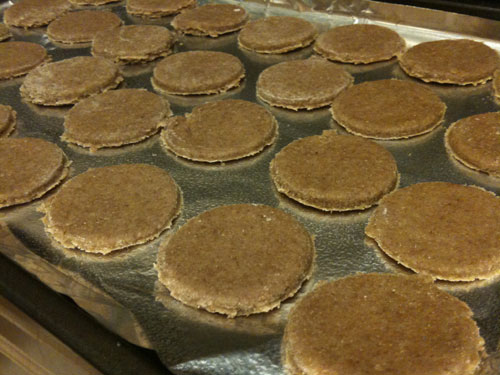 I was at the book store perusing the bargain aisle when I came across the Good Treats Cookbook for Dogs. I picked up the book and the first page I flipped to was a recipe for Pumpkin Twists. Needless to say, that recipe caught my attention. I continued to flip through the pages and found a lot of recipes that I thought the pugs would love. There were Banana Peanut Butter Biscuits, Apple Kissed Peanut Butter Treats and even some frozen treats that I thought would be perfect for the pugs after a walk in the hot FL evenings.
For my first dog treat baking experience I decided to try to make Chicken Ginger Biscuits. I was worried that the pugs weren't going to like them, but after they got their first taste Benny promptly scratched on the pantry door for more. Success!
Here is the recipe for the Chicken Ginger Bones if you would like to give it a shot.
Ingredients
2 cups whole wheat flour
1/2 cup wheat germ
1 tablespoon ground ginger
1/2 cup chicken broth (I used low sodium)
1 egg, slightly beaten
1/4 cup vegetable oil
Directions:
Preheat oven to 375°F.
In a medium bowl, combine flour, wheat germ, and ginger.
In a second bowl, combine the chicken broth, egg and oil. Add the dry ingredients to the wet ingredients and mix until well blended.
On a lightly floured surface, knead the dough and roll out to 1/4 inch thickness. Using cookie cutters, cut into desired shapes. Combine dough scraps and repeat rolling and cutting into biscuits until all dough is used.
Place biscuits on a greased baking sheet and bake for 25 minutes.
Cool on a rack before serving.
Store biscuits in a sealed container.