Wednesday, February 1, 2012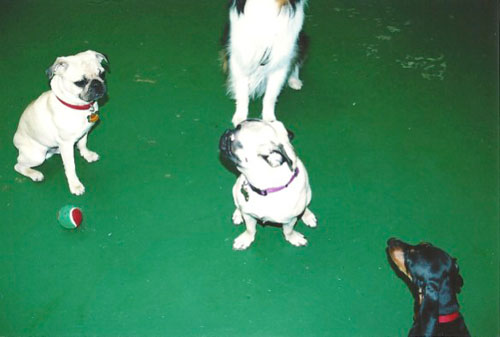 In reading some of the comments to the recent Beach Friends post, I noticed that there was a comment about how the term wiener was not a preferred term for Dachshund. Trust me, I am cool with that. With that said, I must share some history of the pugs with the Dachshunds.
Our latest trip was to Ponce Inlet dog beach where the pugs met not one but two Dachshunds. They were shown in photos in previous posts. The female Dachshund was named Sweetie. The other dog's name was Oscar. A la "Oscar Meyer Wiener".
Both of these Dachshunds were very pleasant dogs. But, rewind to almost a decade ago (how scary is that to say?!). When the boys were young, we would occasionally take them to doggy day care to get their energy expelled since at this rare moment in history, neither of us worked from home. I began working from home when they were still puppies but not yet at this point.
Anyway, we took them to a place called Ana's Ark Doggy Daycare (I believe they are still in business under a different name). This was while we still lived in Maryland. The doggy daycare had web cams so you could see what was going on in the life of your beloved fur ball. Well, mostly when we spied we would see Benjamin peeing on all the toys. However, there were only one or two beds in the corral and these would be coveted by all the other small dogs that were not the owners own 2 small Dachshunds as her two dogs pretty much never left these precious soft thrones. One of the dogs was named Gus.
Gus was a territorial bully. Gus would regularly ensure that no dog (especially no flat faced pug) was going to sleep on his pillow (or play with his toys, or stand in his space or drink from his water bowl, etc, etc, etc). So, whenever the boys would try to do any of those things, Gus would stand in front of the toys or water bowls or pillow or whatever and growl, bark or nudge the boys out of the way. Benny would back down and sulk away disappointed, but not Henry. Henry, of course knowing this was not ok, would nudge back or sneak around to try to get his way. This would make Gus a bit fiercer and often Ana, the owner, would eventually have to step in and remind the long dog to do the right thing. She did so with a stern toned, "Gus! Be Good!!"
This upset Henry probably more than it did Gus. I think Henry thought that he was the one getting hollered at. (Yikes) This went on for a few weeks. It really shook Henry up. But our guilty pleasure at home would be to randomly yell "Gus! Be Good!" and watch Henry stand at attention. He shuttered at the name Gus for years to follow.
Even now we can still catch him on it on a "good" day. The rest of the time, he no longer flinches.