Wednesday, May 22, 2013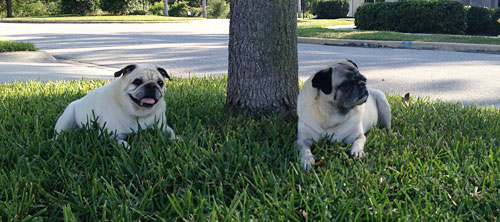 A meeting of the distinguished pug club under the boy's favorite tree. And also a rare glimpse of Henry, the sun loving pug, hanging out in the shade.
While taking this picture, I had a flashback of the two little puppies these boys once were. I quickly snapped back to reality and realized that if the boys were the puppies they once were, this scene would never happen. Surely, one of them would be bouncing around and Benny would probably be tugging on a hunk of Henry's face wrinkles. It is fun to see old men this pair have become. They may not be as spry as they once were, but they are still as thick as thieves.