Tuesday, March 27, 2007
Help Bring Pixie Home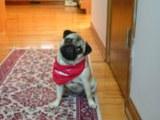 The Deatricks in Bolingbrook, Illinois are asking anyone that may have information on their missing pug, Pixie, to contact the Bolingbrook police or Crimestoppers. Pixie was stolen from the family's home along with other personal belongings during a robbery last week.
Pixie is a year and a half old and is fawn color. The family is offering a $4500 reward or Pixie's safe return.

Great News! Pixie has been reunited with her family.