Monday, February 13, 2006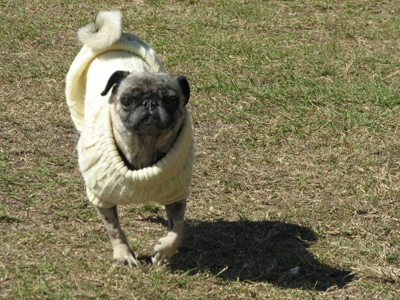 We didn't have any big plans for Sunday so we thought it would be a good day to take a drive and go to the big dog park in Jacksonville and let the boys and little Luna run around. This was Luna's first trip to the park so we were curious to see how she would do in such a huge park with so many dogs.
Luna handled it like everything else that has been thrown her way the past two weeks since we have adopted her. PERFECTLY! She was the perfect little lady playing with many of the other pugs and small dogs in the park. The only tip-off that this was her first visit to the park, was that she fell into the pond in the small dog section.
The small dog section of the park has a small pond at one end where dogs can cool off. Luna thought of the pond more like a puddle and when she was chasing Benjamin & Henry around the pond she thought she would get a leg up by cutting through the middle of the "puddle". Well to her surprise the "puddle" was a little bit deeper than she thought. All in all, she handled it well. She quickly swam to the edge and shook herself off. Surprisingly, she wasn't phased by any of it.
We had towels in the car, so we got her dry and put one of Henry's old sweaters on her to help keep her warm for the rest of the trip.
The boys were up to their usually antics. Running around the sand pile, going through the tunnels and chasing other dogs at the park. They did a good job looking after their little sister and making sure she didn't stray too far from the pack.