Monday, February 22, 2016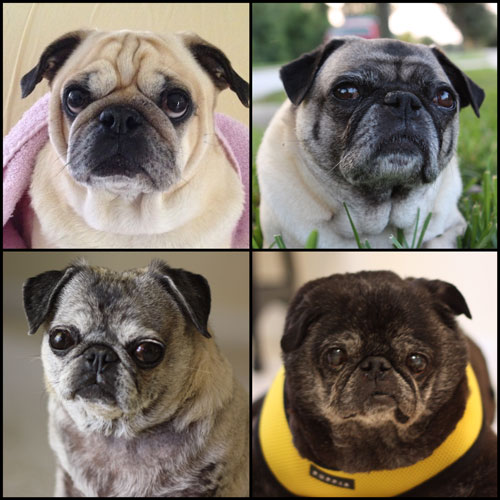 When I started this blog 11 years ago, I never thought about this day. I never thought about what it would be like to have a pug blog, with no pugs. I never thought about what it would be like to document the life of an aging pug, through all the ups and downs. When I started this blog, I was in my 20's and relatively care free. I had two young pugs, full of energy that made me laugh constantly. I loved to take pictures of them and I wanted to share those pictures in some way.
And so Owned by Pugs was born.
I had no grand ideas when I started OBP. I thought I would take pictures of Benjamin and Henry and have them online for friends and family to see. But shortly after starting, we began to get comments from other pug lovers - people we didn't even know. It was crazy to me.
Making great friends through OBP was one of the most unexpected things to me. I never imagined that OBP would have blossomed into the community it has today. Some of you I have met in person, some I have talked to over the phone and through emails. Some I know only through comments. And I know there are some lurkers out there that have been following along for years. And no matter how we may have interacted over the years, I want to say thank you for being a part of OBP.
There was a point, when I was no longer working from home, and Benjamin, Henry and Luna had begun to slow down a bit that I thought about calling it quits. Life was busy and all the fun things that Benjamin, Henry and Luna loved to do, the things that were easy to write about, seemed to be dwindling. Posts about trips to the beach and swim camps seem to fall to the wayside and all there seemed to be to write about were trips to the vet or surgeries or worries about what was to come.
I thought no one wants to read about this stuff. But, that seemed to be when the OBP community really kicked in and there was an outpouring of love and support. It was at that point, I really had to evaluate things and I realized, I didn't want to write about those things. Its easy to write a post about a fun trip to the dog park and gut wrenching to have to write about how your pug is re-learning his way around your house because he has lost his eye sight.
At that point, I wanted to live in denial and writing a daily blog didn't seem to fit with that.
I kept blogging because I knew there were OBPers out there that were invested in Benjamin, Henry, Luna and Sol. And I knew that I owed it to them to tell the full story. OBPers are not fair weather friends and it wasn't right for me to quit when the going got tough. I never really came to terms with the inevitability of the pugs aging, but I did began to see that those later in life stories are perhaps the more important ones.
I want to thank everyone who has been a part of the OBP community. Making all of the friends that I have made over the years has been one of the best things. The pugs always had a way of making friends. Wherever we went, they brought people to us and started conversations. This blog was much the same. Thank you for coming along on this journey with us. You have been a huge part of our lives!
Much like when I started this blog in 2005, I don't know what is next. I don't know when and if we will get another pug. We are just going to take it one day at time and do what feels right. I will be stopping the Daily Pug Picture and other parts of the site soon, but I will leave the OBP Pug Blog as it is. So I, and anyone else who wants to, can go back and read about 4 pugs (and a cat) that have touched and impacted my life in more ways than I ever could have imagined. Yes, there were big things, but it really was the little things that I will forever cherish. And the Pug Blog is a daily diary of all of the things that have meant the most to me over the last decade. And if you are curious, here is the post that started it all!