Tuesday, March 8, 2011
365 Days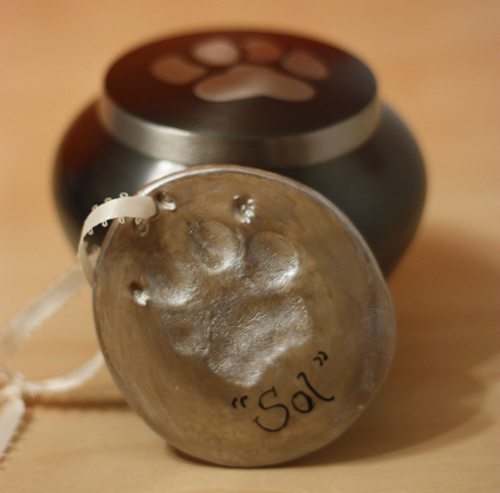 Today marks the 1 year anniversary of the day we said goodbye to Solsey. In the days that have passed since she left us, I don't think one day has gone by without someone sharing a funny Solsey story or some related anecdote. To say that she left an impression on us would be an understatement.
The hardest part about this milestone for me is that I know that in just a short 3 months, that Solsey will have been gone for as long as we had her. It was a worry of mine early on that I would forget the little things that made Sol Sol. I worry a little less about that now, because it has been a year and I know that even though she only spent a short time with us, she certainly left a lasting impact.
In the picture, with Sol's urn, is her paw print set in plaster of paris. The vet tech made it for us and when we picked up Sol's ashes they gave it to us. Words cannot express how grateful I am for that little paw print. It was such a surprise, and such a unique gift. I felt bad asking if it was really Solsey paw print. I just couldn't believe that someone would think of something so special. Of course, they assured me it was indeed her own paw print and I am so very thankful to them for being so thoughtful on that blur of a day.
To celebrate Solsey's life, I would like to share a few of our favorite Sol moments. The list would not be complete without one infamous spaghetti post. Spaghetti reminds me so much of Solsey, that we have not had it since she passed. I can't even consider making it without having the whirling dervish around.
In addition to celebrating Sol with our favorite moments, don't forget about the Sol Sunshine Memorial Fund. In the year since she passed $2,244 has been raised to support the hospice pugs at Central Florida Pug Rescue. Like Solsey, those pugs are making the most of their golden years. Any donation, big or small, honors the memory of Sol and supports the senior pugs at CFPR.